I'd hoped to have this out long before now, but nursing my web sites back to life after a major server crash a few weeks ago, put this project on hold for some time.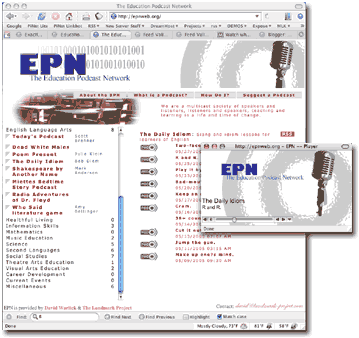 So now,
it is time,
To tell you about a new service of The Landmark Project…
The Education Podcast Network!
Ok, I learned a long time ago that titles that are description and to the point, are much better than clever titles.
EPN is a growing podcast directory that specifically targets education and educational podcast programming. There are three major categories.
Education Podcasts, which comprise professional issues,
Student & Class Podcasts, student produced podcast programs, and
Subject Specific Podcasts, including computer/tech. skills, english language arts, information skills, music ed, etc.
This web site is still under development, but there are enough podcasts already linked for the tool to be useful to educators. Simply click the subcategory (professional), the name of the podcast you wish to (Waste of Bandwidth), and then…
visit the podcast web site by clicking the program title in the page that appears in the right panel,
listen to a single program online, by clicking the podcast icon (),
subscribe to the podcast using the feed address embedded in the RSS chicklet.

Please feel free to suggest any podcasts (click Suggest a Podcast) that you believe will be useful to educators. I'm sure I have missed many obvious ones.