In the past I have done word counts from ISTE's conference programs to illustrate topic trends, especially during the early days of the social web. Its fairly unscientific,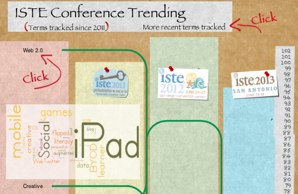 because there are lots of factors that determine the verbiage of session descriptions, especially for a conference as discerning as ISTE.
This year, I decided to do the same, but also use the activity as an opportunity for playing around with Tumult HYPE 1.6, a Macintosh app for creating HTML5 animations. From their web site:
Tumult Hype's keyframe-based animation system brings your content to life. Click "Record" and Tumult Hype watches your every move, automatically creating keyframes as needed. Or, if you'd prefer to be more hands-on, manually add, remove, and re-arrange keyframes to fine-tune your content.
As is often the case, I probably payed more attention to pushing the tech, than perfecting the communication. This was a learning experience, after all. Take a look and see what's trending down and what few topics are trending upward. Click [here] to see the animated infographic.