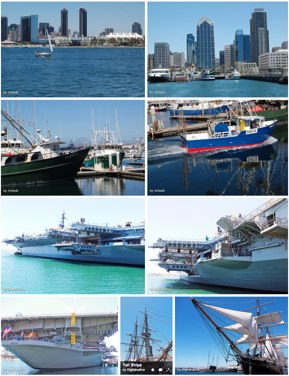 From the archive of last year's Photo Safari
This blog post is going to be in two installments. This first one is my opportunity to share my gear, but also to promote
ISTE's 5th annual Photo Walk / Photo Safari
. Organized by
Apple Destinguished Educators
(
IDEs
), the gathering and 8:00 AM to 10:00 AM on Sunday. I attended last year's more extended walk in San Diego, and from that, I'd recommend a health application of sunblock.
Here
are photos taken during that walk.
This year, I'll be taking the following gear as of now. Main tool will be a Nikon D5100 (more camera than I deserve) with 24-120 and 55-300MM Nikon lenses. You also see a remote for taking those sensitive low-light shots where camera movement is death to the end product. It also comes in handy for HDRs, which abuse, admittedly.
My gear for the Photo Walk. A tripod for the big camera is still under consideration.
There are also an unglamorous assortment of filters, and a variety of methods for getting photos from camera to computer (or iPad). You can also see two embarrassingly low capacity and slow memory cards.
For my iPhone 4 (older iPhone 3GS standing in), I'll have a miniature tripod, mostly because I can. There is also an alternative and easier to attach tripod mount and an ōlloclip, which is a very cool lens set for iPhonography. Most of the umpgh in my iPhone is in the apps, my favorite of which are Snapseed, TiltShift, Pro HDR, AutoStitch and ToonCamera.
Go here to register for the ADE ISTE Photo Safari 2013.