Contemporary literacy is a subject I've not written about in a while. In fact, I've not been asked to talk about it at a conference in a number of months. Is it a message that's been received? I don't think so. I continue to read comments on my blog promoting the integration of technology, like tech is the goal, rather than an essential tool for accomplishing the goal of contemporary learning-literacy.
One element of this literacy is, in nature, ethical. In a 2007 2¢ Worth blog post, I wrote
..it is now our ethical responsibility, as information consumers, to assure that the information you are using is accurate, reliable, valid, and appropriate to what we are trying the achieve.
And then,
It is equally our responsibility to assure and document that the information we are producing is accurate, reliable, valid, and appropriate. 1
In another time, we were mere consumers of content. Today we are full participants in the information economy and this compels us to accept new responsibilities that have, in my opinion, become a part of what it is to be literate today – contemporary literacy. We are no long held only to the value of the information we consume, but also to the information that we pass on or produce.
This is what came to mind when I was browsing through my copy of MLA Handbook for Writers of Research Papers: Seventh Edition.
Hey, you've got to find excitement where you can.
I found a section with descriptions for formatting parenthetical notes (endnotes or footnotes) about cited sources. It describes two kinds of notes for documenting sources.
Content notes offering the reader comment, explanation, or information that the text cannot accommodate
Bibliographic notes containing either several sources or evaluative comments on sources2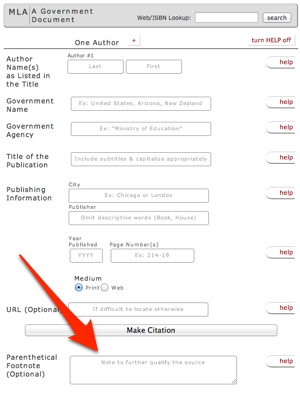 I added the footnotes form element just beneath the "Make Citation" button, so that it would not interrupt the normal flow of CM use.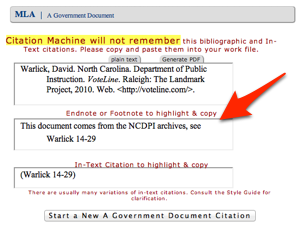 If a parenthetical footnote is provided, then the footnotes box will appear here between the bibliographic and the in-text citations.
It seems that when we are all overwhelmed by information, much of it from other people like us, it is note merely a courtesy to cite our sources, but it is a practical measure to justify and invite readers to judge our sources' accuracy, reliability and validity. We should make it easy for our readers to check its appropriateness to the message of our writing.
With these MLA documentation notes (footnotes or endnotes), we can provide that justification where the comment does not really fit into the prose of the document.
All of this leads up to a new feature on Citation Machine. My plan is to add a textbox to all of the forms, where you have the option of typing in some "comment, explanation or information." Citation will formate the comment, along with proper reference to the source, into a footnote/endnote.
Thus far, I have only added the feature to MLA Government Publications. It seems that when ever I make any type of change to CM, a few people get disoriented, not to mention madder than a mule chewing on bumble bees. 😉 I understand this. What sets Citation Machine apart from most of the other citation generating sites is its simplicity and speed. Change does not simplify.
So I thought I'd take this slow. Look at the Government Publication form and try it out. The note text shows up in a box just like the bibliographic and in-text citations. Feel free to comment on this blog post and concerns or recommendations.
1 Warlick, David. "Ethics Challenges & Information." 2¢ Worth. The Landmark Project, 26 Jan 2007. Web. Web. 18 Mar. 2013. <http://davidwarlick.com/2cents/?p=858>.
2MLA Handbook for Writers of Research Papers: Seventh Edition. 7th. New York: Modern Language Association of America, 2009. 230. Print.