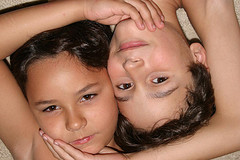 I've been trying to reconcile some of the problems that I see in the way that we inflict education on children today. For instance, think about this. There are a large number of teachers in our (U.S.) classrooms today who are around my age, fifty something. In the last half of our careers we have witnessed astounding changes in the very nature of information, and these changes are only accelerating. So here's the math.
Thirty year teachers
Teaching 6 to 18 year old children
Preparing them in a time of rapid change for a future of accelerating change
Where they'll change jobs 10.2 times between the ages of 18 and 38 (Number of Jobs Held)
OK, I'm still figuring on this, but does this scan? Does it scan that teachers, who we encourage to make their profession a 30-year career, are preparing children in a time of rapid change to prosper in a time of rapid change? If we could just factor in ongoing, casual, professional development and make it an explicit part of the definition of being a teacher and give teachers the time to pay attention and adapt, then the numbers I'm grappling for may cancel each other out.
Or are we wrong in expecting teachership to be a career? I think not. Good teaching comes from lots of experience.
So here's my weird idea:
Every fifth year, all teachers take a paid sabbatical. They can take on an internship related to what they teach for that year. ..Or they can propose a project to produce some significant advancement the practice (a new textbook, new type of textbook, significant research, instructional materials, etc.). The result would be that after every five years, teachers would re-enter their classroom re-connected to the world that we are preparing our children for.
"Never happen," you might say. Well, Ya'll, if we are not willing to at least consider, at the highest levels, ideas that are this radical, then I don't think we are going to make it.
2¢ Worth!
Number of Jobs Held, Labor Market Activity, and Earnings Growth Among Younger Baby Boomers: Recent Results From a Longitudinal Survey Summary, US Dept. of Labor, 2004. <http://www.bls.gov/news.release/nlsoy.nr0.htm>
Photo Citation
Luh, "Ser criança é divertido, colorido, mas dá um trabaaalho!! ." Luh.'s Photostream – Flickr. 2 May 2006. 10 May 2006 <http://flickr.com/photos/meninadoretrato/139074281/>.