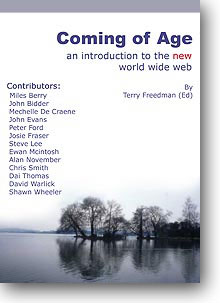 I'm copying and pasting this in from Ewan Macintosh's weblog, Edu.Blogs.Com. Hope you don't mind, Ewan. I'm getting ready to present a session at a regional conference, and I want to get this post out there.
Terry Freedman, an independent education consultant in London, coraled some pretty forward thinking educators, and me, to write a little something about Web 2.0. The contributors are listed below. I think that the project came out very well, and it's free, as a downloaded PDF file.
Coming of Age

The book provides a set of stories, describing the ways in which Web 2.0 technology can be used in schools, particularly as a way of supporting social, collaborative learning, and a more individualised curriculum. I am flattered to be amongst some really thoughtful (and cool) educators and adventurers in the Web 2.0 world:

There will be a wiki in the longer term to allow changes and contributions to the book from elsewhere. In the meantime, head over the look at the SuprGlu feed coming from some of the contibutors' blogs and bookmarks.
Let us know what you think of the book.