I have felt bad about not blogging lately. It's partly because of travel, but mostly because of three projects that have drawn most of my attention lately. One of those has been preparation for the NCTIES conference later this week. It's a special event for me because NCTIES is the ISTE affiliate for my home state and also because it is an especially successful conference. This year's featured speakers include Richard Byrne, Patrick Crispen (regular), Rushton Hurley, Peggy Sheehy, Kathy Schrock (regular) and Tammy Worcester, with a kickoff keynote by Ken Shelton.
One of my presentations will explore instructional potentials of data visualization and infographics and in preparing for this session, I found one of the coolest things I've seen in a while.  I ran across the link via Nathan Yau's Flowing Data blog, where he quoted Jeffrey Winter…
There was an idea floating around that continuously following the first link of any Wikipedia article will eventually lead to "Philosophy." This sounded like a reasonable assertion, one that makes a certain amount of sense in retrospect: any description of something will typically use more general terms. Following that idea will eventually lead… somewhere.
Winter's explanation of how he accomplished a test for this idea made it sound easier than I'm sure it was.  But the outcome was an intriguing mashup where you can type in a word or numerous words separated by comas, and his app will thread through the first link in each linked-to article until it reaches Philosophy.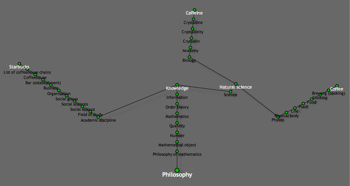 Sitting in Starbucks, I looked for logical connections between Starbucks, coffee and caffeine. (click img to enlarge)
What struck me as I played with this data visualization, was how this operation meshes with our notions of curriculum and of libraries.
When information is scarce and education is defined by knowledge delivery, then the job of curriculum and of libraries is to package content into subjects and units and dewey decimal classifications.
When I watch seemly unrelated topics threading their way to a common subject and re-examine Boyack, Klavans and Palen's Map of Science, which shows how various disciplines are interconnected by citations, it seems clear to me how schools and libraries need to become more like learning-literacy playgrounds than managed corals.
But that's me!