I just received an email from an educator in Michigan, saying, "What an amazing time we live in! For the first time ever, I came back from MACUL (Michigan's outstanding educational technology conference) free of technolust. All of the good stuff — blogging, wikis, rss — is free and can be explored via a laptop and wifi right there in the convention."
It is, indeed, one of the exciting things about blogosphere developments, that it is so accessible. If you have a computer on the Net and understand what this stuff is about, then you are there and participating, after only a few mouse-clicks.
He also corrected me on page 151 of "Classroom Blogging…" where I say that the most popular feature of Archive.org is The Wayback Machine. It is actually the 2,789 live Gradeful Dead shows that can be downloaded as MP3 files, "…approximately 80% of all the shows performed by the Dead and various side bands over the last 40 years."
Now lets think this through.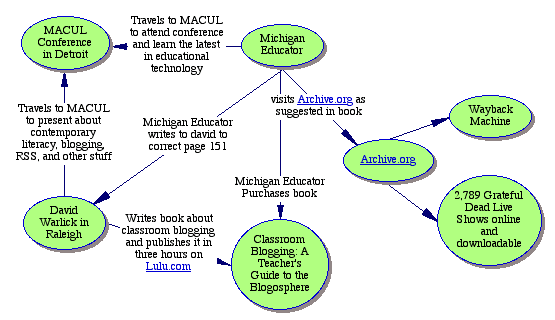 Don't you love Inspiration(TM)?