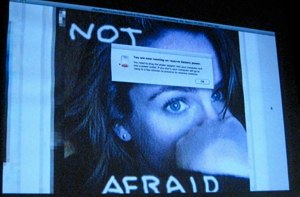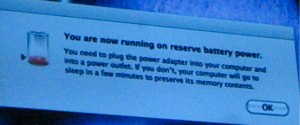 The warning popped up as people were leaving and the BOCES Communications Director was taking some pictures of the presenter and other
Ok!  So you know you are becoming too much of a AV geek, when you spend nearly a half hour making sure that the audio and video for your computer are just right and that all of the web sites you need to load are not blocked — and then you forget to plug your computer into the electrical socket.  Here's what popped up, luckily, just after my keynote for the Erie 2 BOCES professional development conference in Freedonia, New York a few days ago.  Sadly, this isn't the first time this happened.  At least with my solid body Macbook Pro, I have enough battery life to get away with it.
From there I flew to Newark, New Jersey, took the NJ Transit across the river to the city, where I met Brenda, who'd taken Amtrak up from Raleigh.  We had a nice night's rest at the Courtyard Manhattan (Marriott can be relied on for the best mattresses in the industry), followed by a walk for several blocks to breakfast at the Tick Tock Dinner, next to Penn Station.  They even served grits.
My brother Dennis, who lives in Manhattan, met us there, and then took us on a whirl-wind walking tour up as high up as 79th street, and down to something called The High Line. The High Line [tagged flickr photos] was actually envisioned and lead by two friends of my brother, who found private funding to turn sections of unused elevated train track a into a greenway — of sorts.  It was crowded (first Spring day of NYC 2010), but it was interesting to be walking along a path about fifty feet above the city's bustle. [photos here]
Then it was a sandwich at a pub in The Village, back up to the hotel on 40th street, a shower, and a car out to JFK, where I had to finesse a visa that I didn't know I needed to enter Australia — and now approaching (I hope) Sidney.
I'll be speaking at a South Western Sydney Regional ICT Conference on Wednesday.  It's my first time in Australia and I look forward to learning where they are with education reform.  From my web-based interactions, they seem to be very much where we are in the U.S., though I'd have to admit that there seems to be more innovation going on there at the local level.
I also look forward to spending a little time with Stephen Heppell, the opening Keynote speaker.  He and I keynoted a library conference in Toronto a couple of years ago, and I was deeply impressed with and influenced by his message, and especially by what he is contributing through his consulting services with schools in underdeveloped countries.
Along the way, I'm starting to read Linda Darling-Hammonds new book, The Flat World and Education.  So far, it's a lot of the same statistics that I've already heard, read, and used, that paint a picture of an American schooling system that is virtually standing still (and deteriorating in some respects) compared to some other locations that are making a concerted and nationally lead effort to restructure their schools, curriculum, and learning methods for a knowledge-based economy.  I look forward to reading more about Darling-Hammonds vision for moving the U.S. forward.
From someplace over the South Pacific and probably your tomorrow, this is David Warlick signing off.
Powered by Qumana