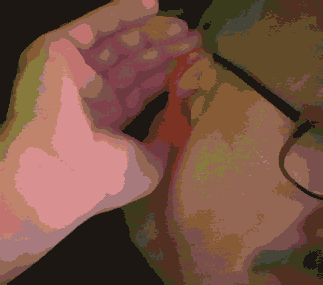 Chris Harris, the leader of a regional school library system in New York, wrote yesterday (Blog Tipping Point) about Malcolm Gladwell's Tipping Point concept. Evidently, Harris has had a good week with an unusual number of his constituents asking for guidance in setting up blogs and other collaborative tools (wikis, Moodle, Drupal, Blogmeister).
What continues to concern me is that educators are still thinking about technologies. "I heard about blogging, and I want one." "I saw this presentation about Drupal. Show me how to have my own web page." "I can teach my students to blog? What's this Blogmeister thing?" "I need to Moodle my class."
What scares me is that too many teachers are going to adopt these technologies without really understanding why, and that they are going to fail, and we're going to lose momentum. Chris Harris certainly gets it. He's a librarian. And I know that Gary Stagger gets it and is a fantastic evangelist (not to mention master trumpet player).
It's probably the aging part of me that seems to want things to slow down a bit. At the same time, I feel a genuine sense of desperation, that we aren't moving fast enough, that our fall as a nation is accelerating, and that we are wasting too many good minds, because we are measuring learning with a scale that is much too narrow.
It's the words. They seem not to be sufficient any more for what I feel needs to be happening in our classrooms.
Teaching: It's too active. It places too much of the responsibility and focus on the figure who isn't going to be around when the student leaves the classroom — but continues to need to learn.
Learning: It's too passive and final. "I've learned this, this part is over, let's go to the next part." Nothing's over any more.
Technology: It's only the tool, the conduit, the pen and paper. It's the color we paint the walls. It's the windows, the door, and the motors we don't see. But not much more.
So what happens in between. I don't know what to call it. But I know its sound. It's conversation. It's a new conversation between students and teachers, and it goes both ways. It's new conversations between students, conversations between students and "experts", conversations between classrooms and homes, and conversations between schools and their communities. It's a national and international conversation about what and how children need to be learning and ongoing conversations about solving new problems answering new questions and accomplishing new goals.
I hear conversations! what do you hear?
Am I getting cranky?