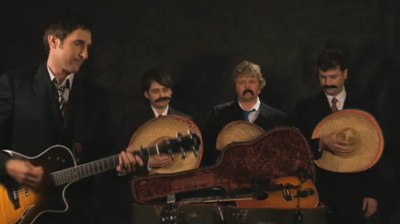 From the video, United Breaks Guitars
From the video, United Breaks Guitars
I'm pretty sure that it was in Pittsburgh last week, that a young man came up just after my address, to tell me the story of "United Breaks Guitars." It was my first exposure to the story, as I've not been paying enough attention to my RSS reader lately.
It appears that after landing in Chicago for a connect to Nebraska, Dave Carroll and band, Sons of Maxwell, were alerted when another passenger exclaimed, "My god they're throwing guitars out there."

Here's a short version, from Carroll's web site says…
In the spring of 2008, Sons of Maxwell were traveling to Nebraska for a one-week tour and my Taylor guitar was witnessed being thrown by United Airlines baggage handlers in Chicago. I discovered later that the $3500 guitar was severely damaged. They didn't deny the experience occurred but for nine months the various people I communicated with put the responsibility for dealing with the damage on everyone other than themselves and finally said they would do nothing to compensate me for my loss. So I promised the last person to finally say "no" to compensation (Ms. Irlweg) that I would write and produce three songs about my experience with United Airlines and make videos for each to be viewed online by anyone in the world. United: Song 1 is the first of those songs. United: Song 2 has been written and video production is underway. United: Song 3 is coming. I promise.
You can read a longer version of the story on the same page.
Between July 6 and my finding of the video (Aug 23), the first song (United Breaks Guitars) had been seen 5,129,955 times. As a result of the viral penetration of the video and the apparent uproar aimed at United Airlines, United offered compensation, as indicated by this statement, YouTube'd by Carroll four days later (July 10).
The second song was posed on August 17, where the band pokes more fun at the whole affair.
There are two elements of this whole story that dovetail into my standard threads of conversation. First of all, we are experiencing and participating with a new information landscape where the message — the spin — is no longer issued exclusively by the few who can afford the spin-mongers and media outlets. We all have a voice today.
But just having a voice is not nearly enough. Secondly, a video on YouTube did not make this story. It was a young man, his band, and a very clever and well-performed song that made it. They communicated their message compellingly with charm, humor, and bite — and they got the attention and response of a giant.
This is why teaching writing is not nearly enough for our children to be fully empowered members of their society. It's not that everyone will produce viral videos for YouTube. But, because of YouTube and the avalanche of information that characterizes our society, messages must compete for attention to earn audience, customers, collaborators, etc. — and this means that beyond learning to write well, students must learn to communicate with images, sound, video, and animation. They must have a command of the entire spectrum of content.
Powered by ScribeFire.