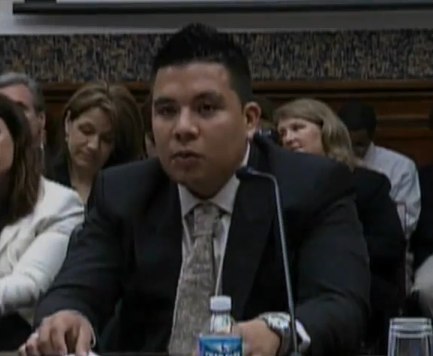 Greene County High School Graduate, Abel Real's Testimony before the House Committee on Education & Labor. Click to watch the video on YouTube
This came to me the other day from Mike Kruger, Online Outreach Specialist for the Committee on Education and Labor, U.S. House of Representatives. Chaired by the Honorable George Miller, the committee is apparently holding a series of hearings about the future of learning.
Mike pointed me specifically to the testimony of Abel Real, a current Freshman at East Carolina University, and graduate from Greene Central High School in Snow Hill, NC. It's a compelling story about the potential impact that respecting our kids with efforts to modernize their classrooms and learning experiences can have.
One line from Real's testimony caught my ear. He said that
Technology helped me to create, learn, explain, document, and analyze the different aspects of my life.
I can't think of a better way to describe what education is supposed to do.
You can see Abel's testimony here and a listing of the other June 16 testimonies at the committee's YouTube Channel.
As we attend NECC next week, we should keep in mind that the reason we are there is so that this might become a common story.
Powered by ScribeFire.