The other day, at the end of a presentation for parents from a school in Milwaukee, a member of the audience came up excited about the possibilities of students using video to communicate. He said that he was working with a boys club in the city, and was looking for a way to get the youngsters excited about something academic. I suggested ThinkQuest, that they come up with some aspect of life in the city that they would like to teach, and the produce a web site that teaches it.
The more I think about it, the more I realize that these competitions might be a truly important contribution from the corporate world. I'd love for Oracle to give every teacher in the U.S. a laptop of their choice. And I'm not all that enthusiastic about making everything competitive. But corporate and association sponsored competitions are one way to connect the classroom experience with the outside world.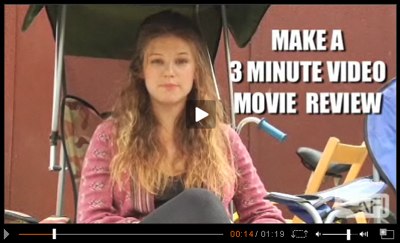 Here's another one. ScreenNation, of the American File Institute, just announced a new Challenge,
Make a movie, three minutes or less, reviewing your favorite movie.
Boy, I'd love to take the time to review "Burn after Reading!"


Anyway, your students can team up, figure out how to creatively express their opinions about the movies, without using any clips or music from the film, and then make a short creative video to submit to ScreenNation.
It not about the camera. It's about the communication 😉