This morning, I was scanning back over last weeks TechLearning blogs, written by my esteemed colleagues, when I was struck by Jeff Utecht's post, Fear Factor. Jeff's comments resonated with me because of several conversations I had last week with administrators and tech integrators from schools I worked for in Connecticut and Maryland.
The idea of fearful teachers came up several times, and I have to admit an increasing frustration with this issue. Why do we treat teachers so delicately? Why do we forgive them year after year for not adopting contemporary information and communication tools? Why are we satisfied with small steps?
Well, the answer is simple. Teachers are special. They are smart, resourceful, incredibly accomplished, and they work miracles — they make a difference. They influence so many lives and they are revered. It's clear. How can we treat them with anything but awe and respect — especially when no one really has a clear picture of what integrating technology means? If we might fast forward to ISTE's new NETS, what do creativity, innovation, communication, collaboration, research, information fluency, critical thinking, problem-solving, decision-making, and digital citizenship really look like in a technology rich classroom?
For several years, many of us have been trying to make a case for thinking about education in new ways, largely as a result of technological advancements and their affects on how we use information. I think that many education leaders are listening now. I think that they are ready for clear images and stories about 21st century classrooms and what teachers and students should be doing to better prepare a generation of new century citizens.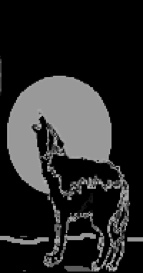 For me, I have to admit that I've become fairly comfortable howling at the moon. Refocusing on sharing and even inventing concrete applications will be a pretty hard corner or me to turn. But it will also be exciting.
As for the teachers? Well, I've become dissatisfied with Marc Prenski's portrayal of digital natives and digital immigrants. It's a useful distinction, but not if teachers make it an excuse not to try. I think that our children have every right to expect that their teachers will teach more from today's information landscape. If you think about it, they only taste that most children have of the 20th century, is their classrooms — where we're supposed to be preparing them for the 21st century.
I almost lost it when I read, in Cheryl Oats' comment, "..someone told me they didn't want to learn one more new thing, they didn't like new things.." I would want to ask, "You call yourself a teacher?" Who more than teachers should be willing and eager to learn new things?
Calming myself back down again, I have to remind myself that technology is anything that was invented after you were born. Our kids, as Jeff reminds us, grew up with computers and the Internet. They become so accomplished with these tools because it's play for them. I think that I took to computers simply because I remembered playing with Legos. Perhaps we need to teach teachers to play again.
Sorry for the rambling rant!