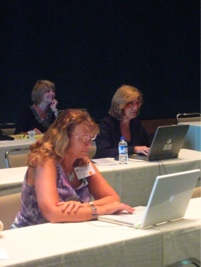 It's how I'll spend the whole week. Yesterday I spoke in Charlotte, and then Brenda drove me back to Raleigh, where I dropped her off, and then drove on down to Kinston, NC. I'll do two presentations for their school opening staff development conference today and then drive on to Lumberton, NC for another opening conference. Then I'll drive to Selma, hop on a train, and ride up to someplace north of Richmond.
Not a lot of time to write and to befuddled by road noise to think. Plus, I'm engrossed by a pretty good audio book, Eifelheim by Michael Flynn. I guess that the only thing that I keeps coming back to me, with regard to technology and education, is how impressed I've been with using of chats in my presentations. This week, I do not believe that any of my audiences will have laptops and wifi, and this disappoints me. The times that I have been able to open up my AjaxChat site to audiences added a great deal, I believe, to the value of the event — both for me and the audience.
It gives me a chance to revisit the presentation through the eyes of the audience, as they comment on various aspects, succinctly sharing their angles and insights and posing questions. It gives me a chance to respond to questions and add new ideas, when I transfer the transcript of the chat into a wiki and can flesh it all out into a single digital document. At this point, I can't think of any digital follow-up technique that I have been more satisfied with or excited about.
The downside is that most people my age (30+) have difficulty paying attention to a presentation and chatting at the same time. But I suspect that only a few people really need to engage for the document to be valuable to the entire audience.