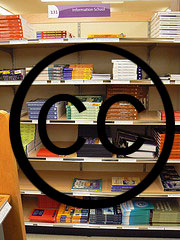 This just got twittered out by John Pederson, of Pedersondesigns.
Welcome to ccLearn — ccLearn:
ccLearn is a division of Creative Commons which is dedicated to realizing the full potential of the Internet to support open learning and open educational resources (OER). Our mission is to minimize barriers to sharing and reuse of educational materials — legal barriers, technical barriers, and social barriers.
I just realized that John included the same quote in his blog, so do click over there to take part in that conversation as well.
My take is that if the Textbook industry does not work really fast to reinvent itself in the image of a more participatory, reader directed, and people connecting information environment, then it's going to happen without them.