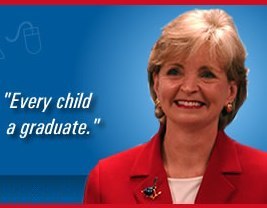 June Atkinson
My state, North Carolina, has a decision to make in November – and it's not a hard one, in my opinion.
It's the race for state superintendent of schools. We elect our state superintendents, unlike many states, and from the time that I graduated from High School until I joined the NC Department of Public Instruction (NCDPI) 20 years later, my state's education system was lead through the election and continued re-election (five terms) of Dr. Craig Phillips, a professional educator. Since he left office, we have elected a number of different superintendents.
For the last eight years, Dr. June Atkinson has held the position. Dr. Atkinson is a professional educator, having served leadership roles at NCDPI since 1976. When I was at the department, I attended several meetings with Dr. Atkinson, who was heading up business education, and observed the respect she had earned from everyone else I knew. Shortly after I left, the morale at the department was boosted when June became Director of the Division of Instructional Services.
Dr. Atkinson was elected to the office of State Superintendent in 2004 and then re-elected in 2008.  During this time we have seen North Carolina's graduation rate rise from 68.3% to 80.2%.
Challenging Atkinson in November is Tea Party darling, John Tedesco. He is not an educator, but he has held a variety of positions –– admirably, several of them have been with charitable organizations. Mr. Tedesco was elected to the Wake (Raleigh) County Board of Education in 2008 and is still serving his first term, a tumultuous four years characterized by secret planning meetings and an often riotous board room. The Wake School Board lost its conservative majority during the 2011 election.
My message is simple. In this time when education is challenged to serve a new generation of learners, within a new information environment and for a future we can not clearly describe…
It is a time for Professionals!
Not for amateurs with an agenda.
Please Support Dr. June Atkinson for North Carolina State Superintendent.