Most of this entry was written while flying to the iCTLT event in Singapore.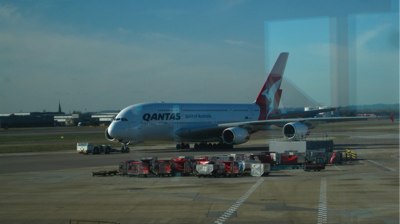 After about an hour's delay in London, we enjoyed an amazing take-off bound for Singapore and the iCTLT (International Conference for Teaching and Learning with Technology). The take-off amazed me because of the size of this jet, an Airbus a380. Unlike the Boeing 747's signature second floor hump in the front, the A380 is two floors all the way to the back of the plane. I am just behind the wing on the top floor sitting in a premium version of coach class (thanks, Brenda). It's not business class or first class, but there's gobs of room.
According to the Quantas magazine, the A380 is only slightly longer than the B747, but sports a wing span just two first downs short of a football field and it can carry up to 450 passengers. The crew was meeting in the gate area just before the jet arrived and they would not have all fit in most of the jets I typically ride in.
Days later, I'm back in the U.S. and working to get ready for a Webinar for Linworth on Thursday, some work here in North Carolina, and then up to New York before heading to set foot, at last, on Australia.  Cool!
Powered by Qumana