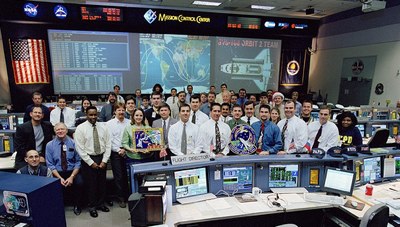 Does your Personal Learning Network feel like this (right)? Chances are that it does, at least some of the time. We're hearing about PLN more and more at ed tech conferences with increasing enthusiasm (evangelism) — and this is good. We can no long rely on a broadcast/publish information environment as the only source for answers to brand new problems — especially in education. We need to rely on each other, our combined knowledge and experience to discover and even invent solutions to brand new problems. [photo ((Galvan, David. "STS-108 Orbit Team 2." Davidagaivan's Photostream. 25 Oct 2005. 18 Mar 2008. http://flickr.com/photos/dgalvan/55978852/.))]
However, it is easy to feel that your personal learning network/social network is becoming a NASA Control Center. For that matter, we can easily come to feel that we're trying to land our students on the moon. It's not that much of an exaggeration. But it is essential that we learn not only to grow our personal learning networks, but also to control them.
Controlling my PLN is not something that I've learned to do, but it is something that I've been thinking about. Here are a few ideas that occur to me.
Try to hold yourself to a limit of bloggers you are subscribing to. It may be 10, 20, or 30 — whatever feels comfortable. But don't make it an uncrossable line. You may discover, with experience, that you can follow more than 10 bloggers.
Set up folders in your aggregator based on frequency of reading. Call one folder, "Everyday," and in it, place blogs and other RSS feeds that you need to follow every day. Call another one, "Once a Week" and load it with less critical postings.
It's OK to switch Twitter off every once in a while. We're actually pretty smart as individual, and sometimes we just have to sift through what we've learned and what we believe and make it work for us. Sometimes we have to just do it ourselves. While Twitter is still off, take a break, go for a walk or a bicycle ride. Go visit a neighbor, or just walk around in your garden for a few minutes.

I connect with nine Flickr users, who connect to others.

It's OK to ignore other parts of your PLN when you need to. Your aggregator will wait for you. It may start to burst at the seams, but it won't explode (at least no one's ever been physically injured).
Scan! It is possible that you may only actually read one in 10 of the blogs that come through, depending on who you are aggregating. I am subscribed to 78 RSS feeds with my Google Reader. Many of them only periodically write something of interest to me, but when they do, it is something that needs to be available to me.
Your aggregator can grow temporary limbs. If you are teaching a brand new unit, or have been asked to deliver a presentation you have not done before, find people whose writings will help you prepare and subscribe to them. When you've learned what you need, then sever the lines.
Realize that your network is much larger than it seems, much larger than the ones you've directly connected to. Because you are not just reading me, you are reading all of the mes that I'm reading, and they're reading. We're like a giant sieve, each of us sifting through information and ideas, adding to them, reshaping them, and each of us judging their relevance and usefulness. It's bigger than you think. It's more valuable than you think. Limit your network with this in mind!
Another way to gauge the practicality of your PLN is to set for yourself the amount of time you can give up to scanning your aggregator. David Jakes said, during a virtual presentation the other day, "Are you willing to spend 15 minutes a day learning?" If you find that after 15 minutes you are still not getting to all of the connections you need, then you can consider a different strategy.
You do not need to subscribe to dozens of educators to learn how they are using VoiceThread. Instead, conduct a Google Blog Search for voicethread and then subscribe to the search RSS feed. If anyone blogs about Voicethread, their blog comes to your aggregator. Another search tool you might use in the same way is Technorati.
Some bloggers are very good connectors and filters. They read lots of information, and then blog the gems. An excellent example is SEGA Tech, by Jeff Giddens, Daniel Rivera, and Michael Stokes, of Georgia's Southeast Regional Educational Service Agency. Another excellent example is Stephen Downes' OLDaily.

Please suggest other strategies by commenting here.