Business Insider reported on Sunday about a study that indicates that even though college students enjoy learning from digital texts more than print and believe that they learn better, the truth is that print is better.  The article, A new study shows that students learn way more effectively from print textbooks than screens, explores the work of Patricia Alexander and Lauren Singer, both from the University of Maryland. The two also reported their finding here at The Conversation.
The Business Insider article does a pretty good job of drilling down into the specifics of digital print's failing – and I do not contest their findings. As a long time reflective user and producer of digital content, I recognize that you read differently and often for different reasons with a hand-held or larger screen. My concern is that certain conservative-leaning policy makers will see this as an opportunity to lash out at progressive educators with, "Your new way is not as effective as the old paper print."
That conclusion reflects a gross and dangerous misunderstanding of technologies' place in formal education, and a disgraceful lack of imagination. Sadly, the imagination required to understand what technology means to teaching and learning is lacking in  conspicuous sections of the professional education community.
I have long held that to understand how digital networked technology supports leaning we must reflect and come to understand how we are using tech to help us learn after school. We learn by researching and identifying the information that best helps us accomplish our goals, and achieving this by resourceful perseverance. We use the technology to find people and communities who are knowledgable and discussing the topics we need, and dynamically connecting with those communities. We learn in this digital, networked and information-abundant environment by being critical readers, always asking questions about the answers we find. To this end, textbooks are a detriment to effective learning, because they defy critical questions.
We need to understand how we (adults) learn through our screens after our schooling, because continued learning is the defining character of the future for which we are preparing our students.
The flaw in education is that we're stuck in thinking about education and not thinking about learning – something we're all intimately involved in.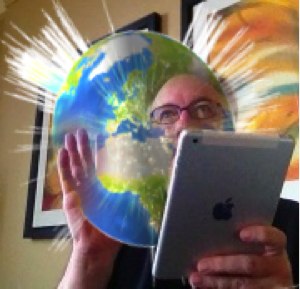 I do not think that holograms are on the near horizon, but one can wish
So, continuing from my last blog article, if the answers to our questions are changing and they are constantly available to us, and helping our children learn to find, validate and use valuable information/media has become a central defining component of literacy, then of what use are textbooks.  If stripped of the content – the right answers to questions – then what is left and to what purpose.
In my opinion, quite a bit is left.  I took one of those remedial classes in my first year of community college, something like "Improve Your Study Skills."  I remember the professor telling us what to do upon receiving our textbooks each semester.  We should scan through and register key items and sequence of ideas in the table of contents and also scan the index, looking for names, words and phrases that stand out.  Each of these textbook elements provided anchor points within the content, giving it shape and meaning.
If the teacher or learner is starting without a packaged and provided collection of content, then a locally maintained table of contents (outline) and index (list of essential terms) become something quite different.  Instead of anchor points, they provide idea magnets, serving to help draw together the most contextually relevant and defensible information in a sequence and shape that provides the deepest meaning to the content.  It is, in a sense, a skeleton that gives shape to what might otherwise be an ugly bag of mostly water. (I always wanted to use that phrase – Geurs, Sanchez & Sabarof, 1988)
I had originally written a long technical examination of metadata here, but it would be one of many avenues to this sort of learning tool, and who am I to suggest how this might technically work.  But what comes closest to being my personal and professional textbook today is Flipboard, a magazine-forming social network aggregator for both iOS and Android.  I'll be attending the upcoming Educon at Philadelphia's Science Leadership Academy this week.  In preparation, I've configured Flipboard to grab all tweets that are hashtagged with #educon, as well as the resources that are shared by those tweets.  The effect is a new chapter to my textbook, capturing content from others who will also be attending or simply paying attention to the event via the social network.  My textbook (Flipboard) is a carefully arranged, personal and constantly evolving set of information magnets, that attract the content that I need or want to see.
Might the day come, when a subject to be taught, is conveyed as a flexible outline of tags (so to speak).  The job of the teacher would be to locate (or cause to be located) and attach content (both open-source and/or commercial), in any appropriate format, to that arrangement of scope and sequence-forming tags and constantly filter and refine that content based on changing conditions and newly available content?
What might this process look like as an integral part of teacher education?  Might the act of starting their own flexible digital textbooks be a part of learning to teach.  (Is "Flexbook" trademarked?  How about "flexibook?")
My point is that we have every reason to conclude that learning tools that assume a static, centralized and standard arrangement of content is irrelevant to the needs of today's learners – and that today's prevailing information environment provides for us some pretty compelling opportunities.
That teachers can easily construct and refine learning tools based on local and universal conditions and individualized to the circumstances of specific learners.
That learners can personalize their learning tools based on their self-discovered learning styles and their evolving personal interests.
That these learning tools need not be turned in at the end of the course, but carried on, edited, adapted and grown.
That learners can graduate with more than a paper diploma – that they might take with them a personalized digital library or network of content that they continue to maintain and evolve based on their continuing needs and interests.
That this action of personal curation can become an integral part of formal education, further shifting it from
Something that is done to children
  to
Something that we learn to do for ourselves.
Geurs, K. (Writer), Sanchez, R. (Writer), & Sabarof, R. (Writer) (1988). Home soil [Television series episode]. In Roddenberry, G. (Executive Producer), Star Trek: The Next Generation. CBS Television Distribution.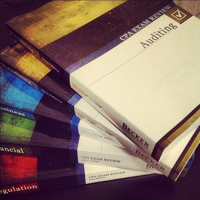 My niece posted an Instagram photo last night of a stack of textbooks. In her description she wrote, "I never thought I would be so happy to receive textbooks."
I commented, "But isn't it all on the Internet?" — mostly in jest. She knows me.
The information is out there on the network, of course. But her need for those textbooks is absolutely critical, regardless of what she can Google and in spite of how she will continue her essential professional learning after her textbooks are digested. You see, my niece is preparing for her CPA — and the right answers for that exam are not on the Internet. You can count on that.
A textbook, as a product of packaged content, is essential when we are tasked to learn the right answers — when we are being certified in some way as having x knowledge or y skills. But in my opinion, based on my own rather peculiar career, this is not education. It's training.
Training is not bad. There are certainly elements of formal education that require training — to learn facts and skills that are both useful and stable. 2 x 2 will always be 4 and 9 x 9 will always be 81. Yet, what it means to be educated changes, when answers shift with a rapidly changing world and when a dynamic global library is accessible to us from our own pockets.
Both of my grandparents had college degrees. But after their degrees were conferred, they prospered in a relatively stable world of information scarcity. Being educated was based on remembered knowledge.
Today, we function within a networked, digital and info-abundant environment, whose conditions are constantly changing. Being educated today is being able to skillfully, resourcefully and responsibly mine and utilize this infoscape within meaningful and reliable contexts to accomplish goals — which often involves learning something new. Using a traditional textbook does little to help students become skillfully, resourceful and responsible learners.
If preparing our children for their future means certifying them based on a measure of their remembered knowledge or certifying schools/teachers based on the measured knowledge of their students, then bring on the books, the bigger the better.
But if it is not a trainable/teachable worker who brings prosperity today, but the imaginative information artisan with a lifestyle of learning, unlearning and relearning, then we need to completely rethink the tools of education.
I will confess here that this is not exactly the article that I sat down to write. But it may lead into a next, and slightly more specific (if not more practical) article about these learning tools.
So check back by!
Last Wednesday, The New York Times posted an op-Ed piece by Justin Hollander. The Tufts University professor drew attention to U.S. Secretary of Education Arne Duncan's declaration of "war on paper textbooks," and his call to replace them with a "..variety of digital-learning technologies, like e-readers and multimedia Web sites."
Hollander continues,
Such technologies certainly have their place. But Secretary Duncan is threatening to light a bonfire to a tried-and-true technology — good old paper — that has been the foundation for one of the great educational systems on the planet.1
This common reaction to our move to digital and networked education is yet another exasperating example of our apparent need to define education by where it happens and the objects we handle to accomplish it. The assumption persists that education is to be administered through the proper and efficient application of technologies, regardless of their century of origin –– and that the publishing industry is best qualified to prepare and distribute the services of those technologies.
What's at stake is not what children carry into their classrooms, but it's the experiences that they take part in and what they carry away from those experiences.
My hope is that Secretary Duncan's war is not with paper, but with a one-way street style of education that revers the source and delivery of knowledge at the expense of our students' essential partnership and investment as they learn and master the practices of lifelong learning.
1 Hollander, J. (2012, October 10). Long Live Paper. The New York Times. http://www.nytimes.com/2012/10/10/opinion/long-live-paper.html?_r=0
(cc) janthepea
For a science fiction look at textbooks, read about The Young Lady's Illustrated Primer in The Diamond Age and Ender's desk in Ender's Game. If you have other suggestions, please comment.
A couple of weeks ago, my friend, Tom Whitby, wrote a blog article, We Don't Need No Stink'n Textbooks. I agree with his position, and was especially impressed with the list of components he compiled from Discovery Education's Beyond the Textbook Forum.
Responding to Tom's title, though, I am growing less unhappy with calling it a textbook.  After all, we seem to have no problem calling the device I'm writing this on, something that only a few years ago would have referred, almost exclusively, to "a number of sheets of writing paper, fastened together at one edge."
So, granting myself permission to call it a textbook, what do I think today's textbook should be?
Today's textbook should:
Be a Companion (Mobile) – The student's textbook should never weigh more than half that of a human brain (about 3 lb.). It should be as easy to ask, as the person sitting next to you –and through it, the reader should be able to ask the person sitting in the next room, on the next continent or a radio telescope in Australia.
Be an Encyclopedia Galactica ((Wikipedia contributors. "Encyclopedia Galactica." Wikipedia, The Free Encyclopedia. Wikipedia, The Free Encyclopedia, 24 Mar. 2012. Web. 29 Mar. 2012.)) (Comprehensive and Cross-disciplined) – The textbook should provide content in a variety of formats (text, images, audio, video, animation), selectable by the reader.  It can be drilled into for deeper exploration, and issues of special interest to the reader will trigger seamless bleed-throughs from other disciplines (literature, mathematics, science, the social studies, health, etc.) – No seams! No walls! No boundaries!
Be a Player (Responsive & Playful) – The textbook should be active and interactive. It both reflects and magnifies the learner, the teacher, and their world – and it adapts to its interactions with each.  It does not respond with a "right" or a "wrong."  Instead, it causes the reader to say, "that worked" or "that didn't work."  The textbook will also contrive long-term narrative-puzzles that reach other readers, building communities of mutual concern.  Embedded in each textbook are hidden clues that can be exposed through the productive use of the book and shared with other members of the community – the combination of which solve the puzzle.
Be a Sandbox (Constructable & Elastic) – The textbook is totally stackable.  Both teacher and learner (to age appropriate degrees) can remove elements, insert elements, re-sequence, edit and even hack elements.  The textbook will edit itself based on changes reader interest and the changing dynamic global information environment.
Be Provocative (fueled by questions) – The textbook should tactically and strategically leave things out.  It provokes questions, the answers of which provide mortar for the personal and participatory construction and reconstruction of the book.  It is always broken and always fixable, and the rules belong to the reader.
Be a Journal (Turn the Learner Outward) – The textbook will require the reader to observe, interact with, reflect on and work her personal environment.  The reader will talk to people, use a hammer, play a game for fun, explore a forest, and become skilled at something that does not require a computer interface.  She will report her experiences in a digital journal, which the textbook will productively adapt to, creating richer relevance for the learner.
Be a Personal Badge (Identity-builder) – There is an element of the textbook that is public, continually and cooperatively refined by the teacher, the reader, and reader's family.  It is a demonstration of what the reader has learned, what she can do with what she's learned, and what she cares about.
Never be turned in (Grown into a personal digital library) – The textbook grows, year after year, with new elements added, old ones edited or deleted, and continuously curated – the ongoing and ultimate goal being the construction of a personal and lifelong digital library.
That's two more cents worth!
…Posted using BlogsyApp from my iPad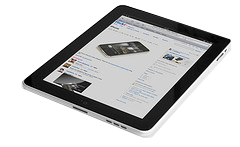 Photo by Joyce Valenza, who came in spite of her broken knee
I had originally intended to append yesterday's blog post with more information about, and from the forum.  But I think that I have a little more to say than I left room for yesterday.
First of all, I left the Discovery Communication Headquarters yesterday with one of those deliciously contradictory sensations of both exhaustion and exhilaration. It was certainly an echo chamber of people who have the room, by choice or by definition of job, to think about and talk about the future of education. But even though we have largely drawn the same conclusions, when you get these familiar ingredients together in the same pot and stir vigorously, new flavors often comes out.
I'm not going to present a comprehensive report of the conversation here.  I would point you to better reporters, Audrey Watters (Hack Education) and Wes Fryer (here, here, here and here) and others who will come linked in the #beyondthetextbook Twitter thread that certainly continues.  Essentially, its all about rethinking education, being educated, teaching, learning, and curriculum.  I can't add much to that.
Here, I want to focus in on just a few outlying ideas that I walked away with, especially from my internal efforts to put myself in the shoes of our hosts and an industry that has become one of the definers of education.
One of those ideas got pried loose when a Discovery person asked the un-askable, "How do we monetize this?"  It was the only time that the business of selling textbooks came up — and I can't fault anyone for making a living.  It's an important question, because they know that they need to be doing things differently, and I suspect that they are sincerely trying to get on the other side of just digital textbooks with animations, videos and flash games.  There were suggestions of repackaging the conversation, thinking in terms of selling pages (modules), or talking more about digital libraries that children take with them after graduation.  This intrigues me, that being educated is knowing, doing, and cultivating tools that help you to continue to learn, unlearn and relearn.
Much was said about resistance from many teachers.  Many feel that a classroom without a textbook starts to look like a classroom without a teacher.  In addition, few teachers have the time to construct their digital textbooks or supervise student-constructed learning materials.
But another barrier became evident to me that gave me – and this is going to open some eyes – a new sympathy for the textbook industry.  I'm for the kids and the future, and I don't fault an industry for making a living from this endeavor.  Who among those of us in that room are not.  I do fault efforts to influence the shape of education in order to perpetuate a control-model that is clearly no long relevant.
I want to welcome anyone who wants to be a part of this new adventure.
My sympathy comes from the fact that the only way Discovery could run a sustainable education support business is to go where the money is, and the most uninterrupted money has traditionally been textbook budgets.  So Discovery has to frame its service as a textbook, as defined by legislation. It's easy to say, we don't need textbooks, that "..the Internet is the best textbook."  But when many politicians hear, "We don't need textbooks," what they may be seeing another avenue for slashing education funding.  It's one of those, "Becareful what you wish for…"
So, I think I may unapologetically continue to call it a "textbook."  I could be writing this blog on my tablet (do a Google image search for tablet).
It just seems to me that with some imagination, a product, either commercial or open, could be designed to help children to develop the literacies of learning from their world and the authentic record of that world — and our world has never ever been so recorded.
I think that we could see something come out of this, that, as Steve Jobs might say, "We didn't know we couldn't live without," and part of the compellingness of that product will not be so much in what it is, as in what it can become.
It's what excites me about today's tablets, their capacity to become new things.
At this moment, I'm sitting in my hotel room in Silver Spring, Maryland, and continuing to think #beyondthetextbook. I will likely continue to grow this particular blog entry as the next two days progress at the Discovery Communications Headquarters, just a couple of blocks away.
But right now, I thought I would post some links to blog entries I've written over the past few years on the subject of "what's on the other side of the textbook."
Also, the other day, I asked readers to come up with a simile for the other side of textbooks, "It will be like a…" Here are a few that plucked my imagination.
The TB of the future will be like a..
like a quest
like a production studio
like an extension of our brains
like a reality game
like a video playlist
like swiss army knife
like a personal assistant
like a platform that provokes conversation
like a holodeck
like a choose your own adventure story
like a Palantir
map for a learning journey
like an interaction engine
like a Matrix up-link
like an aggregator that searches and updates content
more like a word problem than a calculation problem
More to come!

After keynoting the recent SchoolCIO Leadership Summit and then facilitating their "Digital Content" discussion cadre, I was asked to compile some of the highlights of our case studies and conversations into a 100 word scenario for the SchoolCIO Magazine's followup articles. The word limit made the task feel like a job.  But it is in that sort of efficient deconstruction, reflection, and reconstruction process that we gain new insights — that I learn.
One of the linchpin moments of the recent SchoolCIO Leadership Summit was when one of the attendees, in a rather off-handed remark, said — and I paraphrase:
We should not simply be transitioning from print to digital content.

We should be facilitating a transformation from an old and obsolete way of teaching and learning to a new and more relevant way of preparing our children for their future.
This remark brilliantly packaged a lot of the issues that had been struggling with for quite some time.  It suggests that we take a step or two back and shift our focus away from a new device for content delivery and refocus on something much broader and suggestive of how the game is changing.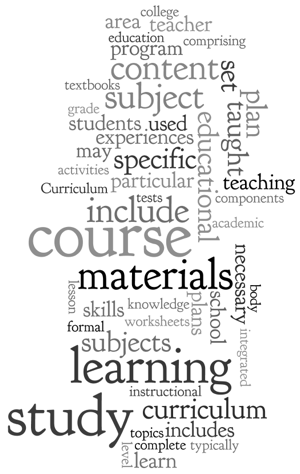 A 50 word cloud, generated by Wordle, compiling more than 20 definitions of curriculum from the Internet
The word Curriculum comes to mind as one way of labeling this broader view. Admittedly, the word is fairly slippery, already having different meanings to different people — even among professional educators. Formal definitions range from a zoomed out departmental view, "..the subjects comprising a course of study.." to a closer micro perspective, "..a predefined series of learning events designed to meet a specific goal." Scan the word cloud to the right.
But as I worked through my notes from the Summit, struggling with the language for my scenario, it occurred to me that a precise and universally accepted definition of curriculum simply has not been very important. Teachers had the textbook; a physical, reasonably durable, easily understood (and operated), dependable, and trustworthy tool that was carefully designed for instruction by experts. We had a practical point of focus that rendered curriculum, as a term, lighter than air, floating to a high and misty place, where its Latin lineage evoked a classical aura to the profession. At least that's the way I see it.
Today, the textbook, consisting of printed pages glued or sewn together and bound in covers, is obsolete.  I believe that its role as the central, dominant, and trusted tool for instructional delivery is been based on a myth and is equally obsolete.  Our information landscape has morphed into something that is larger, more dynamic and vibrant, highly personal and yet broadly shared — and almost entirely unforeseen.
This new info-environment has radically changed how we learn.
Therefore, it must also radically change the practices of teaching and the institution of education.

This is the last book that I bought in order to learn to do something (2000). Today, the idea of buying a book to learn a new programming language seems ludicrous. If we're not buying textbooks to learn after school, then why should we force them on our children's learning?
As the textbook (in the form that I used it in the 20th century) declines, becoming only one optional component of an expanding and shifting array of resources and opportunities, the role of teacher will change.
This notion of  crafting learning experiences by orchestrating webs of content, tools, opportunities and connections implies a broad, partly informed, partly intuitive, and largely personal act of crafting curriculum. It happens as a result of education; experience; professional conversations; research; information resources, tools, and skills; a connection to the community; a genuine caring for children and their self-fulfilling future success; and a professional obligation to be a constant learner and model that practice.
This vision of teachers as curriculum curator is inconsistent with a central and arrogantly authoritative blueprint for everything that learners need to be doing for hours, days, and years of their childhoods and youth.
Curriculum should empower learning, not merely guide and filter teaching.
By relying on teacher currated curriculum over state-adopted textbooks, the transformation we may well see is a shift from classrooms of compliant students to environments of skilled, resourceful, and habitual learners.
…Posted using BlogsyApp from my iPad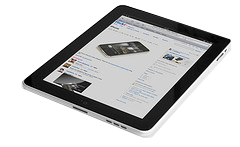 ---

I spent Monday this week in Allen, Texas, just north of Dallas. It was with the Lovejoy ISD and I was the kickoff for their beginning of school professional development, which will include Daniel Pink and other icons. By the way, it was the best thing about being named one of Technology & Learning Magazine's Big 10 this year. While there are a thousand other ed tech folks who would be at least as appropriate on that magazine cover as me, I now have my own iconic Caricature. (see right)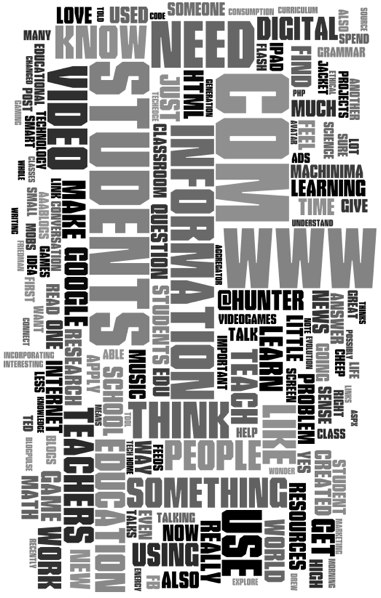 Word Cloud from Blackchannel Transcript
I've just finished going through the very lengthy
backchannel transcript
from my day in Texas and it was a long and action packed sequence of comments. It always is when there are youngsters in the audience. One young fellow, a rising high school freshman, came up during one of the breaks and told me about how he had become fascinated by the auction houses in
World of Warcraft
and found himself researching and learning about macro and micro economics. I asked the audience of mostly teachers when they learned about macro and micro economics. Unanimously, it was college.
But the main thing I'd like to comment on here is a backchannel statement made by one of the teacher participants. He or she wrote in reference to a brief discussion about digital textbooks:
The digital textbook will be the learning management system (spelling corrected)
I have no argument with this statement. I believe that the digital textbook (digital curriculum) will have some elements of learning management and that it should. However, as a guiding definition, this approach concerns me. It seems to me that a much more inclusive and innovative approach is to say,
The digital textbook will be a learning empowerment system
It's part of a theme, "control," that came up several times during session discussions, backchannel, and during conversations I had at lunch.  Self-righteous complaints abound, that teachers just want to control the classroom.  But let's get it straight. When teachers are held accountable to a highly itemized and defined set of instructional standards, then there is a legitimate need to manage (control) the learning in productive ways. In my opinion, however, managed learning is not in the best interests of todays children who live in rapidly changing times. Empowered learning and the freedom to "do" with their learning seems, to me, to be a much better approach as we redefine the tools and environments for formal education.
A Kevin Jarrett Photo of Elizabeth Davis
Several days ago I submitted a proposal for an EduBloggerCon unconference session asking how social media and social networking might help to define digital (next) textbooks. To help seed this conversation I asked folks, via Twitter, from the train on Friday, to share some defining characteristics of old paper printed textbooks. As the responses flew in, I combined and edited them into more positive descriptions such as standards aligned, focused, unbiased, durable, etc.
Next I created a Google Form survey that asked unconference participants to read a characterization statements about old textbooks and write in comparative characterizations of next textbooks. For instance, if Old textbooks are NARROWLY FOCUSED then Next textbooks are…
This morning I culled through the responses, mixing, matching, and editing them together into a defining set of comparisons.  Admittedly, this listing reflects my own biased sense of where textbooks are going.
Old Textbooks
Next Textbooks
•
Old textbooks are STANDARDS-ALIGNED.
Next textbooks will be synaptically aligned to the learning needs and experiences of their users.
•
Old textbooks are CENTRALLY-AUTHORITATIVE.
Next textbooks will establish authority as part of the learning practice.
•
Old textbooks are SAFE & COMFORTING.
Next textbooks will demand and provoke new learning (and teaching) through surprise.
•
Old texbooks are STABLE.
Next textbooks will be fluid, dynamic and ever adapting to learning experiences and shifts in the world, about which we are learning.
•
Old textbooks are ERRORLESS (error ignorning).
Next textbooks will admit errors and will socially self-correct.
•
Old textbooks are NARROWLY FOCUSED.
Next textbooks will be broadly focused through logical and interdisciplinary connections and by adapting to the behaviors of their users.
•
Old textbooks are UNBIASED (self-proclaimed).
Next textbooks will admit their multi-bias, and will invite and share reader interpretation.
•
Old textbooks are PERSONAL/ASOCIAL.
Next textbooks will invite and facilitate conversation and, in appropriate ways, adapt and grow through the conversational behaviors of their users.
•
Old textbooks are MANUFACTURED.
Next textbooks will be co-created, cultivated, and grown by learners and master-learners.
•
Old textbooks are DURABLE BY THEIR RESISTANCE TO CHANGE.
Next textbooks are durable by their adapting flexibility.
•
Old textbooks are HEAVY.
Next textbooks will weightlessly make themselves available to any learner, anywhere, anytime.
•
Old textbooks are VISIBLE.
Next textbooks will glow, grow, and flow, seamlessly reflecting the world through the eyes of a learning community.
keep looking »