I have decided to elevate my response to Benjamin Meyers' recent comment to a blog post.  He mostly agreed with my sentiments over the demise of No Child Left Behind, with his personal experience of test-prepping high school students for the ACT.  It was his first teaching job and it was what he was hired to do.
I certainly found incredible resistance and boredom from the students. It seemed like the harder I tried to teach the test to my students, the more they hated the subject of science. Indeed, high stakes' testing has a nasty way of creating negative feelings toward school in students.
Indeed, it seems that the more we seem to care about our children knowing the answers, the less they seem to care about the questions.
But then, Meyers put forth a relevant challenge,
NCLB was created for a reason. Our schools seem to be lagging behind in performance compared to the rest of the world. This in spite of the amount of money that we spend on education and the number of hours that our students spend in the school building. If we are not going to improve education through legislation such as NCLB, then what is the best policy adjustment that our country can make that will actually make a difference?
But were our schools lagging behind?  The scientific research that we never saw was the proof that a generation who could pass tests could, as a result, prosper in a world and time of rapid change.
Were the the countries that were out performing us on tests, also out performing us in the real world?
Of the 32 countries who topped us in the Science PISA test, in 2012, only 7 ranked above the U.S. in the "World Happiness Report," compiled regularly by an international team of economists, neuroscientists and statisticians.  They were Finland, Canada, Netherlands, Australia, New Zealand, Switzerland and Denmark.1
I'm not saying that our schools were good enough in 1999.  They weren't, and they left many, many children behind.  But to improve education in the U.S., we need to rethink what it is to be educated.  Being an educated person is no long based on what you know, as much as it is what you can resourcefully learn and what you can inventively do with what you can learn.  The job of the science teacher is to help students learn to think like scientists and to care about science – and even want to become scientists.  The same for other disciplines.
Once we understand what we need to be doing for our children, as a society, then we need to pay for the very best ways of accomplishing it.  Personally, I don't think we're paying enough to our teachers and for the infrastructure required to prepare our children for their future.  I also do not believe that our children need to spend as much time in classrooms as they do.  Learning is not as place-based as it use to be.
Four hours in school a day and redefine homework.
1 Brodwin, E. (2015, April 23). The happiest countries in the world, according to neuroscientists, statisticians and economists. Business Insider. Retrieved December 18, 2015, from http://www.businessinsider.com/new-world-happiness-report-2015-2015-4
After finishing up the last episode of Breaking Bad  Brenda and I applied ourselves to finding another moderate to long-running TV series to binge-watch, two episodes a night.  We were looking for another character-based crime drama, though nothing so emotionally stressful as BB.  Martin suggested The Wire and we gave it a try.  If it had been just me, I would have nixed the show after the first episode.
"What's going on?"  
"What did he say?"
But, as is often the case, three episodes in to this series created by author and former police reporter, David Simon, and we were hooked.  Essentially, the show is about life, death, business and politics in neighborhoods that the rest of America would rather pretend aren't there.  In the show, they are "the projects," "the towers," "the vacants," "the east side," "the west side."
One of the aspects of The Wire that most impresses me is its portrayal of both good and bad, wisdom and near-sightedness, compassion and cruelty, loyalty and treachery on both sides of the criminal code.
But mostly, it's about thriving in economically depressed Baltimore in the first years of the 21st century, facing drugs, disease, murder and gangster politics.
And, in season 4, a new evil threat emerges from Eric Overmyer's scripts, reaffirming the futility of trying to rise out of the streets of east and west Baltimore.  You guessed it.  It's the effects of high-stakes testing on the lives of children and their teachers.
I find it interesting that a major network, even if it's a limited-view premium network like HBO, has placed, along side violence, disease, and dysfunctional government, the debilitating effects of an education system, based increasingly on bubble-sheet compliance.
My daughter texted me yesterday morning, wanting to meet at the coffee shop to talk about an article she'd just discovered. She texted me the URL, http://goo.gl/pFc39Z. It's not a recent article and is actually one of Valerie Strauss' (The Answer Sheet) reprints of a blog article [link/pdf], written by Marion Brady (veteran teacher, administrator, curriculum designer and author).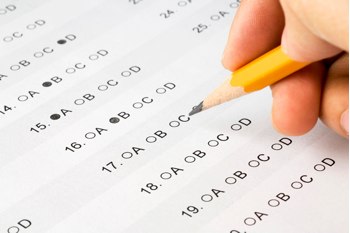 The article concerned a forth-term Florida district school board member, a friend of Marion's, who had taken a version of the Florida Comprehensive Assessment Test (FCAT) for 10th graders.  After taking the test, the board member called Brady, and this repeatedly re-elected board member, who helps to oversee 22,000 employees and a $3 billion budget and claims to be "able to make sense of complex data related to those responsibilities," said that he "hadn't done well."
He confessed that he wasn't confident about any of the 60 math questions, "but managed to guess ten out of the 60 correctly."  On the reading test, he got 62% of the questions right.  In an email to Brady, his friend wrote,
It might be argued that I've been out of school too long, that if I'd actually been in the 10th grade prior to taking the test, the material would have been fresh. But doesn't that miss the point? A test that can determine a student's future life chances should surely relate in some practical way to the requirements of (that) life. I can't see how that could possibly be true of the test I took.
Strauss later identified and interviewed the school board member, and reported on that interview in "Revealed: School Board member who took standardized test."
My daughter, who is certified to teach elementary grades and high school history, but has given up finding a teaching job (2008 recession followed by recent school staff cuts imposed by our state General Assembly [see]), expressed outrage.  She is currently struggling to score well enough on the GRE to get into the graduate school of her choice.
That Florida school board member's experience suggests a question that we are still not asking in any substantive way.  We eagerly, actively, and obsessively ask,
"What kind of teaching best practices lead to higher standardized test scores?"
We are not asking,
"How do higher scores on high-stakes standardized tests lead to satisfying, successful and productive lives and a better world?"
Brady says that decisions about how we assess teaching are,
..shaped not by knowledge or understanding of educating, but by ideology, politics, hubris, greed, ignorance, the conventional wisdom, and various combinations thereof. And then they're sold to the public by the rich and powerful.
How many of us, productive and successful adults, would willingly and confidently take our state's high-stakes standardized test, especially if our freedom to move forward was based on passing those tests?  
What would our legislative bodies look like, if a requirement for serving elected office was to pass the same tests that they impose on their 15 year old children?
This article has also been written about here:
Actor, Joseph Gordon-Levitt also posted a link to the article 
here
.
I was reading an article yesterday morning from USAToday about the MicroSoft School of the Future in Philadelphia. The article plotted the school's struggle with students who were not accustomed to using laptops to "…keep notes, do homework, and take tests." Now this blatantly schooly description of how students are being asked to use their laptops is certainly worthy of comment, regardless of whether it was the journalist's (Kathy Matheson, The Associated Press) wording of that of her source. ((Matheson, Kathy. "Microsoft 'School of the Future' in Philly finally in a groove?." USAToday. 19 Jun 2010. 20 Jun 2010. ))
But that's not what triggered the ding in my head.
The Microsoft liaison, Mary Cullinane, when responding to the "dismal" (7.5% of 11th graders scored proficient or higher in math; 23.4% scored proficient or higher in reading) test scores last year, said,
..test scores don't tell the whole story. It is a long-term journey and we have to get away from short-term yardsticks.
Several of us edubloggers have written our personal and sometimes moving blog entries, where we confessed to not having been exemplary students when we were young. I do not remember if I've written mine, which is almost certainly part of my problem. I'll just say here that I was not a successful student. I did not become a successful student until graduate school, where I knocked the roof off with my grades — and didn't learn nearly as much as in undergraduate school, I might add.
I visited my parents last week to help them celebrate their 60th wedding anniversary, and my Mom told me about running into my third grade teacher, Mrs. Newton. When Mom told her about what I was doing with computers, she said that Mrs. Newton smiled and said something to the affect of,
Remember when David was in my room, and I told you not to worry about him, that he's a bright kid, and one day he's going to find something that's going to capture his interest, and he's going to take off?
Now I'm certain that my Mom would have remained concerned if she'd known it wouldn't happen until I was 35. But I have to wonder if any teachers today are saying, "Don't worry your son." Dismissing the below grade level test scores, and saying, "He's bright. He's going to take off when he finds his passion."
NO WAY!
Of course it shouldn't be a waiting game. We shouldn't be waiting for children to find "their passion." We should be helping them. If we could simply shallow the standards, and provide more time and resources to enabling and empowering students to find, or even invent their passions, we may see the development of deeper and more habitual academic skills — and earlier.
Empowering learning just seems to make a lot more sense to me than just defining and measuring it.
- Posted using BlogPress from my iPad
The caption under this Storybook Rabbit (Amber) Flickr photo was, "Never sit on the left side of the room when you have a right-handed teacher. This was like sitting behind a column at a baseball game. Except much less exciting."

I would add that the teacher is thinking, "I have the data and I know that this is the scribble my students need to be looking at right now."
The reason that I can not get eight hours of sleep is that I am haunted.  I become possessed by conversations I've had in my waking hours.  I am drawn from my sleep by cold boney fingers reaching out from the graves of past presentations — by the insightful, but initially unrealized, comments made by participants and those questions that I wish I'd answered better.
Yesterday, at Saint Marys, a private girls school here in Raleigh, I was asked, "Although I agree with your call to better prepare our children for the future with more authentic assignments, does that help us in our mission to prepare girls for college?"  Then the librarian asked, (and these questions are grossly paraphrased) "I know that Wikipedia and Google are invaluable tools — but what is the place for the online databases that we subscribe to?"
The ghost of workshops past that I must exorcise right now, was something that the Dean of Faculty said to me after the presentation.  He related a conversation he'd just had with a math teacher of many decades who told him that she started to "get it," when the presenter suggested that we need to be asking ourselves,
What kind of questions will we ask on our tests, when our students walk into the classroom with Google in their pockets?
And then he (I) asked the audience to consider calculators — how, for years, we resisted the new devices because it wasn't math.  It didn't look like the math instruction we traditionally provided, and so we almost demonized the things.  But now that calculators have become a critical part of many mathematics classes, have they changed the questions we ask?  Have they changed the problems we ask our students to solve?  Has it changed the nature of math instruction?
The answer, of course, is, "Yes!"  Calculators empower learners to work numbers to an end.  They force students to transend paper and pencil, to truly utilize the language of numbers to solve problems, answer questions, accomplish goals — to learn new things.  I maintain that we should expect learning in the classroom to be the same as learning in the "real world" — that it is about ubiquitous access to the global flow of information and the tools that empower us to work that information.
It's where the Obama Administration has it completely wrong.  According to Secretary Arne Duncan's July 24 Washington Post op-ed, "The president starts from the understanding that maintaining the status quo in our schools is unacceptable." (( Duncan. Arne. "Education Reform's Moon Shot," The Washington Post 24 Jul 2009. Web.18 Aug 2009. <http://www.washingtonpost.com/wp-dyn/content/article/2009/07/23/AR2009072302634.html>. ))  Yet, it appears to me that the status quo is exactly where we are staying.  Like the former failed administration, the answer seems to be do the same thing, just do it more, do it harder, do it longer, and our children will gain the skills they will need to "compete in the global economy."  This is wrong on so many levels that I just want to throw up my hands give up.
Adopting internationally-benchmarked standards and assessments that prepare students for success in college and the workplace;
Recruiting, developing, retaining, and rewarding effective teachers and principals;
Building data systems that measure student success and inform teachers and principals how they can improve their practices; and
Turning around our lowest-performing schools. ((United States Government. Education Department. Race to the Top Fund — Executive Summary. Washington: GPO, 2009. Web/PDF. <http://www.ed.gov/programs/racetothetop/executive-summary.pdf>. ))
So back to my haunt.  What interests me about the connection made by the math teacher between the calculator and the Google'd cell phone is that they are both about empower learning.  Of the four (entirely unoriginal) education reform areas (see left) being targeted by the administrations dangled carrot ($4.3 billion), the one that irks me the most is number three — data.
Now I love data.  I love what you can do with data.  Data visualization is one of my favorite themes to follow on Twitter.  But what's wrong with "Building data systems that measure student success and inform teachers and principals.." and wrong with so much of the prevailing conversations about education reform, is that it's about empowering teaching and schooling.  It's designed to help us do our jobs better as educators — when we need to be figuring out how to empower our students to do their jobs better as learners.
Obama, through Duncan, wants us to use data to measure student learning — and by result, to further limit what we teach to that which can be measured.  What we should be doing is helping our students to use data, so that they can measure their world and better understand their relationship with that world — what can't be measured.
The bottom line, in my opinion, is that we are continuing down the same dumb path of thinking that we need high school and college graduates who know the answers to old questions.  This is wrong!
It's new questions that will define our future.  Today, we need graduates who can invent answers to the "new questions."
Powered by ScribeFire.
This one caught my eye because I've done a good deal of work in Alberta lately — but also because of part of the title, Who can Unlearnall the Facts That I've Learned?. It's an article from VUE Weekly, an independent newspaper from Edmonton. From my experience, standardized testing does seem to be a central part of education in the Province. But I've also talked with educators there, who have a keen interest in what's going on with education in Finland.
The article mostly refers to statements by Dr. Pasi Sahlberg, an education specialist at the European Training Foundation (ETF). There's nothing really new here for those who have questioned my country's growing and continued reliance on standardized testing as an avenue to education reform. But I found interesting, his explanation of the growth of the movement and the response by Finland.
From the article, Sahlberg says,

Sahlberg says that the reliance of standardized testing to judge the success of student performance started in England in the 1980s and quickly spread to North America, Australia and other developed nations. Sahlberg's home country of Finland, on the other hand, was not swept up in trying out the new approach.
"Scandinavian countries were not convinced that through competition education would be improved. Instead an idea of equality is pervasive—that every child needs to be provided with equal opportunity through good education," he explains.
This perspective means schools in his country look different than those in countries that embraced standardized testing.
"For example, schools in England have only two or three core subjects in the curriculum, whereas in Finnish schools there is more of a broad focus that includes the social arts, based on the belief that the success of individuals is not solely achieved through the instruction of only math and sciences. The whole education system in Finland, from kindergarten to Grade 12, has no high-stakes external testing system," he explains. (( Couture. Xanthe. "Standardized Testing: Who can Unlearn all the Facts that I've Learned?," VUE Weekly 5 Marth 2009. Web.16 Aug 2009. <http://www.vueweekly.com/article.php?id=11228>. ))
Offering a U.S. perspective, Dr. David Berliner, of Arizona State University, defends standardized testing under certain specific situations. "I would not want a pilot flying a plane unless he has passed all his pilot exams." He then continues,

..when high-stakes testing is applied to kids and can mean that they will not graduate and that teachers can get fired, this is a different situation all together.
There are problems with relying heavily on test data.
When you value an indicator too much you can predict that there will be corruption in the numbers because the people who administer the evaluation will corrupt the figures. This scenario has been found to occur in high-stakes testing in US public schools. There are documented cases of teachers keeping some students at home on test days, along with other measures, to get the best results possible.
I would suggest that over-emphasizing tested subjects or tested standards within a subject, at the expense of softer and less measurable elements of learning is another way that the data and our education system are being corrupted.
Reading through this, I was compelled to find some data on international comparisons of student achievement, finding this American Institutes for Research study (Chance Favors the Prepared Mind: Mathematics and Science Indicators for Comparing States and Nations [pdf]), reported in a November 15, 2007 Times Story (Study compares American students with other countries'). NY Times said,

The study equated standardized test scores of eighth-grade students in each of the 50 states with those of their peers in 45 countries. Experts said it was the first such effort to link standardized test scores, state by state, with scores from other nations. (( Dillon. Sam. "Study Compares American Students with other Countries'," The New York Times 15 Nov 2007. Web.16 Aug 2009. <http://xrl.in/2xdi>. ))
Here is the graph that shows my own state, North Carolina, with other nations, putting us fairly near the top in Math, bested by Singapore, Hong Kong, south Korea, Taipei, Japan, Belgium, Netherlands, Hungary, and Estonia. We fair less well in Science, closer to the middle of the list.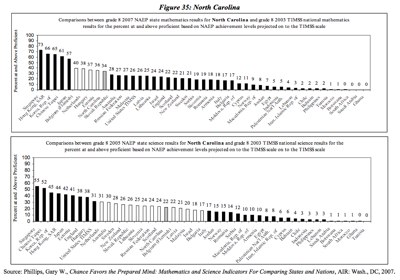 Click the image to expand
So, I'm left with two questions.
Is this why we do what we do?
Or is this why we do what we do?
Supposed to convey happy successful people
Flickr Photo by Mariëlle
and…
Does a
reliance
on this..

Necessarily
lead to
This?
Supposed to convey happy successful people
Flickr Photo by Mariëlle
What do you think?
Powered by ScribeFire.
A little more sleep and a little less cramming may be in store for students next year if lawmakers decide to get rid of some standardized tests.
That's the opening line of a 27 May Raleigh News & Observer story, Student Testing Might be Reduced. Our new governor, Beverly Perdue, recently proposed that the legislature "dump" all state tests that are not required for high school graduation or by federal law.
According to the article, the NC Senate proposes that five high school subject area tests would go — Algebra II, geometry, chemistry, physics, and physical science. These are subjects that are not required for graduation. U.S. History stays, since all NC high school students are required to take that subject (not world history, an issue of recent discusson with some Canadian educator friends).
I'm sorry that U.S. History will continue to be tested. I suspect that it is one of the main reasons that my daughter decided not to become a history teacher. She wanted to teach history, not prepare teenagers for a test. She said that they were not the same thing.
Also to be "dumped" is our state's Computer Skills Test. To my knowledge, North Carolina was the first state to mandate testing of computer skills and to tie high school graduation to the passage of that test.
I never liked the test. I like to say that it was when the state announced the required computer skills test that I left the agency. But it was purely coincidence.
There are two reasons why I disliked the test.
Middle school computers became monopolized by efforts to prepare students for the test, rather than making authentic use of the technology for learning.
Though they did a descent job with the test itself, including both knowledge and performance skills, I suspect that most technologists employed in Research Triangle Park, just north of Raleigh, would have failed the test. Solving problems with computers is about inventing solutions, not memorizing them.
The plus side of the test was that school boards and superintendents bought a lot of computers for their middles schools and kept buying them. My hope is that we are reaching a tipping point where learning in our schools in the 21st century is best and most reasonably done with networked, digital, and abundant content.
Read the article for more on the debate. But Angela Quick, the deputy academic officer for the Department of Public Instruction (DPI) is quoted as saying,

In an era when students will be competing with people around the world for jobs in science, technology and engineering, it makes sense to know how much students have learned about those subjectsuty chief academic officer of the Department of Public Instruction (DPI) is quoted as saying.
Another state education official said,

The tests help standardize the statewide curriculum and make sure students are taught the same material no matter where they go to school.
I have no real objection to either of these statements except for what I have often say. In a time of rapid change, the value that we bring to our endeavors will not come so much from what we know that is the same as other people. It will come from what we know and how we think that is different. We have to ensure that all students graduate with a common context for their world and their future. But it is just as important that our graduates are able to resourcefully make themselves experts, and be able to adapt and innovate.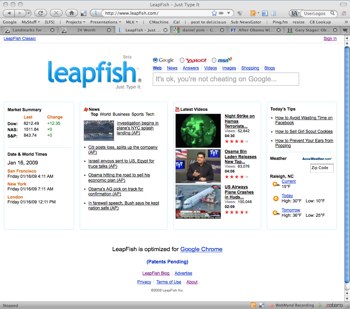 I was flattered a few weeks ago, when Lena Shaw, a marketing specialist with Leapfish, contacted me about the recently launched (nov 2008)  search site.  She started talking about this new searching engine, hyping it like I was some sort of TechCrunch or something, and although it gave me a momentarily gratifying sense of importance, I politely indicated less than enthusiastic interest when she asked if I would like to talk with the CEO.  "I'm sorry, but I am leaving on a business trip and won't be back for a few months."
I looked at the site and was somewhat impressed with its layout and features, but frankly never went back — so I had very little recollection of it when Ms. Shaw called again a few days ago, asking if I would like to participate in a teleconference with the CEO on January 15.  Again, I couldn't bring myself to honestly express my cooling interest, so I asked her to send me the details in an e-mail, and to copy it to Brenda.
So, it was because Brenda got a copy of the e-mail that I was reminded, took another look, and, again, was somewhat impressed.  I wrote back to Lena, telling her that I was interested in being a part of the teleconference, but reminded her that my topic of writing usually revolved around technology, as it applies to education and literacy.  If she had other tech bloggers and media folks more relevant to their goals, to please feel free to bump me from their list.  I'm holding her response to the end of this post.
I dialed in and listened to the companies Director of Marketing and then the CEO, Behnam Behrouzi, who seems to carry a great deal of experience in the world of technology startups.
About Leapfish?  The most interesting task that this search tool seeks to accomplish is that of easing our access to what has become an increasingly fragmented information landscape.  You have at your disposal, Google, Yahoo, MSN, Flickr, YouTube, CNN,  Stock Market, AP, and on and on.  Great information, but too many channels.
Leapfish gives you access to much of it from one basic interface.  I typed Daniel Pink (See Part II) and got a relevancy based listing of 740,000 web references, as delivered by Google.  Clicking the Yahoo link at the top of Leapfish delivered 23,655 hits, and MSN offered a mere 115,000,000 (correct number of zeros).
On the same page, in the right panel, I get the latest news with something from News-Leader.com and New York Magazine.  Beneath that were three videos (Daniel Pink: A Whole New Mind; Daniel Pink: Abundance, Asia, and Automation; and Daniel Pink: Exercise Creativity at Your Job).  That's followed by images and then shopping, where I can buy the book or a Sanrio Hello Kitty Dear Daniel Pink Dress S Set Plush from ebay (:-/)
Another interesting feature is the ability to hoover your mouse over an image or video and have a higher resolution version of the image pop up and the video start to play.  In playing around with it this morning, the Pink videos do not play, but the video and image thumbnails do enlarge to about double the size.  However, the popups do not seem to be large enough to add any real value to the information.
The point of the teleconference was to debut a brand new feature that "..pushes Search to 2.0."  It's click free search, which is interesting to watch.  Basically, as I type each letter, Leapfish starts searching.  The table below indicates the ongoing results of typing in Daniel Pink.
| | | |
| --- | --- | --- |
| Type | Hits | Starting with.. |
| D | 6,000,000,000 | Democratic Party |
| Da | 2,000,000,000 | deviantART |
| Dan | 95,000,000 | DAN Divers Alert Network |
| Dani | 43,000,000 | Natural Products for bath, body, and home | DANI |
| Danie | 761,000 | Danie – meaning of Danie name |
| Daniel | 327,000,000 | Daniel NYC |
| Daniel P | 452,000 | Daniel P. Siewiorek |
| Daniel Pi | 6,840 | Amazon.com: Lists by Daniel Pi |
| Daniel Pin | 323 | Daniel Pin – Australia | Facebook |
| Daniel Pink | 28,600 | Daniel Pink |
Is this 2.0? Well, you can call it what ever you like, and there are certainly a lot of qualities than can be attached to 2.0.  To me, the characteristics to pop to mind most readily are conversation and self-personalization.  Leapfish could be said to provide a conversation between me and an enormous base of content. and having results come back as I continue to type is pretty cool — though I'm not sure how much that adds to the experience or to the task at hand.
The CEO also shared plans to include personalized widgets and the ability to create and share dashboards — but there really isn't anything new in that, is there?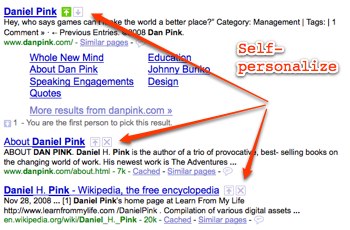 Google's SearchWiki features for personalizing your searchs [click to enlarge]
More to the point of personalizing my search experience, is Google's recent feature addition, SearchWiki.  It gives Google members the ability to delete hits from a search and to rearrange them, so that the next time you search for that term, you will get a more desired arrangment of results.  This is a bit more 2.0, though I must confess that I've never actually used this feature.
An even more personalization of my research comes from a Firefox addon called WebMynd.  When I search with Google, this addon places a panel to the right of the screen offering links to relevant YouTube videos and Amazon products.  I can also add to the panel,
Wikipedia
Flickr
Twitter Tweets
Backtype comments
Factiva Coverage
TechCrunch
Hacker News
CNN
Google Books
Delicious links
..and more.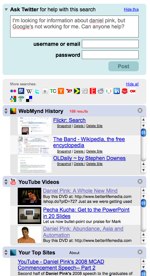 WebMynd results panel [Click to Enlarge]
Of particular interest to me is that WebMynd also remembers the web sites that I have visited, and returns a seperate Google search from only those sites.  So, as I entered a quote that I wanted to site yesterday, the original page showed up on my list of visited sites immediately, saving me from scanning through pages of straight Google hits.  This is search personalization.  I love this feature.
Back to Lena Shaw.  The most memorable part of this entire exchange was when I wrote to Ms. Shaw to remind her that my audience was mostly educators.  She wrote back and said, "Perfect!  Without education, where would innovation be?"
It was a great line and it explicitly expressed a value of education.  The fact of the matter is, innovation is happening inspite of education, and I am becoming afraid that we are going to continue to damage our children and our future with industrial models of assembly-line, quality-control leadership.  Read this from FairTest.
Powered by ScribeFire.