In my new situation of retired educator (or semi-retired educator. I can't really decide), I find myself paying less attention to Twitter and more to friends and relatives on Facebook.  But this morning, when I started my computer and Twitteriffic flashed up, I scanned through the most recent tweets from my long-time and famous educator friends – and my eye landed on one by Doug Peterson  actually a retweet of Miguel Guhlin's,
The Deconstruction of the K-12 Teacher is a March 25 article in The Atlantic written by Michael Godsey, a "veteran high-school English educator."  Asked by a college student about the prospects of becoming a public-school teacher, he writes,
I never think it's enough to say that the role is shifting from "content expert" to "curriculum facilitator." Instead, I describe what I think the public-school classroom will look like in 20 years, with a large, fantastic computer screen at the front, streaming one of the nation's most engaging, informative lessons available on a particular topic. The "virtual class" will be introduced, guided, and curated by one of the country's best teachers (a.k.a. a "super-teacher"), and it will include professionally produced footage of current events, relevant excerpts from powerful TedTalks, interactive games students can play against other students nationwide, and a formal assessment that the computer will immediately score and record.
To that, I say, "poppycock!" How's that for post-career reflection and rejection of the ideals that I seemingly promoted for the last 20+ years? But the fact is that I never promoted such a future for the classroom and find the arrangement to be personally revolting and counter-productive to what I believe the purpose of education to be.
It's an interesting question and one that many of us have challenged ourselves and each other with, "What is the purpose of school." Here's a good answer, in my opinion – Why School by Will Richardson and what is described in Invent To Learn, by Sylvia Martinez and Gary Stager.  But here is my ready answer that is short and to the point.
The purpose of school is to prepare our children for adult life during the next 70 to 80 years.
Life doesn't happen on a video screen and it can't be simulated with a game.  Goddey's "fantastic computer screen" will help as will the games and video clips from top thinkers on TED.  In fact, they are essential.  But the fallacy is the assumption and fear that technology replaces the teacher.
To be sure, nobody in education, but those in the darkest recesses of denial, believes that the role of the teacher is not changing.  The shift from "content expert" to "curriculum facilitator" is certainly happening – and it should.  But NOTHING, my most loyal readers, IS EVER THAT SIMPLE.
A phrase like "sage on the stage to guide on the side" is intended as an idiom to focus the attention of experienced professional educators who already grasp the changing conditions that are reshaping school.  It is not an all-encompassing description of the future of classroom instruction.  Frankly, while reading Godsey's advice to his student, I saw no need for classrooms at all – and that's the last thing I'd want to see for my grandchildren and their children.
We have to acknowledge that there is a powerful cabal that desires and promotes just the scenario described by Mr. Godsey.  They fancy an education system that spends its billions on their videos, games, tutorials and assessment products, instead of unionized public school teachers.  Products, whose service can be measured (test scores), can be marketed.
In my mind the most preposterous statement in the whole article is the advice of a superintendent, aired on NPR, "If you can Google it, why teach it?"  ..and this gets back to the question, "What is the purpose of school?"  If education's objective is to equip our children with facts that they can recall on state test day, then I would agree with the superintendent's statement.  But if its purpose is to prepare our children for adult life, then the job of the teacher is to help learners to understand what they've Googled and develop the essential literacy skills and habits of questioning, analyzing and assigning context to the Googled information.
What we can predict about life in the next 70 to 80 years is almost nothing, beyond the timeless practices of responsibility, compassion and providing value to the community.  It will continue to be a time of rapid change, inventions that redefine how we accomplish our goals and discoveries that challenge our beliefs and philosophies.
The common core subject of every classroom today should be learning to learn.
And this brings us back around to Michael Godsey's apparent fear that his college earned knowledge of literature has become obsolete.  Our classrooms still require experts.  But experts today are no longer known for knowing all there is to know about a subject.
Today's experts are known for being highly skilled at learning and relearning the ever growing and often changing knowledge about their subject.
This is the notion of expertise that teachers need to model and that students need to see every day, the essential and constant practice of contextual learning-skills / learning-literacies.
Adult life is about learning.
These are only a few of the accolades layer at North Carolina's capital and surrounding Wake County.  So why are the county's teachers resigning from their jobs in record numbers this year, a 41% increase over last year's mid-year resignations, according to an April 17 article in the News & Observer.
News and Observer June 3, 2013
In a recent press conference, held at Underwood Elementary school, district leaders reported that  612 of the county's 9,000 teachers have resigned during the current school year (that's 1 out of 14 teachers).  By this time last year, only 433 teachers had resigned.  The most mentioned reason in the News & Observer article was money.  North Carolina is 46th in teacher pay.  Teachers in this state have received one raise since 2008.
The upcoming Speaker of the House, of the "most arrogantly conservative state government in the country," Paul Stam, wrote in an email message that, "There is nothing particularly alarming in this report, other than WCPSS cherry-picking numbers to fit its narrative."
Stam mentioned an increase in teacher retirement as a big reason for the increased resignations. True that 142 of the 612 mid-year resignations were taking early retirement — experienced teachers leaving the profession.  
Where's the good news in that?
Regardless of the claims of school officials, politics almost certainly played in to the press conference.  Teacher raises will be part of the General Assembly's (re-election) business this term, even though the newly adopted state tax plan leaves little room for higher salaries for NC teachers.  Governor Pat McCrory (Rep) has proposed a $2000 raise for first year teachers, quickly touting the $200 million it will cost tax payers.
Underwood Elementary has lost five teachers this year.  Two had lost their homes to foreclosure and one was living on food stamps.
As we lose record numbers of experienced professional educators, the number of students entering the UNC system's schools of education declined 7% in 2013.  Raleigh's North Carolina State University expects 18% fewer enrollments this year in its school of ed.
There is simply nothing good about this –
..unless dismantling democracy-born public education is the plan of a conservative government–supported big business desire to turn our children's education into a profit-driven market place.
Hui, K. (2014, April 17). Wake County sees 'alarming' increase in teacher resignations. News and Observer.
We know why we became teachers. If it wasn't the reason, then it's why we remained teachers. It's..
Seeing the light bulb go off. I think that's why any teacher gets into teaching, because that's the best feeling, seeing them so interested and engaged and finally getting it … and knowing that you made a difference. (Stancill, 2013)
"Seeing the light bulb go off."
That's how Haley Brown describes it. She's a seven-year elementary school teacher in Raleigh, who has just accepted an administrative position – with a homebuilder. According to the October 24 Raleigh News & Observer article, Haley says that testing has not only robbed her of her emotional and professional energy, but also robbed her students of meaningful learning. Teacher assistants have been laid-off (state legislation), the workload keeps growing, and she has received only one raise and a 1% cost of living increase in her seven years.
It's not an uncommon story, but one that has gained traction because of the note her husband, Matt, handed her, when she'd made her decision. Haley was so thankful for her husband's support that she posted the note on her blog, earning 1,200 likes on Facebook. As the letter continued to resonate with some many people, Matt sent it to the N&O, and they published it as an opinion piece. As of this week, it is the most popular story page on the paper's web site for 2013. It's been read more than a half million times.
Does this really matter. Is anyone noticing? North Carolina is a right-to-work state, so there's no teachers union and teachers don't strike. They just slip away. Who cares?
There is a new story out there. It's made up of lots of characters, plots and sub-plots, but it's not been assembled yet.
This weekend, I'll be attending the ReinventEd Unconference at Black Mountain SOLE, in Black Mountain, North Carolina. It's going to be one of those learning events that's driven by questions, not authorities, and no small part of its appeal comes from the fact that its organizer is Steve Hargadon.
My greatest wish is for a new narrative about education – a new and complete story that will resonate not only with passionate educators, but also with anyone else,
..who's willing to listen.
Stancill, J. (2013, October 23). A husband's support for his teacher wife becomes a viral sensation.Raleigh News & Observer. Retrieved from http://www.newsobserver.com/2013/10/23/3306958/a-husbands-support-for-his-teacher.html
Brenda and I had to pleasure of attending a send-off event for area (Raleigh, Durham, Chapel Hill) high school graduates who will be entering their first years at our alma mater, Western Carolina University. The whole "going off to college" thing has certainly changed, since my day of packing my clothes in a backpack and tossing it and a wooden crate of books into the back of my Fiat and hoping that it makes it up the mountains to Cullowhee. (Point in fact, I attended the local community college for two years, and one and a half years at East Caroline University before going to WCU.)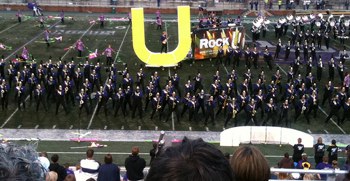 Unfortunately, none of the youngsters there were familiar with Western Carolina's celebrated and accomplished 300+ instrument marching band
We were there last night to congratulate the youngsters, 15,000 applicants and just less than 1,500 admitted, and wish them luck, since only 35.1% of incoming freshmen at North Carolina public universities graduate in four years. It is encouraging, though not comforting to parents, that 59.1% gradate within six years ("College completion," 2012).
The second reason that I attend these things is to count the number of alum who graduated before I did.  I counted one, by six years.  admittedly, It did take me six years to get my four year degree – for a wild variety of reasons.
At the beginning of the organized part of the event, led by WCU admissions and alumni officials, the youngsters were asked to introduce themselves, name the high schools they graduated from and their majors.  All graduated from Raleigh, Chapel Hill and Durham high schools, plus one from a school in up-state New York and one from somewhere in Florida.  Surprisingly, only two said, "Undecided" when reporting their majors, with a majority aiming for carriers in criminal justice, psychology, broadcasting, and one sociology.
Out of about 30 entering WCU freshmen from the Research Triangle of North Carolina, not a single one hopes to become a teacher.
Even though I am outraged, I am not surprised.
College completion. (2012, March). The Chronicle of Higher Education, Retrieved from http://collegecompletion.chronicle.com/college-stats/
Added Later: There are great teachers out there today, who could be greater. There is only a thin line between a good teacher and a great teacher.
There is a growing percentage of America's teachers, who have never taught in classrooms without the intimidation of high-stakes testing. My daughter student-taught under a supervising teacher whose short career had been dominated by the pressures of preparing her students for the North Carolina End-of-Course Test. It's why she, like thousands of other graduates from NC's schools of education, choose not to enter one of our classrooms, because it's not the teacher she wanted to become. (Silberman A1)
Every year, there are fewer teachers who have known the experience of confidently entering their classrooms with creativity, passion and the freedom to replace their textbooks with learning experiences that are unique, personal, powerful and authentic. The rest have only known themselves as teacher-technicians, checking off standards and managing instruction by crunching data.
Mark Ahlness' CB Logo
I was reminded of it this morning, while scanning through Class Blogmeister
(see note 1)
correspondence, and learning that Mark Ahlness has retired. Mark was among the first teacher-users of CB, posting his first blog entry in July of 2005. He continued, over the following years, to empower his learners by making them authors, sharing his creative techniques with other educations and being one of the chief leaders and supporters of the CB community.
I told him that I feel a pretty deep sense of sadness at his retirement, and explained that I too am retiring – though, I am stretching it out over the next several years. But I do this believing that I am leaving education in the hands of courageously passionate and creative teachers.
The classrooms of Seattle, Washington are now making due with one less such teacher – and formal education will be a little less interesting without Mark.
We must kill high-stakes testing before we do not have anyone left, who remembers how to be a teacher-philosopher.
Great luck to Mark Ahlness on all his future endeavors.
Note 1: Class Blogmeister is a blogging platform that I built and launched in late 2004. I created it because there were no blogging services at the time that were designed for the classroom. It continues to live, but I do not promote it, recommending other services instead, when I am asked.
Note 2: My semiretirement has begun, though I will continue to work for a good number of years to come. I'll simply be pursuing other interests in between a declining number of speaking engagements.
Silberman, Todd. "Not Enough Teachers." Raleigh News & Observer 1 May 2002, A1. Print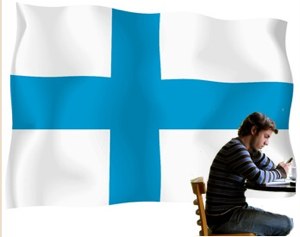 Big question — and it's probably a big answer. But several days ago, Swiss educator, Vicky Loras started a conversation with Finnish School Principal Esa Kukkasniemi. You can read the entire interview here in her blog as well as opportunities for you to talk with educators in Finland. But here are some statements from Esa that I highlighted in Diigo, as he ticked off major important points that have led to success in Finland's education system.
..much of it lays in the Finnish educational culture: teachers are respected professionals..
One really important issue is that we have quite small economical differences in the income of the people if you compare us to most of the countries in the world. We have strong scientific evidence that where the economical differences between people grow too big, the learning goes down.
We don't test the teachers at all..
..we don't test the pupils much either
We have strong belief in the professionals.
..social media gives possibilities of creating your own PLN (personal learning network). For me (Esa), Twitter has been a great tool for that for the last few years.
From Locras's post..

(Esa) and other great educators (among them the enthusiastic teachers Timo Ilomäki andRochey who started the chat) have started their own chat on Twitter, where teachers from all over the world can post questions on Finnish education every Thursday. You can follow their discussions and find other Finnish educators as well under the hashtag #finnedchat.
Incidentally, I just did a scan of #finnedchat tagged tweets and learned that..

Teachers are biggest single profession in Finlands new parliament. 16 educators.


iLotimo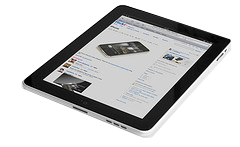 - Posted using Blogsy from my iPad
Only network-literacy teacher-learners accepted here…
The last few week has had me working most often with administrators and leader teachers. It's a gratifying group to work with because they are there because they want to affect change and they are ready for new ideas.
The events have been formal presentations, but also facilitated conversations — and I think that people get a little miffed when I divert questions by saying, "Does anyone else have an answer to that question?"
So on several occasions, I've been asked for tips on motivating resistant teachers to accept change and adapt. Of course the questions take many forms and usually involve, "..getting teachers to integrate technology." when I open up the discussion, "Anyone else have a suggestion?" — the answers range across.
Support the teachers.
Provide professional development.
Take small steps.
Give them time to play.
I open the discussion up because I suspect that these things need to be said. But I can't say them any more. When it comes around to me, my response is,
"No more excuses."
We've waited long enough. It's been 15, 20, 30 years depending on when you want to start the count. Teachers have had enough time to accept and adapt. They've had enough time to decide if they want to teach today or yesterday — enough time to decide if they want to prepare their learners for the future, or for the 1950s.
I'm hearing again and again how education conferences, geared toward 21st century issues, are growing and exceeding attendance projections — and sense that a tipping point might have been reached. We have been patient enough and our students have probably let us get away with foot dragging teachers way too long.
The question is simple, "Are you going to adapt your philosophies and practices to a new generation of learners, a new information environment, and a new future?".
If not…
Then get out and go run a Laundromat.
Photo Credit: Derived from "Because Elsewhere we tolerate it?!?" posted to Flickr by Angela (Smileygeekgirl)
- Posted using BlogPress from my iPad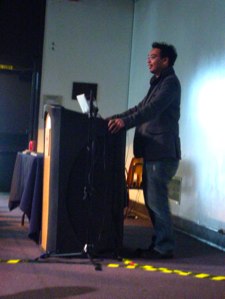 J.R. Trinidad Speaking to former teachers at Campbell Hall
Yesterday, I did one of my standard manila-canned addresses for the faculty and staff of the Campbell Hall school in North Hollywood, California. It was their first day back after the holidays, and folks were both stoked with excitement though also a bit drowsy, already accustomed to a couple more hours of sleep in the morning. It went fine, seemed well received, with a little less push-back than I usually get from independent schools during the Q&A.
I had no idea yet, how special this address would be.
After a catered lunch, for which the plates were entirely too small, we were treated to a talk by J.R. Trinidad, an employ of Google and former student of Campbell Hall. J.R. had been recruited to the school, years ago, thanks to an endowment fund, and an elementary school teacher who enthusiastically pointed to the boy, when school officials came in looking for students who needed more academic challenge that what the public schools could offer. J.R.'s family immigrated from the Philippines when he was four, fleeing political unrest there. It is a testament to the prints that he left on the school, that they were able to put together a video of his years at CH as introduction. A truly exceptional young man.
He had planned to be there during the morning so that he could see my presentation and dove-tail in, but it seems that there was a problem with Google in Japan, and he'd been teleconferencing for most of the last 24 hours, and it was continuing into the morning. Right after lunch, I came back to the meeting hall to start processing the Knitter chat from my presentation, and he was there, behind the podium, practicing his speech, reading from notes. I thought, "Oh Know! This kid has no idea what he's in for."
I introduced myself during a lull, and completely forgot my plans to interview him for Connect Learning. He was obviously too nervous to do anything but pace. I know the feeling well. Once folks got back in, and were brought to order by the headmaster, J.R. lit in and had us all absolutely enthralled from the very beginning.
He started with his experience at Campbell Hall, listing some of his firsts:
"It was the first time I ever wore a uniform, and as a result of that, the first time I got mugged." Uproar of laughter.
"I remember when I wrote my first code — and it was wonderful…"
"I remember the first time I witnessed something through somebody else's eyes."
Lots of insightful observations.
Then he started talking about his work at Google, which seemed a lot more like play. For instance, he starts the day with Mandarin lessons.
J.R. has a special interest in YouTube, sharing a number of stories that were informative to the audience about YouTube culture and also inspiring. He recently had a meeting, expressing his interest in using his 20% personal interest time working on their interface, and they were so impressed with his vision that they offered him the task. However, it would take more than 20% of his time, and take him away from his real passion, search.
J.R. shared a lot of statistics about mobile phone use, especially in Asia, including the number of best-selling books in Japan that are written on a cell phone. He plans to move to Singapore soon, because he is so excited about what's happen in Asia, and "Singapore is the Switzerland of Asia," as he said to me.
Eileen Powers, who arranged both of the presentations came up afterward complimenting J.R. on the fact that without having seen my morning presentation, he happened to validate everything that I said. I was impressed that he also managed to validate the more traditional aspect of education that he received there ten years ago, explaining to me that we need to be finding and focusing on the fundamentals of what and how we learn. I couldn't agree more.
I was also impressed by the situation itself. It is often that a teacher runs into a former student on the street, who turns and says, "Mr. Jones, I don't think I ever told you how much I appreciated being in your class." It is far more rare to enjoy a formal presentation from a talented former student who is successfully participating in a future that was entirely unpredictable when we taught him as a teenager.
It's something that schools should look at instituting on a yearly basis.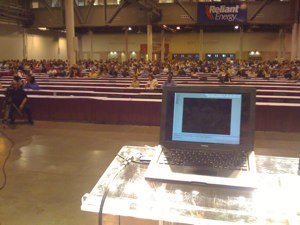 This was, hands down, the largest hall I've ever presented in. It doesn't look like it, but there were nearly 2,000 people out there.
It was a good day in Houston yesterday.  Transportation even worked.  With a rental car place a short walk from the airport hotel, I was able to rent a small car for $60 (including insurance), plus $8 worth of gas; instead of a $120 cab fare into the city and back.
I got to the Reliant Convention Center a couple of hours early, and enjoy the magnificent hospitality of the central office folks for the Houston ISD before my keynote.  Particularly, I met a Mr. Cruise.  Apologies for not remembering his first name, and I can't find him in the HISD directory. But he told me about two programs that he is involved in that intrigued me to the point of sharing here — at 4:34 AM
First of all, like North Carolina, HISD is experience the challenge of attracting enough new teachers to the district to fill their yearly needs.  They, like NC, are having to even go the Central America and Europe to recruite.  Cruise is involved in a program to develop teacher leadership in the schools.  They are finding, like many of us, that it is not necessarily the less than professional salaries that teachers receive, that is driving them from the classrooms, nearly as much as it is the condition of the job.
I've said many times that teachers choose this profession because they want to succeed.  But their measure of success is not the same as the governments, and they often clash, costing educator's their professional integrity.  One of HISD's strategies is to cultivate leadership among the teachers in their school, not to groom future administrators, but to build sustanable teaching and learning cultures in their schools. [Image (("55:366 - February 28: Teach." Emtboy9's Photostream. 28 Feb 2008. 7 Aug 2008 <http://flickr.com/photos/justageek/2300396608/>. ))]
Another program that intrigued me is action research. Educators are being trained to perform research studies within their schools to explore and discover problems and the often hidden causes of those problems.  He told me about one school, that, by most measures was a success, but not a resounding success.  They'd not been able to make Exemplary Status.  They discovered, through their action research, that devoting more resources to ESL learners in grades K-2 would would bring all students up to a more even keel.
He said that when folks at the central office learned of this, their response was that, "We could have told them that."  But the difference was that the school invested itself in learning the problem, and, as action researchers, were more intune with the probable solutions.

On another note: I'm sure, over the coming weeks and months, I'll be seeing a lot more presentations and workshops at the conferences that I work, on writing grants.  Not all — but many of the states I'm working in are experiencing crippling budget cuts.  I'll never forget the principal of my children's high school telling us how their central office was mandating this list of expectations, but simultaneously saying that there was no money for them — that you have to apply for grant money to pay for them.  It's a question I've asked before,
"Why has education in America, institutionalized begging?"
It occurred to me this morning — what if our classrooms received all of the resources they needed, by virtue of being a future investing, citizenry inspired, government service.  What if the grant money was going to the students to conduct their own action research?
2? Worth!