National Science Teachers Association
The National Science Teachers Association (NSTA) will be holding a conference this week in Charlotte, The Queen City of North Carolina. It is both ironic and opportune for science teachers, from around the country, to converge on my state to celebrate science education and to learn more about their chosen passion and techniques conveying it to their students.
I had planned to explain this event's importance as part of my address to the audience. But, alas, I'll have only 45 minutes, so will be getting right to business. Instead, I'll explain it all here, sitting in a Raleigh coffee shop, and proud to be a citizen of this state that owes so much of its recent success to science and education – and a state that desperately needs to be snapped out of its stupor.
Dazed by $80,000,000 worth of campaigning in 2012 ("Follow the money," 2012), we have witnessed an arrogant government, in effect, vilify science and education. Helping to spur this backward thinking is John Droz, a retired real-estate investor and fellow with the American Tradition Institute (which is tied to fossil fuel interests). In a recent presentation [a Droz slidedeck] to the General Assembly, he called smart meters "fascism in a box" and environmentalism a "new world religion backed by the United Nations." Among his cited sources were,
Whistleblower, the monthly magazine companion of WorldNetDaily a website that promotes conspiracy theories about topics such as President Obama's citizenship; Quadrant, a conservative Australian magazine that was involved in a scandal over publishing fraudulent science and the Institute for Creation Research a Texas outfit that rejects evolution and promotes Biblical creationism and the notion that "All things in the universe were created and made by God in the six literal days of the Creation Week." (Surgis, 2013)
Also carrying some influence is John Skvarla, the newly appointed Secretary for the state's Department of the Environment and Natural Resources. He apparently believes that oil is a renewable resource, saying "The Russians for instance have always drilled oil as if it's a renewable resource, and so far they haven't been proven wrong."
And then there are the legislators of 20 coastal counties, where developers have been stifled by the notion of sea level rise. So to make things better for developers, They introduced a bill that outlaws the rise of the sea, or at least how it's measured. From House Bill 819, Section 2.
10 (e) The Division of Coastal Management shall be the only State agency authorized to
11 develop rates of sea-level rise and shall do so only at the request of the Commission.
12 These rates shall only be determined using historical data, and these data shall be
13 limited to the time period following the year 1900. Rates of sea-level rise may be
14 extrapolated linearly to estimate future rates of rise but shall not include scenarios
15 of accelerated rates of sea-level rise. Rates of sea-level rise shall not be one rate
16 for the entire coast but, rather, the Division shall consider separately oceanfront and
17 estuarine shorelines. ("Coastal management policies," 2011)
This whole business prompted comedian, Stephen Colbert to say on the air, "If your science gives you a result you don't like, pass a law saying the result is illegal. Problem solved."
The dramatic decline in Tobacco farming in North Carolina, illustrated in this graphic (North Carolina Department of Agriculture), has meant an enormous hardship for rural NC. As part of Raleigh's efforts to find a new cash crop, the Biofuels Center of North Carolina was established five years ago, researching, developing and testing a variety of crops biomass crops.
The now defunct Biofuels Center of North Carolina web site
The center closed its doors last week. The General Assembly cut the center's entire $4.3 million budget. In the words of Steven Burke, the centers CEO,
"The center, a growing biofuels community statewide, and companies considering new facilities here share dismay that North Carolina has visibly pulled back from the nation's lead state biofuels agency and from long-term commitment to comprehensive biofuels development." "No longer pursuing advanced biofuels with a focused, comprehensive strategy will lessen opportunity to create rural jobs, strengthen agriculture, and create an enormous biofuels and biomaterials sector."
There's not much that a few thousand science teachers can do, except to be mindful that science is neither fact nor theology. It's a way of looking at the world, observing, hypothesizing, predicting, testing, evaluating and adapting. It is both personal and social, and following someone else's standards for what's to know (to be taught) is as repudiating to what science is as outlawing the results.
I look forward to seeing many of you at the NSTA conference this week in Charlotte. I'll be in Convention Center, Ballrooms C&D at 2:00 on Friday afternoon.
Follow the money. (2012). Retrieved from http://www.followthemoney.org/database/state_overview.phtml?s=NC&y=2012
Surgis, S. (2013, February 7). Climate conspiracy theorist returns to NC legislature, warns of threat from science 'elite'. [Web log message]. Retrieved from http://www.southernstudies.org/2013/02/climate-conspiracy-theorist-returns-to-nc-legislature-warns-of-threat-from-science-elite.htm
(2011). Coastal management policies (House Bill 819). Retrieved from North Carolina General Assembly website: http://www.nccoast.org/uploads/documents/CRO/2012-5/SLR-bill.pdf
North Carolina Department of Agriculture & Consumer Services, North Carolina Agricultural Statistics. (n.d.). Crops: Highs & lows, stocks & storage, biotech, varieties, floriculture, county estimates, fruits & vegetables. Retrieved from website: http://www.ncagr.gov/stats/2012AgStat/Page061_098.pdf
We hear it just about everywhere and every time we turn around –– STEM. The country (USA) desperately needs more scientists, Technologists, Engineers and Mathematicians. It's our way of securing our superiority and prosperity and ramping up S, T, E & M instruction in our schools is the way to succeed.
In preparing for a talk to parents in suburban Edmonton, Alberta this week, I searched for data on Canadian college graduates and the degrees conferred to them. In the process, I ran across a report from the U.S. Institute of Education Sciences.* I copied a data table called Bachelor's degrees conferred by degree-granting institutions, by field of study, and converted it to an Open Office Spreadsheet (ODS) file to see what I might learn from the data.
The table offered the number of graduates receiving degrees from 32 fields of study, from selected years between 1970 and 2010. I devised and ran formulas that calculated the percent of change in the number of degrees by decade. I also created an additional set of rows that calculated the percent of each years total graduates receiving specific degrees to factor out the effects of changes in the total number of graduates. When sorting the degrees by the percent of increase from 2000 to 2010, the rank was somewhat surprising.
At the bottom of the list, the fields showing the least growth, was Computer and Information Sciences. Though the 1970s saw an impressive increase in computer science degrees (469%), the increase dropped to 42% during the 80s, 33% in the 90s, and then a decline (-32%) during the first decade of the 21st century.
Other fields suffering declines were education, and english and literature/letters, both bested slightly by Engineering technologies, which fell only 17% (-17% change). Falling less than that were agriculture, architecture, liberal arts, sciences, general studies and humanities, topped by engineering, with a 6% (-6% change) decline. Just better than engineering was theology and religious vocations (-5% change).
Enjoying substantial increases in degree from 2000-2010, from high to low, were communication technologies; military technologies; legal professions; parks, recreation, leisure and fitness; homeland security, law enforcement and firefighting; library sciences; and visual and performing arts. (see graph)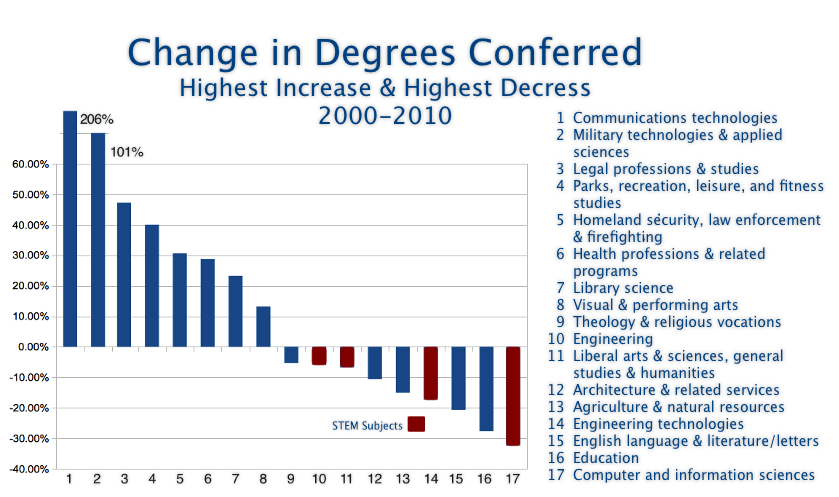 Click Graph for Larger Version
This was a fairly startling discovery to me, considering the funding, resources, and time invested in STEM education and its cost to other subject areas, not to mention the political capital gained from reciting the mantra to constituents and voters.
It the results were such a surprise that and I've questioned my math several times, checking and rechecking the formulas.  I invite you to double check my spreadsheet [here].
If this is, indeed, an indication of our students' interests in science, technology, engineering and mathematics during the early 21st century, then is STEM education doing what its suppose to do –– even if test scores are rising?
Please double and triple check my spreadsheet. and if you find problems with my formulas, please post them in my comments.
* United States. Institute of Education Sciences. Bachelor's degrees conferred by degree-granting institutions, by field of study. Washington, 2011. Web. <http://nces.ed.gov/programs/digest/d11/tables/dt11_286.asp>.
I just received another press release from a media relations firm, hoping that I will blog about the topic. More times than not, on the occasions that I do blog about it, the firm and their client can't be happy.  This one led with, "CEOs tell governors to strength(en) math, science education standards."
It comes from an organization called Change the Equation, a nonprofit devoted to improving STEM (Science, Technology, Engineering & Mathematics) education in the United States. The organization was founded by Craig Barret (Intel CEO), Glenn Britt (Time Warner Cable CEO), Ursula Burns (Xerox CEO), Antonio Perez (Eastman Kodak CEO) and Sally Ride (Sally Ride Science CEO). The list of corporate members is impressive by any measure. I counted 76 of them.
I commend Change the Equation for its vision, probable funding and guidance.
But who's championing citizenship?
Who's putting mega-bucks and weighty influence behind education that prepares learners for civic responsibility, community awareness and the ability to artistically and passionately express oneself, and appreciate the expressions of others?
Who's backing, with loud voices, an education that leads not only to successful industry, but also to successful and fulfilling home lives?
Who's being listened to, as they demand education that leads to a democracy based on truth, knowledge and logic, and not emotional energy generated by fear?
Mapping an appurtenance point during a GIS field trip on Auckland — photo by Cristel Veefkind (( Veefkind, Cristel. "GIS Field Trip." Flickr. 14 Mar 2007. Web. 15 Jan 2010. <http://www.flickr.com/photos/zusje/420919459/>. ))
I was just scanning the news and saw "West Virginia Expands Science, Technology, Engineering, And Mathematics Education with ESRI Software." I think that this is great and that West Virginia and other states should invest in ramping up their STEM programs. But am I the only one who feels a spasm in my back as we STEM here and STEM there and continue to be feed the line that Science, Technology, Engineering, and Mathematics are THE key to a prosperous future?
We are not in this state of near desperation today, struggling to fund education and other essential services, because people didn't have enough STEM. This happened because some educated people thought that they could game the economic system for their own selfish and greedy gain, under a "see no evil" administration, and that they could do it without consequences.
What history teaches, is that THERE ARE ALWAYS CONSEQUENCE.
Interestingly, I find that the article, appearing in The American Surveyor, was actually written by ESRI, the GIS software that West Virginia is licensing for its schools, and that the focus of its use and the state offices that are promoting it are all social studies. I guess that "West Virginia Expands Social Studies with…" doesn't have the right punch — that it wouldn't make us more "competitive" in the culturally diverse global market place.
Am I the only one who is afraid that the cost for STEM is Art, Music, Drama, and history, culture, geography, and economics?
Thinking and problem-solving are over-rated, if you don't have a valid context to think and solve within.
Powered by ScribeFire.