Photo by EFF
My wife and I are buying a house in the Shelby area, so that we can spend more time with both of our parents and have a larger place for family gatherings.  
We're very happy with the house, except that we can't get reconnected, the DSL line that the previous owners enjoyed.  I've spent many hours on the phone with AT&T  mostly on hold, or desperately trying to navigate their menu system, or listening to the scripts recited over and over again by the sales and support staff. The story seems to be that DSL is simply not (no longer) available to our house.
Time Warner will not serve the house, apparently because there are not enough houses on our street.  The next street over, more populated, has had Time Warner for quite some time.  
Being an early adopter of iPhones and iPads, I have been able to keep unlimited data plans on both of them.  
I also have an AT&T hotspot device that provides WiFi for me via a local cell tower, up to 5Gb per month.  So I went to the AT&T store last night to get its data plan upgraded to 20Gb.  It seems that the only way that I can change the plan on that device is by also changing the plans on my iPhone and iPad, giving up my unlimited data there.  AT&T seems more interested in providing less service, not more nor better.
We are probably going to go with a Verizon product that will provide WiFi and Ethernet, via a cell tower, 20Gb.
The reason I burden you with this is my wondering,
"What if our roads were handled like this, as a service to customers rather than citizens?"  
"What if there weren't enough people living in my area to result in enough profit for the road company to lay a road?"
"How would my children get an education, if they couldn't go to school?  How would I get my work done, if I couldn't get to work?  How could we shop for essentials, if we couldn't get to the store?"
You get my point.  Our Internet connection has become as important to us as our roads.  Yet service depends on the convenience and profitability to AT&T and Time Warner.  What's worse is that North Carolina it is now agains the law for municipalities to establish and provide Internet service to its citizens, thanks to the hundreds of thousands of dollars of compaign contributions from the telecommunications industry.
So what do you think?
A few days ago, I posted an article explaining "Why You Won't See Me at ISTE '14."  In it I wrote,
I blame and accept the fact that experience that spans from TRS-80 to IOS has become a little less important compared to the creative energy of much younger educators…
This sentiment prompted an email exchange with an old friend, an educator whose years of experience span pretty much the same range of technological advancement as mine, "TRS-80 to iOS."
Our discussion, however, had almost nothing to do with technology, but concerned the era in which we began teaching.
For me, it was a full 25 years before No Child Left Behind  standards-based teaching and punitive high-stakes tests stained the "art of teaching."  Things were quite different in terms of the autonomy that teachers exercised in determining what and how their children learned – and some mediocre teachers, admittedly, took advantage of the freedom.  However, most, whom I came in contact with, used their academic freedom as a seedbed to create dynamic and effective learning experiences for their students.
For years I have felt that this-too-will-pass, that the arrogant belief that we can know and teach everything our children will need to know to be prepared for their future simply makes no sense, and that we would come to our senses.
Half of Teachers
But it occurred to me, during that email exchange, that more and more of the teachers in our classrooms today were trained to test-prep and have been indoctrinated to an education system based, more than ever before, on an industrial production model.
So I did some research and tinkering with a spreadsheet, and found that about half of the teachers in U.S. classrooms today have never worked in a school culture free from high-stakes testing.
To illustrate this, I made an infographic  that shows the decline in teachers who have experienced academic freedom and the rise in teachers who have always worked under the constraints of government/corporate standards.
To be sure, this does not mean that there aren't young educators, today, who are courageously and creatively going beyond the regimentation that is the character of test-prep classes, nor that there aren't older teachers who are happy to model their classrooms on mass production.  
But it does suggest a dramatic shift in the culture of our schools,
And perhaps,
An approaching point of no return.
About the Data:
I used a document from the National Center for Education Statistics  a part of the U.S. Department of Education (see below).  It featured demographic data about U.S. teachers, starting in 1987.  The table included gender, ethnicity, age, education, years of experience, and teaching levels and subjects.  I fairly easily imported the table into an OpenOffice spreadsheet and cropped it down to just the data on years of experience, starting with 1999.
To complicate things, the table included only data for every 4th year, 1999, 2003, 2007, and 2011, which was not enough to plot the level of accuracy that I wanted.  In addition, the years experience were grouped, i.e. less than 3 years, 3 to 9 years, etc.  I searched further, but could not find any more complete data at the national level.  If you know of such a document, please comment below.
To fill in the blank years, I worked my OO spreadsheet so that it calculated trends from the 4 years and the experience ranges, and filled in the blanks, across and down, based on those trends.  Not a perfect solution, but the point of my infographic was to illustrate a trend, not precisely measure a phenomena.
Having such a seemingly rich data set enticed me to plot for other trends and anomalies, such as specific rises or declines in teacher numbers, indicating times of sudden influx of new teachers, or increased retirements or, and I hate to suggest the possibility, mass resignations.  Alas, it would take more completely accurate information to do such a thing, not just calculated trends.
Number and percentage distribution of teachers in public and private elementary and secondary schools, by selected teacher characteristics: Selected years, 1987-88 through 2011-12. (n.d.). Digest of Education Statistics. Retrieved April 19, 2014, from http://nces.ed.gov/programs/digest/d13/tables/dt13_209.10.asp 
My daughter just alerted me to a 10:42 AM article appearing on the WRAL.com web site, Lawmakers Propose Dumping Common Core Standards in NC.  
Not surprising.  
Sen. Jerry Tillman, c/o WRAL.com
The puppet-masters of the Tea party have effectively used the Common Core standards to create a flashpoint for generating emotional energy against government regulation.  North Carolina is not alone in struggling with the politics of CCSS, as several states have abandoned the Common Core – as a title.
But the arrogance of NC's General Assembly demands that we go further.
Sen. Jerry Tillman, R-Randolph, said that other states, such as Florida and Indiana, had merely renamed Common Core in their repeal bills. Indiana, he said, "didn't totally devolve itself from Common Core. This bill does that."*
The clincher, and what provoked me to write this article, was that the proposed bill assigns the writing of a new, North Carolina curriculum to an "Academic Standards Review Commission," which would be part of the state's Department of Administration  not the Department of Public Instruction.
In an effort to find any logic in this, I found, not without difficulty, an organizational chart for the N.C. Department of Administration. Its offices include:
| | | |
| --- | --- | --- |
| Motor Fleet Management | Purchase & Contract | State Construction |
| State Property Office | Historically Underutilized Businesses | Mail Service Center |
| Surplus Property | Facility Management | State Parking |
| Council for Women | Human Relations Commission | Commission of Indian Affairs |
| Youth Advocacy & Involvement Office | Justice for Sterilization Victims Foundation |   |
And, here it is…
-> Non-Public Education <-
Binker, M. (2014, April 24). Lawmakers propose dumping common core standards in nc. WRAL.
These are only a few of the accolades layer at North Carolina's capital and surrounding Wake County.  So why are the county's teachers resigning from their jobs in record numbers this year, a 41% increase over last year's mid-year resignations, according to an April 17 article in the News & Observer.
News and Observer June 3, 2013
In a recent press conference, held at Underwood Elementary school, district leaders reported that  612 of the county's 9,000 teachers have resigned during the current school year (that's 1 out of 14 teachers).  By this time last year, only 433 teachers had resigned.  The most mentioned reason in the News & Observer article was money.  North Carolina is 46th in teacher pay.  Teachers in this state have received one raise since 2008.
The upcoming Speaker of the House, of the "most arrogantly conservative state government in the country," Paul Stam, wrote in an email message that, "There is nothing particularly alarming in this report, other than WCPSS cherry-picking numbers to fit its narrative."
Stam mentioned an increase in teacher retirement as a big reason for the increased resignations. True that 142 of the 612 mid-year resignations were taking early retirement — experienced teachers leaving the profession.  
Where's the good news in that?
Regardless of the claims of school officials, politics almost certainly played in to the press conference.  Teacher raises will be part of the General Assembly's (re-election) business this term, even though the newly adopted state tax plan leaves little room for higher salaries for NC teachers.  Governor Pat McCrory (Rep) has proposed a $2000 raise for first year teachers, quickly touting the $200 million it will cost tax payers.
Underwood Elementary has lost five teachers this year.  Two had lost their homes to foreclosure and one was living on food stamps.
As we lose record numbers of experienced professional educators, the number of students entering the UNC system's schools of education declined 7% in 2013.  Raleigh's North Carolina State University expects 18% fewer enrollments this year in its school of ed.
There is simply nothing good about this –
..unless dismantling democracy-born public education is the plan of a conservative government–supported big business desire to turn our children's education into a profit-driven market place.
Hui, K. (2014, April 17). Wake County sees 'alarming' increase in teacher resignations. News and Observer.
In early 2012, Public Policy Polling ran a national survey to determine the favorability of each state in the union. Not surprisingly, Hawaii was number one with 54% of those polled giving it a favorable rating and only 10% an unfavorable. Southern states, North Carolina and south, generally did not fair well in popularity. Exceptions were my state (NC) and Tennessee, both landing among the top ten. All others, except for Florida, were in the bottom half, four of them in the bottom 10.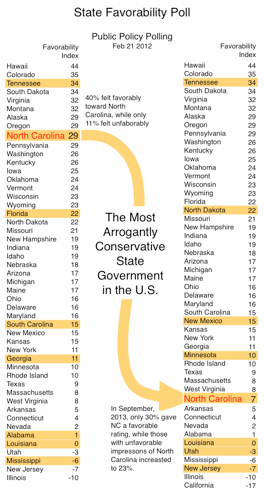 Later that year a new government took control in North Carolina, Republicans winning 65% of the seats in the General Assembly based on only 52% of the citizens' votes (see the Best State that Money can Buy).  Since then, this arrogantly conservative body has?
Denied access to federal emergency unemployment benefits
Blocked access to federal Affordable Care Act health care benefits
Increased taxes for low-wage workers
Lowered taxes for millionaires
Did away with 5,200 teacher positions and 4,580 teacher assistants
Canceled salary incentive for educators to become more educated
Are giving away $10 million in public funds to private schools
Closed 15 of the state's 16 abortion clinics
Suppressed voting rights
Enacted policies policies that make millionaires more important to candidates and voters less
And the word is out thanks to the New York Times (here and here) and even the Colbert Report, here (starting at 4:10).
On September 5, PPP reported a re-assessment of the states' favorability and wrote,
North Carolina's national image has seen a strong shift in a negative direction since that time. Its favorability has dropped from 40% to 30%, while the share of voters with an unfavorable opinion of it has more than doubled from 11% to 23%. Its +7 favorability rating would have ranked it 40th in our national study of state popularity in 2011, rather than its top 10 popularity at that time.
 I fail to see how this points to improved economy, more good jobs, safer and healthier citizens, more tourists or new businesses.
Scaling down the travel part of my work has provided me with weeks at home instead of days or hours. This leaves me with time to play/learn more about some tools I've only been tinkering with in the past. In addition to that, it's given me time to pay more attention to some topics that I've ignored for way to long – politics. I've especially become interested in the politics of my state, North Carolina, as has much of the rest of the country and parts of the world. I've already written a bit about it here (Will Public Education in North Carolina Rest In Peace?) and here (In Defense of Liberal Arts – Sort'a).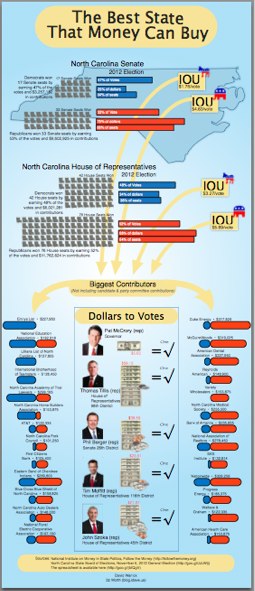 Click here to download the large PDF version.  The spreadsheet can be seen here.
As many of you know, my daughter has been contributing semi-regular blog posts here, featuring selected infographics and some data visualizations.  It's of particular interest to me and one of the few topics I continue to present on in conferences – and with the benefit of time, I'm learning more about working with vector graphics.  
Making an infographic is fairly easy.  Making one that effectively conveys a message is hard.  As an IT guy at a local CityCamp said, "Don't try this on your own."  Well that's the kind of challenge that inspires me, not to mention the message that our state has been hijacked by corporate concerns, masquerading as social knee-jerk issues.
For this project I dug into the North Carolina election results for 2012, the year that it happened.  I created a spreadsheet that tied the election results (North Carolina Board State of Elections) in with the costs of the campaigns (Follow the Money) for our governor and General Assembly elections.  It revealed some pretty interesting facts about who elected who, how much it cost and who paid for it.  See full size infographic here.
Of note:
All fifty seats of the North Carolina Senate were up for election. Democratic candidates received 1,854,358 or 47.22% of the votes cast. Republicans received 2,072,984 or 52.78% of the votes cast. Yet, Democrats won only 17 seats compared to 33 seats to Republicans. I'd like to know what math we teach in schools that reconciles that.
Even though Republicans won 76 seats to only 42 seats going to the Democrats, 48% (1,842,541) of the state's votes were cast blue while only 52% (1,998,155) cast red.  Again, an interesting Algebra project.
Democratic Senate campaigns spent $3,257,182 (25% of total spending) while Republican campaigns spent $9,602,925 (75% of total spending).  In the House, Democratic campaigns spent $6,021,281 (34% of total spending) compared to $11,762,624 (66% of total spending).  There seems to be a closer correlation between dollars and who governs than votes.  How did this happen?
What surprised me was the money spent on campaigns compared to the number of votes.  In the state Senate races, each vote cast for a Democratic candidate cost $1.76 in campaign spending.  Republicans spent $4.63 for each vote cast for their candidates.
For the House races, Democrats owe somebody $3.27 a vote while Republicans own somebody $5.89 per vote.
I've listed the top contributors to both parties, not including candidate and party committees.  These are organizations that contributed more than $100,000 dollars.  The red bar shows the portion going to Republican candidates and the blue indicates investments in Democrats.  As you can see, most contributed to both parties, though most gave most of their money to Republicans.
Looking at specific campaigns, it was a shock to me how much money some of our democratically elected representatives paid for their campaigns.  Pat McCrory paid $5.00 ($12,202,756) for each of his 2,440,707 votes.  Walter Dalton, the Democratic candidate paid $2.09 ($4,044,750) for each of his 1,931,580 votes.
The obscenity is in some of the General Assembly campaigns.  Thomas Tillis (Rep), the Speaker of the House, paid $59,15 for each of his 27,971 votes. Phil Berger (Rep), the Senate's president pro tem, paid $38.59 for each of his 58,276 votes. Tim Moffitt (Rep) spent $23.61 for each of his 21,291 votes and John Szoka (Rep) paid $21.87 for each of his 16,208 votes. To be sure, the Republicans were not the only ones spending obscene amounts of money for their votes. William H. Battermann (Dem) spent $61.30 per vote, getting only 38% of the vote. Rick Glazier (Dem) won, spending $14.47 for each of his 17,266 votes. Jane Whilden (Dem) spent $13.84 per vote, trying to defeat Tim Moffitt (Rep).
My question is, "How are they earning that money?"
Downloads: Infographic (http://goo.gl/He1ICB) • Spreadsheet: (http://goo.gl/60MqZw)
You may see more politically-focused writing from me in the near future. Though I'll continue to write about education, certain developments here in North Carolina and in the United States have me concerned about the future of public schools and the future of democracy.
Communication:
Suffered from the decline of tobacco and cotton, and local manufacturing, the town of Wilson (pop 50,000) decided to reposition itself for the emerging digital economy. With a long history of investment in local infrastructure and utilities, the town built Greenlight, a municipally owned and operated fiber-to-the-home optic communication network. The decision and its subsequent implementation earned the town recognition and praise and, according to a recent ILSR paper, "
People and businesses have moved to Wilson to take advantage of the new network and even some who initially opposed it are now strongly supportive.
One of its most avid and vocal supports has been Branch Bank & Trust (BB&T), a major employer in the town.
Wilson had long been frustrated by the poor service provided by CenturyLink and Time Warner and tried for years to work with the incumbent providers to improve the town's and county's broadband service. CenturyLink (then EMBARQ) worked with the city for a time, but then backed out. Time Warner had literally laughed at the idea. (O'Boyle, 2001)
By 2011, customers of Greenlight were the first in the state to enjoy 100 Mbps home service. Businesses could purchase up to 1 Gbps with existing equipment and even higher speeds could be accommodated. The price for home service was less than what families in neighboring communities were paying for a tenth of the speed. (O'Boyle & Mitchell 2012)
That same year, North Carolina's legislature, which had just won Republican control for the first time since reconstruction, passed House Bill 129, called "Level Playing Field/Local Gov't Competition." The law effectively stops local governments from competing with telcos by preventing them from establishing their own common-good broadband services. Backed by Time Warner, AT&T, CenturyLink and the North Carolina Cable Television Association (NCCTA), and more than a million dollars ($1,159,930) that they donated to state legislative campaigns – and supported by the American Legislative Exchange Council (ALEC) (O'Boyle & Mitchell 2013), the law follows a disturbing trend in this state – the legislative takeover of local governments' authorities to implement taxes, enact environmental regulation and manage their own landfills, water infrastructures and airports, to mention only a few.
Education:
On another front, our General Assembly, further empowered by the obscenely funded 2012 elections (infographic to come) that resulted in a Republican Governor and more conservative ALEC influenced legislators, has set about what I can best describe as the systematic discrediting and disassembly of public education in North Carolina.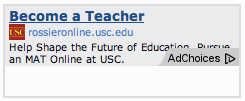 Ironically, the Fayetteville newspaper web page cited here also displayed this Google ad urging readers to consider becoming school teachers.
They have dramatically cut funding and vital programs, eliminated class-size caps, phased out teacher tenure, eliminated higher pay for teachers who earn graduate degrees and eliminated more than 5,000 teaching positions and nearly 4,000 teacher assistants. (Hasty, 2013)
During the same legislative session, state law makers, seeking to save deserving children from our "failing public schools," appropriated $10,000,000 of taxpayer money to award $4,200 vouchers to families so that their children can attend private schools. The program grows to $40,000,000 the second year. Portrayed as a "way out" for low performing public school children, a fiscal note that accompanied the original bill (House Bill 944) showed that 30% of the children receiving the vouchers were going to be attending private schools, even without the vouchers.
Conclusion?
If we might follow the purpose and practice of this regressive regime down a few more legislative sessions, it may not be too extreme to envision a law that prohibits local towns and counties from providing public schooling for their children.
The tax which will be paid for [the] purpose [of education] is not more than the thousandth part of what will be paid to kings, priests and nobles who will rise up among us if we leave the people in ignorance.
–Thomas Jefferson to George Wythe, 1786. (Coates)
Coates, E. R. (n.d.). Favorite jefferson quotes: From the writings of thomas jefferson. Retrieved from http://www.famguardian.org/Subjects/Politics/ThomasJefferson/jeff5.htm
Hasty, K. (2013, July 26). Partnership for children luncheon: Governor's education advisor says there's hope for n.c. schools. The Fayetteville Observer. Retrieved from http://fayobserver.com/articles/2013/07/26/1272034
O'Boyle, T., & Mitchell, C. (2013). How national cable and dsl companies banned the competition in north carolina. Retrieved from Institute for Local Self-Reliance website: http://www.ilsr.org/wp-content/uploads/2013/01/nc-killing-competition.pdf
O'Boyle, T. (2001, April 19). Interview by Grant Goings
O'Boyle, T., & Mitchell, C. (2012). Wilson gives greenlight to fast internet. Retrieved from Institute for Local Self-Reliance website: http://www.ilsr.org/wp-content/uploads/2012/12/wilson-greenlight.pdf
This is a slightly different twist on yesterday's blog post.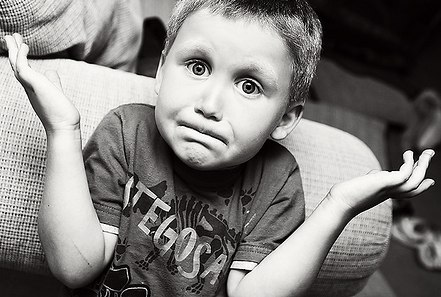 I Dunno, (cc) photo by Marinda Fowler
Yesterday, I was listening to Steve Hargadon's chat with education writer Audry Watters, a weekly podcast conversation on what Watters' has been writing about, recent news stories related to education and the various conferences they have recently attended and worked. I'll put a plug here for Steve's upcoming Hack Your Education tour (the blog entry) to cities across the U.S. I'm hoping to make it to Philly or Washington.
Their (nearly) weekly podcast conversation is an excellent way for me to keep up with happenings and from an angle that I often learn something new from. Hargadon and Watters' takes on things suit my 60s "question authority" sentimentality and the passion I have for the toolbox that computers have become for me.
They both mentioned something yesterday (or during Friday's recording) that I immediately identified with –– but have since turned around in my head. Recently interviewing Education Week's founder and former editor, Ron Wolk, Steve asked if any of the major political candidates were speaking substantively about education. After a moment, Wolk replied, "No!" –– and Steve and Audrey agreed that the script on education was pretty much the same across the parties: accountability, global competition and achievement (as measured by high-stakes testing).
But I got to thinking, "Should we expect to hear substantively conversations about education from political candidates." They're not educators. They do not hold education degrees, earned from schools of education. They do not hold postbaccalaureate degrees of education specialty like half of the teachers in the United States (49.5% in 2007-2008). ((U.S. Department of Education, National Center for Education Statistics. (2012). The condition of education 2012: Characteristics of full-time teachers. Retrieved from website: http://nces.ed.gov/programs/coe/pdf/coe_tsp.pdf))
It's a huge part of our problem today, that education in America has been captured and held political hostage by AMATEURS, whose message on the subject has more to do with the rhetoric that will earn them votes than deep and risk-taking conversations about the nation's problems. What's worse is that part of their message seeks to demonize the very professionals whose leadership we so desperately need. We have lost confidence in ourselves as educators and sometimes even bought into the global education reform movement's (GERM) spittle –– with exceptions (Chicago).
It would make me happy to hear a candidate say,
It's clear that the institution of education in this country is not working for our children and their future. Even where performance is high, are we merely doing a better job of teaching children to take tests.

I don't know what the answer is. It is not my expertise. Formal education, in this time, is perhaps one of the most complex endeavors that a sophisticated society engages in, and it will take foreword thinking professionals to reinvent the institution.

I promise, if elected president (to Congress, the Senate, etc.) to assemble and consult the best and most progressive minds from the profession, to promote, legislate, and pass the best of their ideas, no matter how untraditional, and do all that I personally can do to make every school a point of pride for every community –– not because of the test scores, but because of the quality and creativity of the work produced and shared by its learners and graduates.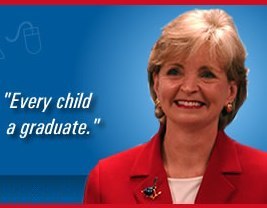 June Atkinson
My state, North Carolina, has a decision to make in November – and it's not a hard one, in my opinion.
It's the race for state superintendent of schools. We elect our state superintendents, unlike many states, and from the time that I graduated from High School until I joined the NC Department of Public Instruction (NCDPI) 20 years later, my state's education system was lead through the election and continued re-election (five terms) of Dr. Craig Phillips, a professional educator. Since he left office, we have elected a number of different superintendents.
For the last eight years, Dr. June Atkinson has held the position. Dr. Atkinson is a professional educator, having served leadership roles at NCDPI since 1976. When I was at the department, I attended several meetings with Dr. Atkinson, who was heading up business education, and observed the respect she had earned from everyone else I knew. Shortly after I left, the morale at the department was boosted when June became Director of the Division of Instructional Services.
Dr. Atkinson was elected to the office of State Superintendent in 2004 and then re-elected in 2008.  During this time we have seen North Carolina's graduation rate rise from 68.3% to 80.2%.
Challenging Atkinson in November is Tea Party darling, John Tedesco. He is not an educator, but he has held a variety of positions –– admirably, several of them have been with charitable organizations. Mr. Tedesco was elected to the Wake (Raleigh) County Board of Education in 2008 and is still serving his first term, a tumultuous four years characterized by secret planning meetings and an often riotous board room. The Wake School Board lost its conservative majority during the 2011 election.
My message is simple. In this time when education is challenged to serve a new generation of learners, within a new information environment and for a future we can not clearly describe…
It is a time for Professionals!
Not for amateurs with an agenda.
Please Support Dr. June Atkinson for North Carolina State Superintendent.
I just facebook'ed a link to dontforgeted.org – but 140 characters were not enough to add my 2¢ worth.
I think that education should be among our candidates top priorities. But our problem is not education nearly as much as it is educating so many children who live in poverty.
When you compare the scores of American children from higher socio-economic backgrounds with nations that do not suffer the levels of poverty that are tolerated in the U.S., then we actually do quite well! For instance, schools in the U.S. with fewer than 10% of their students living in or near poverty scored 551 on the PISA math test, second only to Shanghai, China.
So, at the same time that I think public education in the U.S. should be a top priority, the problems of education won't be solved by government mandates or privatization.
The welfare of all the "people" in the United States is the top concern.
That said, here's the link – http://dontforgeted.org
« go back
—
keep looking »