North Carolina anxiously awaits its grades. State law (General Statute 115C-83.15) now (2013-2014 school year) directs the State Board of Education (my former employer) to award each of the state's public schools a grade, A-F.  80% of the calculated score is based on standardized test scores.
This is, to this citizen, further evidence of the arrogance of North Carolina's pompously conservative law makers.  Is their goal, to improve the state's public schools, when there actions are designed to make it easier for parents to judge their community schools at the same time that they continue to cut staff and instructional materials?  
An October 2013 NC Policy Watch article itemized the effects of state's education budget (2013-2014), as reported by 34 local mostly conservative news outlets in 34 NC towns.  Among other degradations to North Carolina children, the cuts totaled the loss of 364 more teachers, 901 more teacher assistants and $8,226,774 for textbooks and instructional materials.
By coincidence a publication just released by the Southern Education Foundation reports that students in American schools, who qualify for free and reduced lunches, now outnumber those who do not. 51% of U.S. public school students are low income children.  Of North Carolina's Students, 53% are low income, and to our south, 58% of South Carolina and 60% of Georgia public school students are low income.
I especially appreciated the statement made by SEF Vice President Steve Suitts.
"No longer can we consider the problems and needs of low income students simply a matter of fairness…  Their success or failure in the public schools will determine the entire body of human capital and educational potential that the nation will possess in the future. Without improving the educational support that the nation provides its low income students – students with the largest needs and usually with the least support — the trends of the last decade will be prologue for a nation not at risk, but a nation in decline…"
My daughter just alerted me to a 10:42 AM article appearing on the WRAL.com web site, Lawmakers Propose Dumping Common Core Standards in NC.  
Not surprising.  
Sen. Jerry Tillman, c/o WRAL.com
The puppet-masters of the Tea party have effectively used the Common Core standards to create a flashpoint for generating emotional energy against government regulation.  North Carolina is not alone in struggling with the politics of CCSS, as several states have abandoned the Common Core – as a title.
But the arrogance of NC's General Assembly demands that we go further.
Sen. Jerry Tillman, R-Randolph, said that other states, such as Florida and Indiana, had merely renamed Common Core in their repeal bills. Indiana, he said, "didn't totally devolve itself from Common Core. This bill does that."*
The clincher, and what provoked me to write this article, was that the proposed bill assigns the writing of a new, North Carolina curriculum to an "Academic Standards Review Commission," which would be part of the state's Department of Administration  not the Department of Public Instruction.
In an effort to find any logic in this, I found, not without difficulty, an organizational chart for the N.C. Department of Administration. Its offices include:
| | | |
| --- | --- | --- |
| Motor Fleet Management | Purchase & Contract | State Construction |
| State Property Office | Historically Underutilized Businesses | Mail Service Center |
| Surplus Property | Facility Management | State Parking |
| Council for Women | Human Relations Commission | Commission of Indian Affairs |
| Youth Advocacy & Involvement Office | Justice for Sterilization Victims Foundation |   |
And, here it is…
-> Non-Public Education <-
Binker, M. (2014, April 24). Lawmakers propose dumping common core standards in nc. WRAL.
In early 2012, Public Policy Polling ran a national survey to determine the favorability of each state in the union. Not surprisingly, Hawaii was number one with 54% of those polled giving it a favorable rating and only 10% an unfavorable. Southern states, North Carolina and south, generally did not fair well in popularity. Exceptions were my state (NC) and Tennessee, both landing among the top ten. All others, except for Florida, were in the bottom half, four of them in the bottom 10.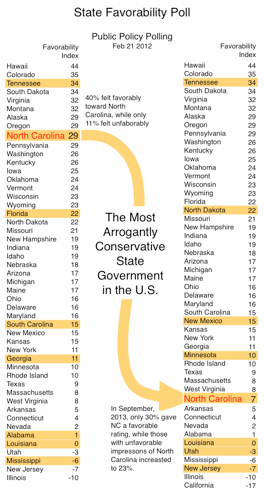 Later that year a new government took control in North Carolina, Republicans winning 65% of the seats in the General Assembly based on only 52% of the citizens' votes (see the Best State that Money can Buy).  Since then, this arrogantly conservative body has?
Denied access to federal emergency unemployment benefits
Blocked access to federal Affordable Care Act health care benefits
Increased taxes for low-wage workers
Lowered taxes for millionaires
Did away with 5,200 teacher positions and 4,580 teacher assistants
Canceled salary incentive for educators to become more educated
Are giving away $10 million in public funds to private schools
Closed 15 of the state's 16 abortion clinics
Suppressed voting rights
Enacted policies policies that make millionaires more important to candidates and voters less
And the word is out thanks to the New York Times (here and here) and even the Colbert Report, here (starting at 4:10).
On September 5, PPP reported a re-assessment of the states' favorability and wrote,
North Carolina's national image has seen a strong shift in a negative direction since that time. Its favorability has dropped from 40% to 30%, while the share of voters with an unfavorable opinion of it has more than doubled from 11% to 23%. Its +7 favorability rating would have ranked it 40th in our national study of state popularity in 2011, rather than its top 10 popularity at that time.
 I fail to see how this points to improved economy, more good jobs, safer and healthier citizens, more tourists or new businesses.