NC Protester
I don't blame our Governor for signing H.B. 242, which repealed our "Bathroom Law." But it should concern us that the repeal continues to support a major move by our ultraconservative-leaning General Assembly, starting with the Republican takeover in 2010 – that of stealing or attempting to steal political power from the Executive Branch, the state's regulatory bureaucracy and especially from local governments. Specifically, the repeal prevents the state's municipalities from establishing their own nondiscrimination ordinances through 2020.
One example of this preemption of local power was provisions to S.B. 279, slipped into the bill on the last day of 2015's 76-day extended legislative session. Those provisions prevented city governments from passing higher minimum-wage laws, establishing affordable-housing mandates, or instituting rules about landlord-tenant relations. Other examples were wrestling from cities their control of local airports, waste and water systems, local redistricting, utilities and fracking. Fortunately, many of these legislative take-overs have been blocked by the Judicial Branch. But it all points to a political ideology that seems intent on stretching or breaking the founding principals of our government in order to further the interests of the campaign contributing class – the moneyed-elite.
Sources: https://goo.gl/DckpkD, https://goo.gl/UiVDx3, https://goo.gl/Uw79QG, https://goo.gl/v6Lv4m
I woke up early again this morning, all worried about this upcoming election. I started mucking around my old 2009 Macbook Pro and found the Federal Elections Commission web site and their downloadable files with details on campaign contributors by state. Data makes my skin tingle.
So I downloaded all 27 megabytes of North Carolina data (4/15/15-10/31/15), loaded the csv file into Open Office Calc and started tinkering. My seven year old MacBook was huffin' and puffin'.
One of the questions that got my mind going this morning was the money that is so essential to political campaigns today. To date, the 2016 presidential campaigns have generated $1,000,058,201 from individual donations alone. More to the point of my sleeplessness was, "Who's paying for these campaigns?" or "Who's buying our government?"
So I used Calc to parse the 133,100 contributions by range categories: less than $100, $100 to $999 and more than $1000 and more. It shouldn't be a surprise that more North Carolinians were donating less than $100 than the other two combined.
What struck me as especially critical to my worries was the total amounts of campaign money generated from each category. Look at the data and graph.
| | | |
| --- | --- | --- |
| Donations | Number of Contributors | Total Amount Contributed |
| Less than $100 |  101,388 |  $2,737,190.87 |
| Between $100 & $1000 | 28,427 |  $5,454,833.10 |
| More than $1000 |  3,285 |  $6,226,996.52 |
What's wrong with this picture? Well, let's say you are an incumbent, or even a challenger. With so much money out there, constituting a elections industry, the only way that you can keep your seat, or oust the incumbant is with a lot of money.
Where do you go for the money?
Look at the diagram again. Where's the money? To get elected, you have to convince rich people and corporations to contribute. What will they want from you for that money?
It's their government.  Not ours.
2016 presidential campaign finance. (2016). Retrieved from Federal Elections Commission website: https://goo.gl/vfQqE
In the graphs below, I label the X-axis as "Years of Republican Led General Assembly," referring to the years that North Carolina's legislative branch has been dominated by the Republican Party, the first time since 1870.  I regret using this distinction because I actually respect much of what I think the Republican Party represents.  I am referring, instead, to the Cuckoo legislators, arrogantly conservative politicians who appear to be Republicans, holding just enough resemblance to push many fine and thoughtful statesmen out of the nest of North Carolina's State Government.
The Exceptions
Students in Music & Art Ed Programs
Why? click
That said, I want to report on one of the many effects of their arrogance, and not the millions of dollars lost to the state as a result of their hastily written and passed HB2.
I am no longer a teacher.  I left the classroom for leadership roles in a time when teachers practiced autonomy in their classrooms and were rewarded for advancing their own educations.  Today, I can barely imagine how demoralizing the last five years have been for North Carolina teachers, and for school administrators who are desperately struggling to fill their classrooms with qualified teachers.
The solution to an alarming teaching shortage is simple, at least to the amateurs in Raleigh.
Appear to grant a raise to teachers in North Carolina.  
Factoring in the nominal inflation of the past decade and a half, teacher pay in North Carolina has dropped 13%.1  Real and significant raises would certainly help and are certainly warranted.  But there's nothing new here.  While teachers have always been grossly underpaid, we have continued to have talented and committed men and women wanting to become teachers.
In my opinion, the teacher shortage has more to do with the declining conditions of the job and the increasing barriers that stand in the way of real learning in the classroom.  A teacher's passion comes from celebrating the meaningful learning and growth of her students.  But today, the creative art of teaching has been spoiled by requirements to comply with government mandated standards that are measured by tests that choke real learning.
..And why would a high school student want to do, what they've spent 13 years watched their teachers dispair in not being allowed to do?
The result?
Enrollment at the 15 UNC schools of education has plummeted 30 percent since 2010, a worry for a state where those programs are the biggest source of classroom teachers.2
I recently received a document from one of the state's 15 schools of education that lists the numbers of students joining their various education programs since 2012, and the numbers SHOULD worry us.
For instance, this graph illustrates the university students who are planning to become elementary school teachers.
Students in Elementary Ed Programs
The decline, since 2012, represents a net loss of 213 potential elementary school teachers.
Equally disturbing are the numbers entering Math and Science programs, illustrated here.
Students in Science or Math Ed Programs
That's 34% few Math and Science teachers than would have been likely in a more stable environment.  And, as I've written many times before, the real problems of this state, nation and world have less to do with Math and Science, and more to do with our social condition – and we've lost 65% of the Social Studies teachers we might have had.  In 2016, no college student in that university sought to pursue a career as a Social Studies teacher.
Students in Social Sciencs Ed Programs
Considering how teachers have been treated in this state, it is easy to fathom what these Cuckoo legislators fear the most.  It is highly educated and organized teachers.  In many of the state's communities, the most educated citizens are teachers.  It's why the General Assembly and Pat McRory (Governor) stopped paying higher salaries to teachers with advanced education (part of the Appropriations Act of 2013).  We are the only state that does not pay more to teachers with graduate degrees.  The result?
Students in Advanced Degree Programs
A loss of 27%, though many teachers continue to advance their own education, even without compensation.
If you are a North Carolina voter, and you believe that the future of our state depends on the talent and intelligence of its citizens, then learn how your representatives voted on the final adoption of the Appropriations Act of 2013. If you do not know who your representatives are, go here.  Then go here and click the name of your House member (here for your senator) to see their voting history in 2013-14 session.  If he or she voted "No" to the final adoption of SB 402, the Appropriations Act of 2013, then they voted FOR teachers and stronger public schools in North Carolina.
1 Hinchcliffe, K., & Johnson, C. (2016, April 26). After inflation, NC teacher pay has dropped 13% in past 15 years. WRAL.com [Raleigh].
2 Bonner, L. (2016, February 3). Enrollment plunges at UNC teacher prep programs. The Charlotte Observer[Charlotte].
The history of my country is accented by acts of enormous bravery, men and women who did what they were told, and more, in the face of the ultimate sacrifice.  But among those acts of bravery, for which we owe our independence and freedom, were people who did what they were told by the powers of authority, not to do.  The Boston Tea Party is an example, when patriots risked their freedom and even their lives to dump bundles of tea into the Boston harbor, rather than pay the British taxes, imposed without representation.  Other such acts of civil disobedience include:
BostonTeaParty.jpg
Refusal to pay federal taxes in protest of slavery and the Mexican War

Street marches, hunger strikes, and submission to arrest and jail in order to gain the right to vote for women.

Harriet Tubman's underground railway and other actions which helped to end slavery.

Sit-down strikes and free speech confrontations to eradicate child labor and improve working condition.

Sit-ins and illegal marches to gain civil rights for all Americans.
We were taught about these acts and their courageous actors in school and we celebrate them on days like "The 4th of July."  They are part of our identity as "the land of the free and home of the brave."  But, if this nation's most arrogantly conservative legislature, the North Carolina General Assembly, has its way, such acts will be considered grounds for refusing teacher licensure, in the interest of keeping our children safe.
Protect Students in Schools (Senate Bill 867) was sponsored by Senaters Chad Barefoot, Trudy Wade, Buck Newton and others. The bill suggests that a teacher, who has been "..convicted of a crime, whether a misdemeanor or a felony … indicates the employee poses a threat to the physical safety of students or personnel."1
Among the crimes listed by the bill are murder, rape, kidnapping, robbery, arson and…
CIVIL DISOBEDIENCE
I have written a number of blog posts (here, here, here and here) about the declining state of public education in my state, since radical conservatives took the legislative, executive and judicial branches of our state government. Without collective bargaining, North Carolina teachers have little voice in determining the direction of our schools, beyond the voting booth — which the legislature and Governor McRory seek to influence with long awaited for raises, averaging 4.7%. 
To put teacher salaries into context, on average North Carolina's pay for public school teachers averaged $1,549.93 below the national mean, between 1970 and 2010.  However, between 2010 (when conservatives took control of both houses of our General Assembly) and 2016, NC teacher salaries have fallen to $7,911.66 below the national average.  Part of this may be the General Assemblies elimination of a higher pay scale for teachers who continue their education through graduate degrees.2&3
It seems to me that in this time of rapid change, we need to empower our professional educators to lead in our schools with permission to be flexible and creative, as they craft and facilitate learning experiences that help students to become innovators and resourceful learners. But, if our legislature's desire is to turn public education into a market place and our schools into customers for corporate products and sources for corporate profits, then creative, resourceful, passionate, and well-spoken teachers are a factor to be avoided. 
1 Barefoot, C., Wade, T., & Newton, E. S. (2016). Senate Bill 867 (S867). Retrieved from North Carolina General Assembly website: http://www.ncleg.net/Sessions/2015/Bills/Senate/PDF/S867v1.pdf
2 Teaching Salary Data by State. (2016). Retrieved from http://www.teacherportal.com/teacher-salaries-by-state/
3 Estimated average annual salary of teachers in public elementary and secondary schools, by state or jurisdiction: Selected years, 1969-70 through 2009-10. (2010). Retrieved from National Center for Education Statistics website: https://nces.ed.gov/programs/digest/d10/tables/dt10_083.asp
.
North Carolina anxiously awaits its grades. State law (General Statute 115C-83.15) now (2013-2014 school year) directs the State Board of Education (my former employer) to award each of the state's public schools a grade, A-F.  80% of the calculated score is based on standardized test scores.
This is, to this citizen, further evidence of the arrogance of North Carolina's pompously conservative law makers.  Is their goal, to improve the state's public schools, when there actions are designed to make it easier for parents to judge their community schools at the same time that they continue to cut staff and instructional materials?  
An October 2013 NC Policy Watch article itemized the effects of state's education budget (2013-2014), as reported by 34 local mostly conservative news outlets in 34 NC towns.  Among other degradations to North Carolina children, the cuts totaled the loss of 364 more teachers, 901 more teacher assistants and $8,226,774 for textbooks and instructional materials.
By coincidence a publication just released by the Southern Education Foundation reports that students in American schools, who qualify for free and reduced lunches, now outnumber those who do not. 51% of U.S. public school students are low income children.  Of North Carolina's Students, 53% are low income, and to our south, 58% of South Carolina and 60% of Georgia public school students are low income.
I especially appreciated the statement made by SEF Vice President Steve Suitts.
"No longer can we consider the problems and needs of low income students simply a matter of fairness…  Their success or failure in the public schools will determine the entire body of human capital and educational potential that the nation will possess in the future. Without improving the educational support that the nation provides its low income students – students with the largest needs and usually with the least support — the trends of the last decade will be prologue for a nation not at risk, but a nation in decline…"
My daughter just alerted me to a 10:42 AM article appearing on the WRAL.com web site, Lawmakers Propose Dumping Common Core Standards in NC.  
Not surprising.  
Sen. Jerry Tillman, c/o WRAL.com
The puppet-masters of the Tea party have effectively used the Common Core standards to create a flashpoint for generating emotional energy against government regulation.  North Carolina is not alone in struggling with the politics of CCSS, as several states have abandoned the Common Core – as a title.
But the arrogance of NC's General Assembly demands that we go further.
Sen. Jerry Tillman, R-Randolph, said that other states, such as Florida and Indiana, had merely renamed Common Core in their repeal bills. Indiana, he said, "didn't totally devolve itself from Common Core. This bill does that."*
The clincher, and what provoked me to write this article, was that the proposed bill assigns the writing of a new, North Carolina curriculum to an "Academic Standards Review Commission," which would be part of the state's Department of Administration  not the Department of Public Instruction.
In an effort to find any logic in this, I found, not without difficulty, an organizational chart for the N.C. Department of Administration. Its offices include:
| | | |
| --- | --- | --- |
| Motor Fleet Management | Purchase & Contract | State Construction |
| State Property Office | Historically Underutilized Businesses | Mail Service Center |
| Surplus Property | Facility Management | State Parking |
| Council for Women | Human Relations Commission | Commission of Indian Affairs |
| Youth Advocacy & Involvement Office | Justice for Sterilization Victims Foundation |   |
And, here it is…
-> Non-Public Education <-
Binker, M. (2014, April 24). Lawmakers propose dumping common core standards in nc. WRAL.
In early 2012, Public Policy Polling ran a national survey to determine the favorability of each state in the union. Not surprisingly, Hawaii was number one with 54% of those polled giving it a favorable rating and only 10% an unfavorable. Southern states, North Carolina and south, generally did not fair well in popularity. Exceptions were my state (NC) and Tennessee, both landing among the top ten. All others, except for Florida, were in the bottom half, four of them in the bottom 10.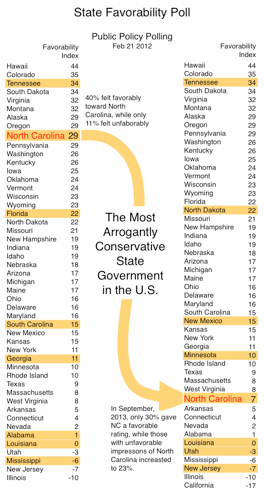 Later that year a new government took control in North Carolina, Republicans winning 65% of the seats in the General Assembly based on only 52% of the citizens' votes (see the Best State that Money can Buy).  Since then, this arrogantly conservative body has?
Denied access to federal emergency unemployment benefits
Blocked access to federal Affordable Care Act health care benefits
Increased taxes for low-wage workers
Lowered taxes for millionaires
Did away with 5,200 teacher positions and 4,580 teacher assistants
Canceled salary incentive for educators to become more educated
Are giving away $10 million in public funds to private schools
Closed 15 of the state's 16 abortion clinics
Suppressed voting rights
Enacted policies policies that make millionaires more important to candidates and voters less
And the word is out thanks to the New York Times (here and here) and even the Colbert Report, here (starting at 4:10).
On September 5, PPP reported a re-assessment of the states' favorability and wrote,
North Carolina's national image has seen a strong shift in a negative direction since that time. Its favorability has dropped from 40% to 30%, while the share of voters with an unfavorable opinion of it has more than doubled from 11% to 23%. Its +7 favorability rating would have ranked it 40th in our national study of state popularity in 2011, rather than its top 10 popularity at that time.
 I fail to see how this points to improved economy, more good jobs, safer and healthier citizens, more tourists or new businesses.