I have felt bad about not blogging lately. It's partly because of travel, but mostly because of three projects that have drawn most of my attention lately. One of those has been preparation for the NCTIES conference later this week. It's a special event for me because NCTIES is the ISTE affiliate for my home state and also because it is an especially successful conference. This year's featured speakers include Richard Byrne, Patrick Crispen (regular), Rushton Hurley, Peggy Sheehy, Kathy Schrock (regular) and Tammy Worcester, with a kickoff keynote by Ken Shelton.
One of my presentations will explore instructional potentials of data visualization and infographics and in preparing for this session, I found one of the coolest things I've seen in a while.  I ran across the link via Nathan Yau's Flowing Data blog, where he quoted Jeffrey Winter…
There was an idea floating around that continuously following the first link of any Wikipedia article will eventually lead to "Philosophy." This sounded like a reasonable assertion, one that makes a certain amount of sense in retrospect: any description of something will typically use more general terms. Following that idea will eventually lead… somewhere.
Winter's explanation of how he accomplished a test for this idea made it sound easier than I'm sure it was.  But the outcome was an intriguing mashup where you can type in a word or numerous words separated by comas, and his app will thread through the first link in each linked-to article until it reaches Philosophy.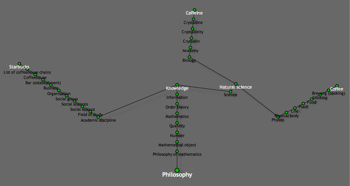 Sitting in Starbucks, I looked for logical connections between Starbucks, coffee and caffeine. (click img to enlarge)
What struck me as I played with this data visualization, was how this operation meshes with our notions of curriculum and of libraries.
When information is scarce and education is defined by knowledge delivery, then the job of curriculum and of libraries is to package content into subjects and units and dewey decimal classifications.
When I watch seemly unrelated topics threading their way to a common subject and re-examine Boyack, Klavans and Palen's Map of Science, which shows how various disciplines are interconnected by citations, it seems clear to me how schools and libraries need to become more like learning-literacy playgrounds than managed corals.
But that's me!
The Colorado Convention Center
(cc) Photo by Intiaz Rahim
It's one of the interesting, often regretful, and often delightful aspects of being an independent consultant (free-agent educator) that weekends have very little meaning. I am often traveling on Saturday or Sunday, sometimes presenting, or working in my office at least part of those days. At the same time, there are often other days of the week that feel like weekends. I have spent the last two days either presenting to education leaders or to classroom teachers, or driving to or from Williamsburg or Berkeley County, West Virginia. Today is wide open. Even though I still have a few hours of driving home, having made it as far as Roanoke yesterday, it feels so much like Saturday that I'm almost expecting to spend the morning watching cartoons. I'd love to get home before 8:00 to watch Mighty Mouse and Sky King.
It will be a day off, but also a day of preparing for my trip to Denver and almost a week at ISTE 2010. It's our first International Society for Technology in Education conference that's not a NECC, and I have to confess that it's left a bit of a hole in our conversations about the event. But it won't take anything away from the experience, I'm sure.
My calendar is more than full with most of the time slots in my planner sporting the yellow exclamation warning of overflow — conflicts. There are lots of highlights, including EduBloggerCon, TEDxDenverED, and ISTE's theme of excellence exploration on Sunday afternoon — plus much more.
I'll be delivering two formal presentations, one as a spotlight address (Cracking the 'Native' Information Experience) and the other as a thirty-minute general address (Patron 2.0: The 'Natives' are Restless) for the Media Specialists SIG gathering.  In both of these presentations I will map out some of the important qualities of our students 'native' (outside-the-classroom) information experiences with their social networks, video games, and their hyper-connectedness, and suggest some ways that those qualities might be integrated into our classrooms, libraries, and school culture.
It occured to me this morning that I am suggesting a unique choice for us.
Will we benefit more from fitting video games and social networks into our curriculum — our methods and pedagogies?…
or
Do might we benefit more by expanding curriculum, methods, and pedagogies to encompass and harness the truly unique qualities of the millennial information experience?
One of the things I enjoy most about what I do is searching Flickr for CC photographs related to my writing. (( Mason, Randi. "TerryMoore's Librarian Sketch." Flickr. 15 Sep 2006. 15 May 2009 <http://www.flickr.com/photos/lucy_anne/728900655/>. ))
Anyone who knows a good librarian, knows about militancy. (( Puckett, Jason (JassModeus). "Librarian Tattoo." Flickr. 15 Sep 2006. 1 Aug 2008 <http://www.flickr.com/photos/jazzmodeus/2723560261/>. ))
I understand the need for these rules, but this shouldn't be the first or last thing that patrons see when using a library. (( Dombrowski, Quinn. "Librarian Rules." Flickr. 15 Sep 2006. 26 Mar 2008 <http://www.flickr.com/photos/quinnanya/2363131151/>. ))
Librarians being librarians. I wish I knew who that blue guy was. (( Metitieri, Fabio. "Second Life, Librarians Meeting." Flickr. 15 Aug 2008. 15 May 2009 <http://www.flickr.com/photos/yukali/2764611639/>. ))
Photos
Not
Shown
In searching for library images on Flickr, I discovered that some people have some pretty interesting fantacies about librarians.
A few days ago, that Blue Skunk dude, Doug Johnson, published a blog post resulting from a conversation he was involved in with the fellow leadership of his school district. The question at hand was, "How can middle school and high school library programs and facilities be improved to support student learning and achieve the ISB Vision for Learning?" However, through the course of the conversation, the question morphed into, "Does a school need a library when information can be accessed from the classroom using Internet connected laptops?"
Well I can think of no one, NO ONE, whom I would rather be sitting in the presence of such a question. If this statment puzzles or intrigues you then just google ["Doug Johnson" librar]. Johnson also offered up a list of published articles he has written about the essential need for libraries today. Go to his blog post (The Essential Question?) to see this list — and bookmark the articles.
Part of his blog entry was a request for answers.

The new question is uncomfortable, messy, and incredibly important and not restricted by any means to one particular school. It is one to which all library people need a clear and compelling answer.
Then he closed with,
Do you have a good response? What part does a facility play in a ubiquitous information environment? How does the librarian's role change? How do we assess our impact if physical visits become less frequent?
This blog post — which you are reading now — comes under the category of, "I spent so much time and energy writing that comment that I have to put it someplace else as well." So here's how I answered Doug's question. (Italicized text was added for this article)
Doug,

I think that this is one of the most interesting questions in education today, "Why do we need libraries (or librarians) when virtually all of the information we need on a daily basis is only a mouse-click away?"

I ask the question a lot, and the answers often seem to fall into two categories. The first is about books and their special place in our culture. Why? The answers frequently seem to be personal (I like the feel and smell). The second reason is about librarians. We need librarians to teach students how to be critical users of information — and much more.

Frankly, I do not believe that either reason will fly in the face of budget cuts and an increasingly information-ubiquitous landscape.

That said, I also do not believe that there has ever been a more exciting time to be a librarian. Reinvention thrills me.

The traditional vision of the library portrays a place, where you go to consume content, to find information, read information, and sometimes to check it out. Certainly many, if not most, libraries have extended beyond this limited function. Yet the vision continues to be the same.

As you know, I talk about literacy a lot, and try to tie it to the old and recognized structure of the 3Rs. I think it's a good place to start, because it is about accessing, working, and expressing information (reading, arithmetic, & writing). It seems that if the library could come to be seen as a place for all three…

Find, access, understand, critically evaluate the appropriate information for your goal;
Add value to the information by utilizing tools of analysis, translation, manipulation, and visualization of information;
Compelling express ideas through the appropriate combinations of text, sound, images, video, animation; and
Accomplish these things socially, collaboratively, and joyously.

…if the library might come to be seen more as a workshop where information isn't so much a product, as it is a raw material (a "Kinkos for kids," if you will), then it may remain not only viable, but an essential institution.

That's my 2¢ Worth.
Again, go read Dougs post to see many other responses.
Powered by ScribeFire.