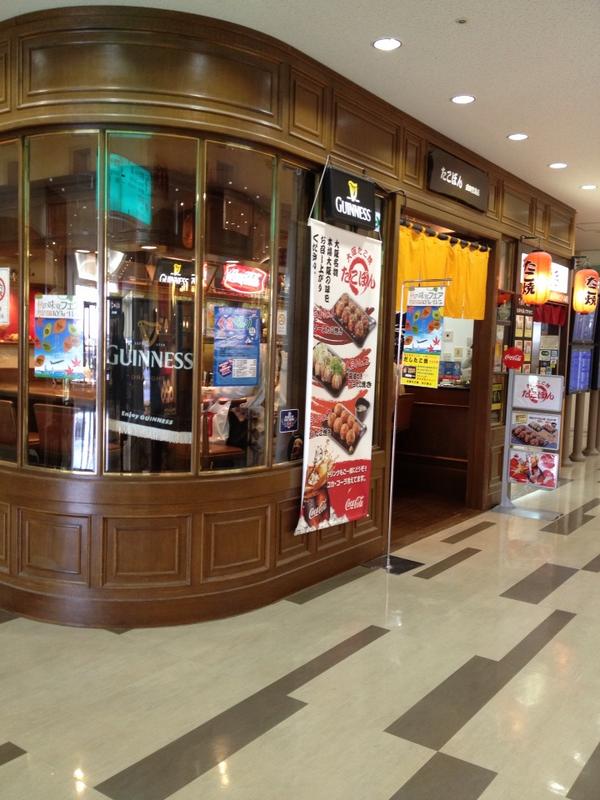 An interesting cafe at Narita
The best part of this October from hell is the conferences I am working – mostly leadership conferences. The two that come to mind from the blur of this most haunting month are a conference in Vancouver for principals and vice-principals of British Columbia, and the school boards and superintendents' conference in Vermont – two quite interesting jurisdictions now that I think about it.
As I write this, I am in Tokyo's Narita Airport, waiting on my third and final day of travel to Kuala Lumpur (KL) Malaysia.  It's EARCOS' annual leadership conference, which was canceled last year because of flooding in Bankok.  The flooding is happening closer to home now, with Sandy bearing down on New Jersey and New York, where my kid brother lives – on the ground floor of his building I might add.
During all of the travel, I have enjoyed and learned from the backchannel transcripts from BC, Vermont and also an amazing media and ed tech conference in Winnipeg.  As I've read and commented on the transcripts, via KnitterChat, I have set aside some tweets and knits, that seemed especially salient to me, intending to re-tweet them back out.  With my spotty Internet access (paying by the minute at the Hilton here in Tokyo), they've back up.  So I thought I would push them out through this blog.  So…
This was my response to a tweet from the Vermont conference.
The Graduates of today's education need to be uniquely valuable, not identically valuable.
Here's one that came at the mention of learning disabilities.
..often, a learning disability is not so much a difficulty in learning, as it is a difficulty in being taught.
Tinkering and the whole DIY movement came up, as it increasingly does, as a counterpoint to all the social networking and video games kids engage in.
When was the last time you made something. Can you make something without learning something?
What is unique and fresh about Vermont is that they seem honestly enthusiastic about the future of education there.  Vermont is different from the rest of the U.S. in so many ways, and they do not seem to feel so confined by national trends and federal mandates as the rest of the country.  From talks of testing, this statement surfaced.
We don't ask enough questions for which we don't know the answers.  We should respect our learners that much.
That Vermont's backchannel was so prolific surprised me.  It is rare that school board members and superintendents are so chatty when their statements are publicly accessible.  I added this in…
I'm wondering how many of your schools' stakeholders are following your conference tweets.  It's an interesting idea.
It wouldn't be a bad thing, from my reading.
While in Vermont, I sat in on a great presentation by superintendent Dan French.  I was, in no small part, intrigued by the fact that he did his presentation with a Linux computer.  Cool thing, a techie super.
He talked about their process for establishing a district vision for 21st century learning.  The session was called "Making Community Part of 21st Century Learning Vision" and I posted my notes (taken with the Mindo iPad app) here.  Basically, he played selected videos from Youtube for members of his volunteer visioning group, including Sir. Ken Robinson, Dan Meyer and one about New Brunswick's education, and then asked groups to discuss.
He said that even attendees who were usually critical of the school system bought in.  French reported that one critic commented, "I didn't you you talked about issues like this!"
I can not remember when I have thought so little about work for so many days.  It was probably 25 years ago. This has been a wonderful holiday season and I have been a relentless participant. Alas, among my gifts were an iPhone 4s and an iPad 2. I'm back to work.
But I'll insert here that I've enjoyed this time outside my professional box and will selfishly be seeking more of it. I've been practicing education for 35 years now and ed tech for 30 of it — and it's time to start considering my next great passion — what ever that is.  :-)
Until them, I'm still around, and this all comes around to what got me up this morning, an article posted by Tim Holt in his HOLT THINK tumblr blog. It's number six of his 10 Bad Trends in Ed Tech 2011. He wrote it on the 21st, but I caught up yesterday, thanks to Stephanie Sandifer's Tweet. His sixth bad trend is "Ed tech gurus not offering solutions."
A lighthouse is a tower, building, or other type of structure designed to emit light from a system of lamps and lenses or, in older times, from a fire, and used as an aid to navigation for maritime pilots at sea or on inland waterways. ((Lighthouse. (2011, December 20). In Wikipedia, The Free Encyclopedia. Retrieved 11:57, December 29, 2011, from http://en.wikipedia.org/w/index.php?title=Lighthouse&oldid=466924292))
I agree with some of what Holt says, but take exception with a great deal of it.  Scott McLeod expresses much of what I would add to the conversation and brings a great deal of balance. Be sure to read the comments, to which I may add something after I've finished this post.
For 2¢ Worth, I'd like to turn it into a challenge, "What solutions would you have, David, if you were back in that rural North Carolina school district you left 22 years ago?"
I would consider the following ten-action plan is based on my past and current knowledge of that school districts, and would almost surely be altered by a closer association.  But here are the solutions that this challenge brings to mind.
Eliminate paper from the budget and remove all copiers and computer printers from schools and the central office (with exceptions of essential need). "On this date, everything goes digital."
Create a professional development plan where all faculty and staff learn to teach themselves within a networked, digital, and info-abundant environment — it's about Learning-Literacy. Although workshops would not completely disappear, the goal would be a culture where casual, daily, and self-directed professional development is engaged, shared, and celebrated — everyday! Then e

xtend the learning-literacy workshops to the greater adult community.

Establish a group, representing teachers, staff, administration, students, and community. Invite a "guru" or two to speak to the group about the "Why" of transforming education.  Video or broadcast the speeches to the larger community via local access, etc. The group will then write a document that describes the skills, knowledge, appreciations and attitudes of the person who graduates from their schools — a description of their goal graduate. The ongoing work of writing this document will be available to the larger community for comment and suggestion. The resulting piece will remain fluidly adaptable.
Teachers, school administrators, and support staff will work in appropriately assembled into overlapping teams to retool their curricula toward assuring the skills, knowledge, appreciations and attitudes of the district's goal graduate.
Classroom curricula will evolve based on changing conditions and resources. To help keep abreast of conditions, teachers and support staff will shadow someone in the community for one day at least once a year and debrief with their teams identifying the skills and knowledge they saw contributing to success, and adapt their curricula appropriately.
The district budget will be re-written to exclude all items that do not directly contribute to the goal graduate or to supporting the institution(s) that contribute to the goal graduate. Part of that budget will be the assurance that all faculty, staff, and students have convenient access to networked, digital, and abundant information and that access will be at least 1 to 1.
A learning environment or platform will be selected such as Moodle, though I use that example only as a means of description. The platform will have elements of course management system, social network and distributive portfolio. The goal of the platform will be to empower learning, facilitate assessment, and exhibit earned knowledge and skills to the community via student (and teacher) published information products that are imaginative, participatory and reflect today's prevailing information landscape.
Expand the district's and the community's notions of assessment to include data mining, but also formal and informal teacher, peer, and community evaluation of student produced digital products.
Encourage (or require) teachers to produce imaginative information products that share their learning either related or unrelated to what they teach.  Also establish learning events where teachers and staff perform TED, or TELL (Teachers Expressing Leadership in Learning) presentations about their passions in learning to community audiences.
Recognize that change doesn't end and facilitate continued adapting of all plans and documents. No more five-year plans. Everything is timelined to the goal graduate.
If the institution of education is not transforming fast enough, I do not believe it is because the "gurus" are not getting their hands dirty enough fixing the problems of specific high-need school districts.  I believe that every student deserves educators who are capable of adapting to changing times.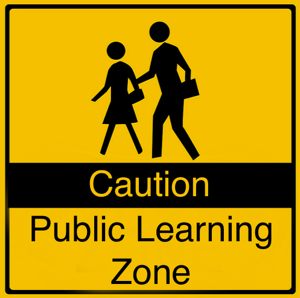 A learning culture requires a learning community
The education world, as defined in 2011, is driven by core standards. In my opinion, this is an unfortunate result of a newly-realized awareness of our precarious position within a global economy — and a healthy decline in our sense of entitlement. It is not that I object to standards. To be collaborative, creative and all of the other 'ives of "21st century skills," we must have a common core of context through which we can connect with our world and with each other.
It seems unfortunate to me because increased pressures to assure the highest student achievement of rigorous standards have made teaching a far more technical endeavor than it use to be. It has become more scientific and less philosophical. Because of this, what we like to call the "learning culture" of our schools has become a teaching culture, where conversations involve best practices and measured student achievement instead of empowered learning.
This concerns me for several reasons that become more obvious almost every day. We live in a time of rapid change owing to accelerated technological advancement, increased globalization, power shifts on almost every societal level, and the changing nature of information. We are preparing our children for a future of frightening uncertainty, but astounding opportunity, and to prosper within that future, our children must become skilled, resourceful, and habitual learners — not just lifelong learners but adopting a learning lifestyle.
Here are several suggestions for promoting a learning culture in your school(s). It's a list that I have adapted and republished a number of times and I hope that you find them helpful as you continue to craft your learning environment(s).
Fill your school(s) with learners. When interviewing prospective teachers, ask "Tell me about something that you have learned lately." "How did you learn it?" "What are you seeking to learn more about right now that is not related to your teaching – and how?" Find out how proficient they are at network learning.
Be a public learner. Open your faculty meetings with something that you've just learned – and how you learned it. Include in the daily announcements some piece of interesting knowledge that is obviously new. "Did you know that a California power utility has just gotten permission to sell electricity from outer space? Make frequent mention of what you've learned from your Twitter stream, RSS reader, specific bloggers you read. This should not be limited to job specific topics.
Introduce new ideas that are not necessarily related to school. Share links to thought-provoking TED talks or other mini-lectures presented by interesting and smart people. Ask for reactions during faculty meetings, in the halls, or during casual conversations with employees and parents.
Make students' outside-school-learning part of the conversation. Find out what their passions are and ask them what they've just learned about it. Suggest that they write something up about it for the school web site or annual research publication. ((Using on-demand publishing services like Lulu, you can easily compile, format, and publish quite professional anthologies of student essays and research that you can add to the school library and the community can purchase online.))
Make your school a curiosity lab. Plant around the school (especially in the library) intriguing questions that might provoke curiosity in learners (How many steps does a centipede have to take to travel a foot? Who was the youngest person to sail around the world?). Reward students who answer them and video their explanations of how they found the answers for the school's web site. With the help of creative teachers, invent a mystery for your school and plant clues around the school. Require student-participants to research the clues they have discovered in order to find their way to the next clue.
Make all school stakeholders public learners. Ask members of your staff to write essays about their latest vacations or hobbies and publish them on the school web site or annual research publication. Ask teachers to devote one of their classroom bulletin boards to information about a personal passion of theirs, sharing their latest gained knowledge and achievements. Suggest that they produce TED style multimedia presentations about a topic they are especially interested in and post them on the school's web site or perform them at PTA meetings. Learn about the hobbies and travels of the parents of your students and ask them to share what they are learning and how they are learning it through essays, videos, Skyped-in conversations, etc.
Other versions of this list can be found here and here.
I've been asked to speak for about 30 minutes to a group of school board members in Texas, who are finishing up a special extended institute provided by the Texas Association of School Boards. You know the story. Ask me to do a three-day workshop and I can do it now. One day, and I can be ready tomorrow. One hour and give me a week to prepare. A half-hour? We'll it's never ready. But I know what I want to say.
They want big picture ideas and some specific recommendations. My big picture is always three bullet points, and I've talked about it here before. Tonight, however, I'm going to tell some stories to make my points.
First will be my 9th grade civics teacher who predicted that by the year 2000, we would each have our own personal computer. It will be small enough to fit in our shirt pocket, and it will be able to add, subtract, multiply, and divide. ..and we didn't believe such an outrageous idea. It's an indication of how rapidly change has occurred. I solicited help from the smarter part of my mind, tweeting, "What have you seen lately that would have ASTONISHED you 30 years ago?" Here are the answers that I got. There is a lot of duplication, but I thought I'd give you all of them.
Bottom line? We're preparing our children for a future we can not clearly describe.
I won't write the whole thing down here, but the next story describes how I learned that technology isn't all that special. It's the information. It's the communication. In 2002, we generated 5 exabytes of information. In 2006, it was 161 exabytes (a million libraries of congress). Projections are that 2010 will see 998 exabytes. That information is suddenly growing at such an incredible and exponential rate tells us something about how it has changed. NBC, CBS, and McGraw-Hill didn't grow all of that information. It happened because the landscape has changed. We're participants now.
Bottom line? The information environment has changed. Teaching, learning, and schooling must adapt.
Finally, it's the story of arranging to meet for pizza with some folks I met in a chat room (channel), just days after IRC was announced on a newsgroup — only to learn then that my new friends were in Reykyavik, Iceland. It was weeks later that I speculated that this experience might be a model for the world that our students will be growing into. But I could never have predicted how quickly this would happen.
Bottom line? Our children are entering our classrooms from an information experiences that we do not understand. It is rich, deep, and personal — and more than we can duplicate in most of our classrooms.
I close with some suggestions, that education leaders:

Respect & pay attention to the kids

Give learners a voice

Hire learners to teach

Seize "almost" every opportunity to replace books with digital content (ouch)


Pursue 1:1 carefully, but urgently

Support the infrastructure

Make sure that the tech staff works for the teachers

The best thing we can teach our children today, is how to teach themselves

When you visit the school, be happy when you see learning. Be suspicious when you see too much teaching.

Do you have more suggestions. Please post them as comments here.