Here's an interesting comparison between virtual world games and how people behave in them, compared to the real world.  This infographic comparers various statistics between Farmville farms, from Facebook and real farms across the country and around the world.  Interestingly, while 930 million acres are farmed in the US, Farmville players cultivate 500 million acres.  I'm wondering what kind of discussions might be generated from examining this graphic.
Blog Page: http://goo.gl/oM3y3i
Graphic Image: http://goo.gl/0lF9Ab
Yang Liu was born in China, but has lived in German since she was 14. A celebrated designer, Liu recently released a graphic exhibit that illustrates her observations about differences between East (China) and West (Germany). The exhibit has been re-interpreted as a series of Infographics.  Just Google "yang liu east meets west."  Brain Pickings author, Maria Popova wrote,
Liu has a unique grip of this cultural duality — and she channels it with great wit and eloquent minimalism in graphics that say so much by showing so little. (Popova, 2013)
Two similar exhibits (left) were installed in Berlin, two in Beijing, and 1 in Nanjing. Liu, though initially apprehensive, says that the response to her interpretations have been positive in both Germany and China.
Perhaps the most elegant part of Yang's graphic is its simplicity or minimalism. ..which might give learners a unique opportunity to draw conclusions about the differences between people and life in China compared to the West and then look for evidence that supports their conclusions. 
Popova, M. (2013). [Web log message]. Retrieved from http://www.brainpickings.org/index.php/2009/10/29/east-vs-west-yang-liu-infographics/
I suspect that many more of us, today, travel to distant lands, more frequently, than ever before. So where do we go?
MasterCard has just released its Top 20 Global Destination Cities for 2013. Many will not surprise you, but some, perhaps, may. Here is an infographic that shows the top ten.
It might be useful to ask students to research one of the top cities, and/or the tourist attractions that draw people. Why do we go there? What interests us about them? Is it leisure, interest, adventure, or something else? An interesting research and report project with practical value, producing infographics to convince community members to visit their destination of choice.
There are a few things that are really difficult to convey to students. I remember how hard it was to help my social studies students understand what caused the seasons. Yes, I taught a lot of science while teaching social studies. Distance and time, on the outset, seem simple. But comprehending the vastness of time, when looking at history, and distance, when looking at science (or visa-versa), are hard for us to comprehend. In the words of the source blog for this infographic,
Humans are good at a lot of things, but putting time in perspective is not one of them. It's not our fault – the span of time in human history, and even more so in natural history, are so vast compared to the span of our life and recent history that it's almost impossible to get a handle on it.
There are lots of great infographics and visualizations that help to compare all manner of vastness, and here's one.
In early 2012, Public Policy Polling ran a national survey to determine the favorability of each state in the union. Not surprisingly, Hawaii was number one with 54% of those polled giving it a favorable rating and only 10% an unfavorable. Southern states, North Carolina and south, generally did not fair well in popularity. Exceptions were my state (NC) and Tennessee, both landing among the top ten. All others, except for Florida, were in the bottom half, four of them in the bottom 10.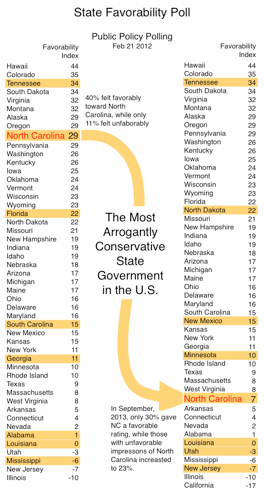 Later that year a new government took control in North Carolina, Republicans winning 65% of the seats in the General Assembly based on only 52% of the citizens' votes (see the Best State that Money can Buy).  Since then, this arrogantly conservative body has?
Denied access to federal emergency unemployment benefits
Blocked access to federal Affordable Care Act health care benefits
Increased taxes for low-wage workers
Lowered taxes for millionaires
Did away with 5,200 teacher positions and 4,580 teacher assistants
Canceled salary incentive for educators to become more educated
Are giving away $10 million in public funds to private schools
Closed 15 of the state's 16 abortion clinics
Suppressed voting rights
Enacted policies policies that make millionaires more important to candidates and voters less
And the word is out thanks to the New York Times (here and here) and even the Colbert Report, here (starting at 4:10).
On September 5, PPP reported a re-assessment of the states' favorability and wrote,
North Carolina's national image has seen a strong shift in a negative direction since that time. Its favorability has dropped from 40% to 30%, while the share of voters with an unfavorable opinion of it has more than doubled from 11% to 23%. Its +7 favorability rating would have ranked it 40th in our national study of state popularity in 2011, rather than its top 10 popularity at that time.
 I fail to see how this points to improved economy, more good jobs, safer and healthier citizens, more tourists or new businesses.
In the past I have done word counts from ISTE's conference programs to illustrate topic trends, especially during the early days of the social web. Its fairly unscientific,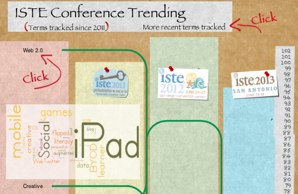 ISTE Conference Trending - an HTML5 Animated Infographic
because there are lots of factors that determine the verbiage of session descriptions, especially for a conference as discerning as ISTE.
This year, I decided to do the same, but also use the activity as an opportunity for playing around with Tumult HYPE 1.6, a Macintosh app for creating HTML5 animations. From their web site:
Tumult Hype's keyframe-based animation system brings your content to life. Click "Record" and Tumult Hype watches your every move, automatically creating keyframes as needed. Or, if you'd prefer to be more hands-on, manually add, remove, and re-arrange keyframes to fine-tune your content.
As is often the case, I probably payed more attention to pushing the tech, than perfecting the communication. This was a learning experience, after all. Take a look and see what's trending down and what few topics are trending upward. Click [here] to see the animated infographic.
The other day I featured an infographic on IGad (InfoGrapthic-a-Day) that illustrated the declining or less than satisfactory level of confidence that the American public has in it's education system. This was probably not an appropriate graphic to share on what was, for many, their first day back to school. But hey, what do we have to be exuberant about in the world of education today, besides the intrinsic joys and rewards of teaching — and having a job teaching. So I posted this GOOD.is graphic because I think it's conversation needs starting.
At the top of the graphic is a not quite so striking decline in confidence since 1977 — 54% then to 38%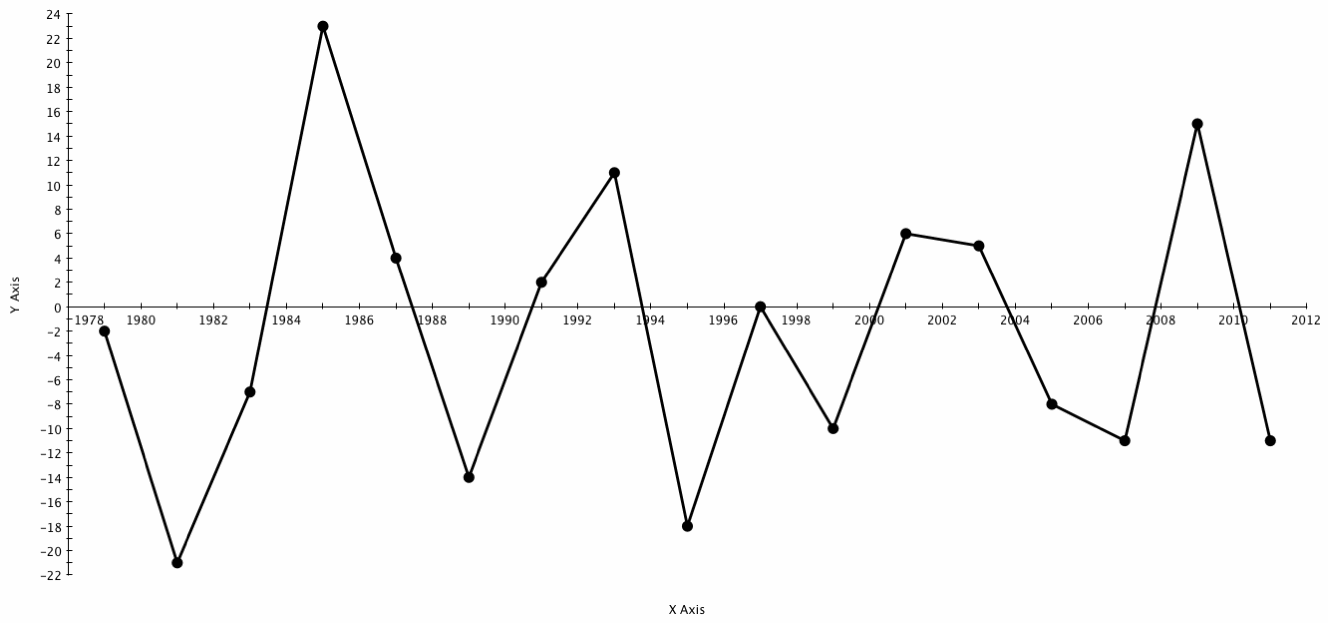 today. Of course, we understand that this is merely a symptom of things going on that are much deeper and broader than what's happening in real classrooms. What I found most interesting with this part of the graphic was that the decline was not steady. I dumped the data into one of my favorite graphing tools, OmniGraphSketcher, and produced the line graph at the right. It would be interesting to correlate the rather dramatic ups and downs of confidence levels with what was going on outside of our classrooms — the stories that were being told by people who had influence to gain by telling those stories.
What I found most interesting about the entire graphic was the portion that compared confidence values for other institutions, ranging from the military, with a confidence rate of 78%, down to, well, need I say, congress, with only 12% expressing confidence. ..and where did they find them?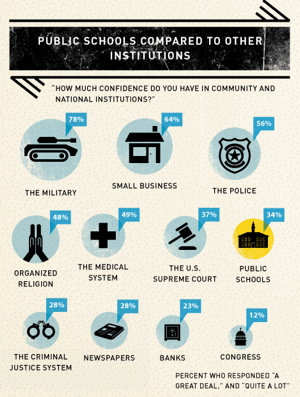 Looking at the ranking on the right, I see an interesting, though blurry difference between the institutions earning more than 40% confidence, and the ones getting less. The military protects us and we feel it. The threat of terrorism is on our minds. We walk into small businesses everyday and we encounter the police, our churches and doctors every week — or there is a potential of encountering them.
On the other hand, most of us have very little direct weekly experience with the inner workings of our courts, schools, criminal justice system, newspapers, banks and congress. It is worth noting that Americans experience a significantly greater likelihood of being in jail, prison, or on probation or parole than we do of graduating from high school this year. (("Total Correctional Population." Bureau of Justice Statistics. U.S. Department of Justice, 7 Sep 2011. Web. 7 Sep 2011.)) (("Fast Facts." National Center for Education Statistics. U.S. Education Department, n.d. Web. 7 Sep 2011.))
Admittedly, there is a lot of gray space in this distinction. But my point is this. People will be less confident in something that they do not see regularly, or they can be more easily be dissuaded of their confidence by political spin. We've got to do a better job of inviting the public into our schools. We've got to sell them on "21st Century Learning" by showing it to them. We've got to inspire confidence by making people wish they could go back to high school. We need to ask ourselves the question, "How do we inspire confidence?
Data? ..or Performance?"