This humanoid robot is being employed to hunt for treasure in a French shipwreck
I ran across this Guardian article (Reboot: Adidas to make shoes in Germany again – but using robots) yesterday morning and posted it to my Facebook timeline immediately. I wrote, "The manufacturing jobs that once brought prosperity to many of our towns and cities will not be coming back, if this article represents a trend – and there's no reason to think it does not."
There is a caption on the Guardian page that reads,
If robots are the future of work, where do humans fit in?"1
I think this is an interesting question – and it should not necessarily make us afraid. Why not consider it an opportunity. If we no longer need the economic contribution of every adult to make our national economies work, then a lot of us, a whole lot of us, will be freed. I do not make this statement lightly. Having mostly retired from kmy work life, I have experienced some of the inevitable depression that comes from reflecting on how much my work has dominated more than half of my 60+ years – and I've had the most interesting career that I can imagine. It seems to me that working for a living, as a necessity, is a bit unfair – not that I would give up any of my time in the field of education.
Perhaps the more interesting question should be, "What would you like to be doing?"
If the answer is, "Getting stoned and watching TV." Then we have a problem, and I have no doubt that this would be a common answer. Assuming that I am right, I would suggest that one of most important goals of our public schools in the near future might be, assuring that for our students, the answer to that question is something a lot more productive and interesting.
I ran across this article, just minutes after posting this entry: iPhone manufacturer Foxconn is replacing 60,000 workers with robots
1France-Presse, A. (2016, May 24). Reboot: Adidas to make shoes in Germany again – but using robots. The Guardian [London]. Retrieved from http://www.theguardian.com/world/2016/may/25/adidas-to-sell-robot-made-shoes-from-2017
In my new situation of retired educator (or semi-retired educator. I can't really decide), I find myself paying less attention to Twitter and more to friends and relatives on Facebook.  But this morning, when I started my computer and Twitteriffic flashed up, I scanned through the most recent tweets from my long-time and famous educator friends – and my eye landed on one by Doug Peterson  actually a retweet of Miguel Guhlin's,
The Deconstruction of the K-12 Teacher is a March 25 article in The Atlantic written by Michael Godsey, a "veteran high-school English educator."  Asked by a college student about the prospects of becoming a public-school teacher, he writes,
I never think it's enough to say that the role is shifting from "content expert" to "curriculum facilitator." Instead, I describe what I think the public-school classroom will look like in 20 years, with a large, fantastic computer screen at the front, streaming one of the nation's most engaging, informative lessons available on a particular topic. The "virtual class" will be introduced, guided, and curated by one of the country's best teachers (a.k.a. a "super-teacher"), and it will include professionally produced footage of current events, relevant excerpts from powerful TedTalks, interactive games students can play against other students nationwide, and a formal assessment that the computer will immediately score and record.
To that, I say, "poppycock!" How's that for post-career reflection and rejection of the ideals that I seemingly promoted for the last 20+ years? But the fact is that I never promoted such a future for the classroom and find the arrangement to be personally revolting and counter-productive to what I believe the purpose of education to be.
It's an interesting question and one that many of us have challenged ourselves and each other with, "What is the purpose of school." Here's a good answer, in my opinion – Why School by Will Richardson and what is described in Invent To Learn, by Sylvia Martinez and Gary Stager.  But here is my ready answer that is short and to the point.
The purpose of school is to prepare our children for adult life during the next 70 to 80 years.
Life doesn't happen on a video screen and it can't be simulated with a game.  Goddey's "fantastic computer screen" will help as will the games and video clips from top thinkers on TED.  In fact, they are essential.  But the fallacy is the assumption and fear that technology replaces the teacher.
To be sure, nobody in education, but those in the darkest recesses of denial, believes that the role of the teacher is not changing.  The shift from "content expert" to "curriculum facilitator" is certainly happening – and it should.  But NOTHING, my most loyal readers, IS EVER THAT SIMPLE.
A phrase like "sage on the stage to guide on the side" is intended as an idiom to focus the attention of experienced professional educators who already grasp the changing conditions that are reshaping school.  It is not an all-encompassing description of the future of classroom instruction.  Frankly, while reading Godsey's advice to his student, I saw no need for classrooms at all – and that's the last thing I'd want to see for my grandchildren and their children.
We have to acknowledge that there is a powerful cabal that desires and promotes just the scenario described by Mr. Godsey.  They fancy an education system that spends its billions on their videos, games, tutorials and assessment products, instead of unionized public school teachers.  Products, whose service can be measured (test scores), can be marketed.
In my mind the most preposterous statement in the whole article is the advice of a superintendent, aired on NPR, "If you can Google it, why teach it?"  ..and this gets back to the question, "What is the purpose of school?"  If education's objective is to equip our children with facts that they can recall on state test day, then I would agree with the superintendent's statement.  But if its purpose is to prepare our children for adult life, then the job of the teacher is to help learners to understand what they've Googled and develop the essential literacy skills and habits of questioning, analyzing and assigning context to the Googled information.
What we can predict about life in the next 70 to 80 years is almost nothing, beyond the timeless practices of responsibility, compassion and providing value to the community.  It will continue to be a time of rapid change, inventions that redefine how we accomplish our goals and discoveries that challenge our beliefs and philosophies.
The common core subject of every classroom today should be learning to learn.
And this brings us back around to Michael Godsey's apparent fear that his college earned knowledge of literature has become obsolete.  Our classrooms still require experts.  But experts today are no longer known for knowing all there is to know about a subject.
Today's experts are known for being highly skilled at learning and relearning the ever growing and often changing knowledge about their subject.
This is the notion of expertise that teachers need to model and that students need to see every day, the essential and constant practice of contextual learning-skills / learning-literacies.
Adult life is about learning.
It was like a gut punch,
This morning,
When I glanced at my Twitter feed, and realized that the North Carolina Technology In Education Society's annual edtech conference began today, completely without my knowledge.  How could that happen?
My knee-jerk response was, "I must truly be retired."
But that wasn't good enough.  I tweeted about it.  I posted my thoughts on Facebook.  Then a conference representative saw my comments, connected, and invited me over to the convention center tomorrow.  
If I was truly retired, would I go?  If I go does it mean that I'm not ready to retire?
It doesn't matter.  I'm going.
So I downloaded the conference App and started scanning the presentations.  One observation.  It seems that personalized learning has become the new ready phrase that can be wrapped around any and every technology that anyone wants to sell you.  Sad!
But what really wrinkled my brain was a tweet from Brandy Reader from Davidson County.  Now tell me this (if you're old enough to remember) 
"How Jetsons would it have seemed, when I started teaching in 1976, that I'd hear someone say (tweet)…
 How could I not go?
I was just scanning through a Facebook feed I have for folks I went to high school with, and an old friend posted a YouTube video of the Temptations singing, I Wish it Would Rain.  Maybe you have to be close to my age to be able to appreciate the marvel of spanning the decades with a mouse click, or a tablet touch.  What if it had been suggested to us, in 1969, that this sort of thing would be possible.
These thoughts reminded me of a day in 1967, when Mrs. Cole, our 9th grade civics teacher, suggested to us that by the year 2000 we would each own our own computer, and it would be small enough to carry in our shirt pockets,
..and it would be able to add, subtract, multiply and divide!
The thing is, that in 1967, we didn't believe her.  The very idea of having such a device, so soon, was beyond our imaginations.
It's an important story to me, because we cannot begin to imagine the astounding possibilities of our children's future, the tools and opportunities that they and their children will take for granted.
As an educator, it begs the question, "What do our children need to be learning today, and how do they need to be learning it, to be ready for an un-imaginable future,"
"..to be able to create a future • • • that's better!"
in a sense, this presentation was a follow-up of a short story I wrote as a first chapter of a book I wrote in 2004, describing a middle school in 2014.
I've never had so much fun doing a presentation — that I had never done before. The fact that the 2024 version of myself had traveled more than 87,000 timezones to get to the NCTIES conference, and the jet lag that implied, took a lot of the pressure off.
The scenario went like this. My wife, children and granddaughter chipped in to buy my a trip back to 2014, to visit an old education technology conference in Raleigh, North Carolina. I walked into the session dressed as the eccentrically old geezer I am certain to become, limping with a cane, because of a self-defense class injury. I am toting my granddaughter's book bag, which we will excavate to reveal clues as to what education becomes ten years from now.
I did a Q&A, fielding a number of quite interesting questions, for which the trickier ones, I was able to hide behind the FCC Commission on Cross-Temporal Communications Act of 2022, paragraph 14.
I was also honored to find Adam Bellow in the Audience and convinced him to take a selfie of us together, which I could pick up later from the Twitter archive, housed at archive.org.
Tweet

Selfie with the future version of @dwarlick #idave2024 #StillSharpAsATack pic.twitter.com/lOMPTwVsNZ

— Adam Bellow (@adambellow) March 6, 2014
My only regret was having left my notes back in 2024, so there was much that I forgot to include, such as, "If you want to party like it 2024, then you've gotta wear argyle socks." You can write that down.
At first I was a little relieved that ISTE turned that presentation proposal down. Now I wish they'd accepted it. :-/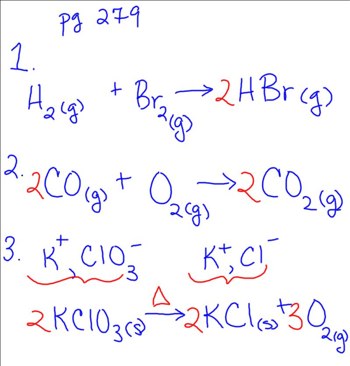 I've never needed to know how to balance a chemical equation. I am glad that I was exposed to the process & it's meaning.
I ran across an interesting Edudemic blog post yesterday, 10 Things Students Won't Need to Know When They Graduate.  I've listed the 10 below, but do go and read the article's explanations.  The author, Bob Dillon, hits on something that is central to the motivation that drives much of my work.  How much of our children's precious childhoods are we wasting teaching them things that they'll never need to know.
Perhaps the most fun that I have in my public speaking is telling stories.  The purpose of most of these stories is to trick the audience into a particular line of thinking and then surprise them with the recognition that they've been here before – but that they've come in through a unfamiliar door and it all looks different from this direction.  My follow-up line is, "Now what do our children need to be learning today to be ready for this?"
10.
How to use a mouse
9.
The difference between bullying and cyberbullying
8.
Memorizing MLA and APA styles requirements

(I'd like to think that I had a hand in that.)

7.
How to find basic reference materials in the library
6.
Developing film, taking the perfect picture
5.
The vocabulary terms land line and dial
4.
The propaganda techniques used in thirty second television commercials
3.
How to read a paper map.
2.
How to place data onto a CD or DVD
1.
How to read the movie listings in the newspaper
(Dillon, 2012)
I had initially planned to invite you to add to Dillon's list of things that students won't need to know.  But the fact is that one reason we, as educators, do not readily recognize this compelling truth and try to make sense of its profound implications is that we can not predict what our children will need to know and not need to know.  It would be nothing more than speculation.
So again, "What do our children need to be learning today?"
Several ideas spring to my mind as I try to unfold this.
Our children need to learn something.
What they need to learn is no longer as important as it use to be.
Increasing the stakes on what they learn does little more than punish our children for our own arrogance.
If what they learn today may not be useful to them tomorrow, then how will they continue to learn what is?
How they learn has become much more important.
Perhaps the most important thing we can help our children learn, is how to teach themselves.
For the fun of it, lets try an experiment.  Rather than speculating on what our children will not need to know, I'd like you to comment on this post with an answer to this question,
What were you taught when you were in school that you have never needed to know?
I'll post a couple of comments to start things off.
Thanks!
Dillon, B. (2012, August 27). [Web log message]. Retrieved from http://edudemic.com/?p=25495
"Future-Ready Students for the 21st Century"
It's the title of the goals document for the North Carolina State Board of Education and it begins with, "..every public school student will graduate from high school, globally competitive for work and postsecondary education and prepared for life in the 21st Century."  I'd love to ask that appointed body, "What does this mean and how does it translate to the "what" and "how" the children of this state are being educated?"
A few mornings ago, I was working in my office on a fairly redundant task, which usually affords me the opportunity to pay attention to a podcast or partial attention to a movie or TV episode, usually playing over the air to my iPhone.  The 3 1/2 inch display provides less distraction than my iPad or computer screen.
On that morning, I was playing 2010, the sequel to Stanley Kubrick's 1968 film "2001: A Space Odyssey. I've enjoyed re-watching 2010 over the years because it has more dialog and slightly more action than the original.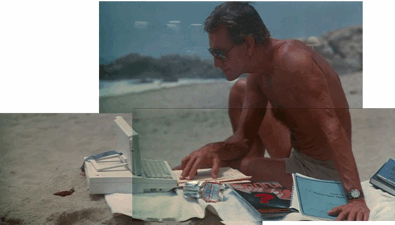 Composite of the scene's camera pan.
What struck me that morning was a scene, where the hero scientist, Dr. Heywood Floyd (Roy Scheider), is sitting on the beach preparing for his upcoming journey to Jupiter, studying reports, an issue of OMNI (which stopped publishing in 1995), and a portable computer (see right & below).
Notice the computer the former chairman of the American space Agency is using and consider that the scene depicts "mobile computing" in the year 2010 – from the perspective of a film produced in 1984.  More than anything else, the computer resembles Apple's forgettable Mac Portable, launched only five years later.  Scheider's 21st century machine perhaps even more closely resembles its more contemporary Apple Iic, with a flat four-inch display and parallel ribbon cable connecting the two.
| | | |
| --- | --- | --- |
| | | |
| Predicted Mobile Computing for 2010 | Apple IIc – 1984-1988 | Mac Portable – 1989-1991 |
It is also worth noting that the 1968 film predicted human spaceflight to Jupiter in a 460 foot spaceship by 2001.  
These are two fairly unimportant and dramatized examples, but if living through half of the 20th century and a tenth of the 21st has taught me anything, it's that most attempts to accurately describe what we will do, how we live, what's important to know, and what we care about 30, 20, or even 10 years from now, is at best a challenging intellectual exercise, and a worse a gross display of arrogance.  
Yet, isn't this what our institution of education is attempting to authoritatively do, predict what our children need to be taught today to be ready for a future we can not possibly accurately describe.
Tom Whitby addressed this a few days ago in How We Teach Trumps What We Teach.  He questions our concern for content, assessment and data, saying,
Maybe "Content is King" merged with "Data is King" does not add up to a learned individual. Maybe the focus on content, so that education can be easily assessed by Data is really the wrong thing that we should be analyzing. Maybe, how we teach, is a much more important element in learning than what we teach. Maybe the data is totally correct about what it is assessing, but what it is assessing is not what we should be looking at. 
We need to be much more willing and humble enough to say, "Maybe," a lot more than we do in education.  But even Tom, I believe, does not go quite far enough.  He refers to becoming a "learned individual," when Eric Hoffer's famous quote comes much closer to my view, that..
In times of change, learners inherit the earth, while the learned find themselves beautifully equipped to deal with a world that no longer exists. 
How our children learn is critical today, not so much as a point of pedagogy, but for the development of a distinct and most important skill – learning.
The job of education should be to wean children from the teaching, helping them to become, at graduation, independent, skilled, inspired, and responsible learners eager to adopt and adapt to changing conditions, turning uncertainty into opportunity.
Being future ready will not happen because of the rigor of ramped up standards.  It will happen by scaling back the standards as the education years pass, focusing on passion, and providing students with the support, opportunity and facility to learn and to make themselves experts in their shifting fields of interest, fields that educators skillfully usher them through.
A Kevin Jarrett Photo of Elizabeth Davis
Several days ago I submitted a proposal for an EduBloggerCon unconference session asking how social media and social networking might help to define digital (next) textbooks. To help seed this conversation I asked folks, via Twitter, from the train on Friday, to share some defining characteristics of old paper printed textbooks. As the responses flew in, I combined and edited them into more positive descriptions such as standards aligned, focused, unbiased, durable, etc.
Next I created a Google Form survey that asked unconference participants to read a characterization statements about old textbooks and write in comparative characterizations of next textbooks. For instance, if Old textbooks are NARROWLY FOCUSED then Next textbooks are…
This morning I culled through the responses, mixing, matching, and editing them together into a defining set of comparisons.  Admittedly, this listing reflects my own biased sense of where textbooks are going.
Old Textbooks
Next Textbooks
•
Old textbooks are STANDARDS-ALIGNED.
Next textbooks will be synaptically aligned to the learning needs and experiences of their users.
•
Old textbooks are CENTRALLY-AUTHORITATIVE.
Next textbooks will establish authority as part of the learning practice.
•
Old textbooks are SAFE & COMFORTING.
Next textbooks will demand and provoke new learning (and teaching) through surprise.
•
Old texbooks are STABLE.
Next textbooks will be fluid, dynamic and ever adapting to learning experiences and shifts in the world, about which we are learning.
•
Old textbooks are ERRORLESS (error ignorning).
Next textbooks will admit errors and will socially self-correct.
•
Old textbooks are NARROWLY FOCUSED.
Next textbooks will be broadly focused through logical and interdisciplinary connections and by adapting to the behaviors of their users.
•
Old textbooks are UNBIASED (self-proclaimed).
Next textbooks will admit their multi-bias, and will invite and share reader interpretation.
•
Old textbooks are PERSONAL/ASOCIAL.
Next textbooks will invite and facilitate conversation and, in appropriate ways, adapt and grow through the conversational behaviors of their users.
•
Old textbooks are MANUFACTURED.
Next textbooks will be co-created, cultivated, and grown by learners and master-learners.
•
Old textbooks are DURABLE BY THEIR RESISTANCE TO CHANGE.
Next textbooks are durable by their adapting flexibility.
•
Old textbooks are HEAVY.
Next textbooks will weightlessly make themselves available to any learner, anywhere, anytime.
•
Old textbooks are VISIBLE.
Next textbooks will glow, grow, and flow, seamlessly reflecting the world through the eyes of a learning community.
The Post-it Man by Tim Ove ((Ove, Tim. "The "Post-it" Man." Flickr. 22 Dec 2009. Web. 31 Dec 2009. .))
It is customary to offer your new year's resolutions — a custom I usually avoid. Why set yourself up for disappointment. But over the past few mornings I've been thinking that NYRs might be an interesting way to make a statement — something I'm obviously not very shy about.
So, here are my 2010 New Year's Resolutions.
I will accept that I may no longer be a believer — Over the years, I have been gradually, and not without resistance, losing my faith. I am afraid that I may no longer believe in education.

There is no problem with education.

Education is the problem.

Our goal is preparing our children for their future, and I am becoming convinced that education — our belief in education — is preventing us from accomplishing that goal.

I will avoid, at all (most) costs, using the following words:

education — It gets in the way. Anybody know what I might substitute the word education with?
student — Implies learning as passive and separate from living. I'll try to use learner instead.
technology — What does it mean to you? ..to me? I think it is better to tell the story — what the learner is doing, with what, and to what ends.
teach — The active and accented verb in our conversations should be "learn" not "teach."
teacher — I'm actually not too sure about this one. I may start referring to us a teacher-learners.

I will try, at all costs, to speak plaining and to clearly paint pictures for what I am striving to convey. If we agree that "it takes a village to teach a child," then we need to be speaking in villagese, not schoolese. We need to try to avoid the vague terminologies that portray us as experts, and instead, use sentences that more effectively spread our knowledge and experience.
I will more aggressively and compellingly speak out against standardized testing, and to direct conversations toward alternatives.

I believe that standardized, high-stakes testing has done far more harm to more children then all the social networks on the planet.

I will try to spend less time sitting at my computer and more time doing something unrelated to "education" and "technology."  Anybody know where I can download the guitar tabs for It is One, by Jackson Browne?
OK! I will also get my weight down to 190, hug my wife more, be nicer to the dog, and eat less meat.
Happy New Year, My Friends!
I've seen things you people wouldn't believe. Attack ships on fire off the shoulder of Orion. I watched C-beams glitter in the darkness at Tannhäuser Gate. All those moments will be lost in time like tears in rain. Time to die. ((Fancher, Hampton, and David Webb Peoples, Script. Blade Runner. Dir. Ridley Scott." Perf. Hauer, Rutger. 1982, Film.))

Blade Runner, 1982
Some times I feel like Roy, the dying replicant (robot), lamenting the loss of one soul's experiences — what sites he's seen. We've been witness to some pretty amazing sites in just the last few years, and they have been both tumultuous and exhilarating.
We have been a part of a dizzying array of advances — and yet, change has been just slow enough that we do not see it nor do we think that much about it — amongst our every day endeavors. Of course, this paradox shouldn't surprise us considering that as my country works hard to overhaul its healthcare system, and the world grapples in Copenhagen, to rein in global warming, what holds our attention is the infidelities of a professional golfer.
That said, I feel it is important that we, during this holiday season, be reminded that in the year 2000
You were probably still running Windows 98 on your PC, or OS 8 or 9 on your Mac — on which you were still using Hypercard.
If you used a laptop, you had to plug it into the Internet — and often through a telephone.
E-mail was still THE killer app because there was no MySpace.
To twitter was "to make high-pitched sounds, as of birds."
There was no Firefox, no Flickr, and no Facebook.
The hottest thing going was Napster and the hottest MP3 player was the RIO, from Diamond Multimedia, with 32Mb of audio storage to brag about.  (that's 1/2000 that of today's iPod Touch)
Some of what's happened since 2000 has not been that noticeable, such as genetically engineered corn and applications of nanotechnology.
Some of it, we should have noticed more, such as our exploration of the Saturnian system, and skid marks left on the surface of Mars — and most of our textbooks still call Pluto a planet.
The software that you used came in a box with a paper manual — and you most likely paid for it.
PDAs had a stylus.
No one had a Blackberry or iPhone, and
If you owned a mobile phone — it was just a phone.
You weren't blogging and if you maintained a web page, it was with Dreamweaver or Microsoft Frontpage.
ISTE was NECC and NECC was in Atlanta, and we don't know what was hot, because we weren't blogging it.
We were not worried about China and India, and we'd just gotten through Y2K with hardly a hitch — thanks to people from China and India.
Yahoo! looked like this

CNN.com looked like this

My web site looked like this

..and Google pretty much looked the same that it does now.
Wireless Internet, iPhones, and traffic-displaying GPS would, to many, have seemed "indistinguishable from magic."

What, that we would call astounding (magical) today, may we take for granted ten years from now — and how prepared will the students attending our classrooms today be for that future?

If you were teaching in 2000, then you remember a sense of professional pride, which has been stripped away for political gain.

In 2000, society's most critical endeavor, education, had not yet been usurped by amateurs in Washington, and driven decades in the wrong direction by people who saw no further than the industry-modeled classrooms they'd attended decades ago.
What will 2010 bring? In the next few days, I'll tell you…
keep looking »