NC Protester
I don't blame our Governor for signing H.B. 242, which repealed our "Bathroom Law." But it should concern us that the repeal continues to support a major move by our ultraconservative-leaning General Assembly, starting with the Republican takeover in 2010 – that of stealing or attempting to steal political power from the Executive Branch, the state's regulatory bureaucracy and especially from local governments. Specifically, the repeal prevents the state's municipalities from establishing their own nondiscrimination ordinances through 2020.
One example of this preemption of local power was provisions to S.B. 279, slipped into the bill on the last day of 2015's 76-day extended legislative session. Those provisions prevented city governments from passing higher minimum-wage laws, establishing affordable-housing mandates, or instituting rules about landlord-tenant relations. Other examples were wrestling from cities their control of local airports, waste and water systems, local redistricting, utilities and fracking. Fortunately, many of these legislative take-overs have been blocked by the Judicial Branch. But it all points to a political ideology that seems intent on stretching or breaking the founding principals of our government in order to further the interests of the campaign contributing class – the moneyed-elite.
Sources: https://goo.gl/DckpkD, https://goo.gl/UiVDx3, https://goo.gl/Uw79QG, https://goo.gl/v6Lv4m
The history of my country is accented by acts of enormous bravery, men and women who did what they were told, and more, in the face of the ultimate sacrifice.  But among those acts of bravery, for which we owe our independence and freedom, were people who did what they were told by the powers of authority, not to do.  The Boston Tea Party is an example, when patriots risked their freedom and even their lives to dump bundles of tea into the Boston harbor, rather than pay the British taxes, imposed without representation.  Other such acts of civil disobedience include:
BostonTeaParty.jpg
Refusal to pay federal taxes in protest of slavery and the Mexican War

Street marches, hunger strikes, and submission to arrest and jail in order to gain the right to vote for women.

Harriet Tubman's underground railway and other actions which helped to end slavery.

Sit-down strikes and free speech confrontations to eradicate child labor and improve working condition.

Sit-ins and illegal marches to gain civil rights for all Americans.
We were taught about these acts and their courageous actors in school and we celebrate them on days like "The 4th of July."  They are part of our identity as "the land of the free and home of the brave."  But, if this nation's most arrogantly conservative legislature, the North Carolina General Assembly, has its way, such acts will be considered grounds for refusing teacher licensure, in the interest of keeping our children safe.
Protect Students in Schools (Senate Bill 867) was sponsored by Senaters Chad Barefoot, Trudy Wade, Buck Newton and others. The bill suggests that a teacher, who has been "..convicted of a crime, whether a misdemeanor or a felony … indicates the employee poses a threat to the physical safety of students or personnel."1
Among the crimes listed by the bill are murder, rape, kidnapping, robbery, arson and…
CIVIL DISOBEDIENCE
I have written a number of blog posts (here, here, here and here) about the declining state of public education in my state, since radical conservatives took the legislative, executive and judicial branches of our state government. Without collective bargaining, North Carolina teachers have little voice in determining the direction of our schools, beyond the voting booth — which the legislature and Governor McRory seek to influence with long awaited for raises, averaging 4.7%. 
To put teacher salaries into context, on average North Carolina's pay for public school teachers averaged $1,549.93 below the national mean, between 1970 and 2010.  However, between 2010 (when conservatives took control of both houses of our General Assembly) and 2016, NC teacher salaries have fallen to $7,911.66 below the national average.  Part of this may be the General Assemblies elimination of a higher pay scale for teachers who continue their education through graduate degrees.2&3
It seems to me that in this time of rapid change, we need to empower our professional educators to lead in our schools with permission to be flexible and creative, as they craft and facilitate learning experiences that help students to become innovators and resourceful learners. But, if our legislature's desire is to turn public education into a market place and our schools into customers for corporate products and sources for corporate profits, then creative, resourceful, passionate, and well-spoken teachers are a factor to be avoided. 
1 Barefoot, C., Wade, T., & Newton, E. S. (2016). Senate Bill 867 (S867). Retrieved from North Carolina General Assembly website: http://www.ncleg.net/Sessions/2015/Bills/Senate/PDF/S867v1.pdf
2 Teaching Salary Data by State. (2016). Retrieved from http://www.teacherportal.com/teacher-salaries-by-state/
3 Estimated average annual salary of teachers in public elementary and secondary schools, by state or jurisdiction: Selected years, 1969-70 through 2009-10. (2010). Retrieved from National Center for Education Statistics website: https://nces.ed.gov/programs/digest/d10/tables/dt10_083.asp
.
Many of you know by now that I have, surprisingly, become a sports fan.  Although I played sports as a youngster, I've never been a fan of any sport, until recently – thanks to my son's enthusiasm and nuanced knowledge of profession basketball and now soccer.  We hold season tickets for Bobcat (oh yeah, Hornet) games in Charlotte and we drive down regularly to pull for our favorite team (though I'm still getting my head around my team without Josh McRoberts).
Even though there are still aspects of sports fanaticism that bother me, only one thing truly offends me. It's when the arena features, during timeouts, court competitions for attendees, sponsored by the "North Carolina Education Lottery." It's that name, Education Lottery, that sends needles through my soul.
It's no surprise to the thinking citizens of NC, that our nine year old state lottery has done nothing to improve the state's education – nor, in my humble opinion, was it ever intended to.  Even though our education budget, in dollars, has risen in the last three decades, its percentage of the states general fund has declined for the past 30 years, according to today's WRAL.com article, NC education spending on decades-long slide.
In the 1980s, 44¢ of every dollar was spent on education.  Today only 37¢ goes to schools.  One would hope that a North Carolina Education Lottery would have at least slowed this decline, if not brought it to a haul.  But, in fact, the rate of decline has accelerate.  More than half (57%) of the 30-year decline occurred in just the last decade, since the Lottery's passage in 2005.
The true effect (and intent) of the North Carolina Education Lottery is enabling an increasingly corporate-sponsored General Assembly to provide more tax relief to the state's wealthiest and most privileged.
But what truly offends me every time I hear those four words, is how the lottery is perpetuating a myth, that in America, anyone can excel to the 1%, can reach a place of wealth, power and privilege – and therefore, we should all support any legislation that empowers, protects and advances the state's (and nation's) richest,
..and becoming a member could be as easy as a few dollars and the right set of numbers.
…and algebra is not required!
Browder, C. (2014, July 8). NC education spending on decades-long slide. WRAL.com.
My daughter just alerted me to a 10:42 AM article appearing on the WRAL.com web site, Lawmakers Propose Dumping Common Core Standards in NC.  
Not surprising.  
Sen. Jerry Tillman, c/o WRAL.com
The puppet-masters of the Tea party have effectively used the Common Core standards to create a flashpoint for generating emotional energy against government regulation.  North Carolina is not alone in struggling with the politics of CCSS, as several states have abandoned the Common Core – as a title.
But the arrogance of NC's General Assembly demands that we go further.
Sen. Jerry Tillman, R-Randolph, said that other states, such as Florida and Indiana, had merely renamed Common Core in their repeal bills. Indiana, he said, "didn't totally devolve itself from Common Core. This bill does that."*
The clincher, and what provoked me to write this article, was that the proposed bill assigns the writing of a new, North Carolina curriculum to an "Academic Standards Review Commission," which would be part of the state's Department of Administration  not the Department of Public Instruction.
In an effort to find any logic in this, I found, not without difficulty, an organizational chart for the N.C. Department of Administration. Its offices include:
| | | |
| --- | --- | --- |
| Motor Fleet Management | Purchase & Contract | State Construction |
| State Property Office | Historically Underutilized Businesses | Mail Service Center |
| Surplus Property | Facility Management | State Parking |
| Council for Women | Human Relations Commission | Commission of Indian Affairs |
| Youth Advocacy & Involvement Office | Justice for Sterilization Victims Foundation |   |
And, here it is…
-> Non-Public Education <-
Binker, M. (2014, April 24). Lawmakers propose dumping common core standards in nc. WRAL.
These are only a few of the accolades layer at North Carolina's capital and surrounding Wake County.  So why are the county's teachers resigning from their jobs in record numbers this year, a 41% increase over last year's mid-year resignations, according to an April 17 article in the News & Observer.
News and Observer June 3, 2013
In a recent press conference, held at Underwood Elementary school, district leaders reported that  612 of the county's 9,000 teachers have resigned during the current school year (that's 1 out of 14 teachers).  By this time last year, only 433 teachers had resigned.  The most mentioned reason in the News & Observer article was money.  North Carolina is 46th in teacher pay.  Teachers in this state have received one raise since 2008.
The upcoming Speaker of the House, of the "most arrogantly conservative state government in the country," Paul Stam, wrote in an email message that, "There is nothing particularly alarming in this report, other than WCPSS cherry-picking numbers to fit its narrative."
Stam mentioned an increase in teacher retirement as a big reason for the increased resignations. True that 142 of the 612 mid-year resignations were taking early retirement — experienced teachers leaving the profession.  
Where's the good news in that?
Regardless of the claims of school officials, politics almost certainly played in to the press conference.  Teacher raises will be part of the General Assembly's (re-election) business this term, even though the newly adopted state tax plan leaves little room for higher salaries for NC teachers.  Governor Pat McCrory (Rep) has proposed a $2000 raise for first year teachers, quickly touting the $200 million it will cost tax payers.
Underwood Elementary has lost five teachers this year.  Two had lost their homes to foreclosure and one was living on food stamps.
As we lose record numbers of experienced professional educators, the number of students entering the UNC system's schools of education declined 7% in 2013.  Raleigh's North Carolina State University expects 18% fewer enrollments this year in its school of ed.
There is simply nothing good about this –
..unless dismantling democracy-born public education is the plan of a conservative government–supported big business desire to turn our children's education into a profit-driven market place.
Hui, K. (2014, April 17). Wake County sees 'alarming' increase in teacher resignations. News and Observer.
In early 2012, Public Policy Polling ran a national survey to determine the favorability of each state in the union. Not surprisingly, Hawaii was number one with 54% of those polled giving it a favorable rating and only 10% an unfavorable. Southern states, North Carolina and south, generally did not fair well in popularity. Exceptions were my state (NC) and Tennessee, both landing among the top ten. All others, except for Florida, were in the bottom half, four of them in the bottom 10.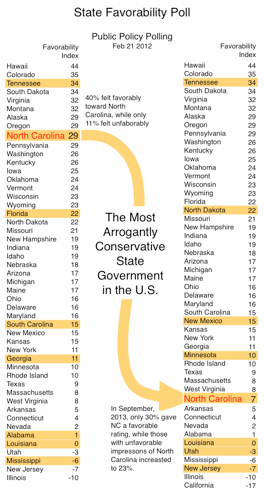 Later that year a new government took control in North Carolina, Republicans winning 65% of the seats in the General Assembly based on only 52% of the citizens' votes (see the Best State that Money can Buy).  Since then, this arrogantly conservative body has?
Denied access to federal emergency unemployment benefits
Blocked access to federal Affordable Care Act health care benefits
Increased taxes for low-wage workers
Lowered taxes for millionaires
Did away with 5,200 teacher positions and 4,580 teacher assistants
Canceled salary incentive for educators to become more educated
Are giving away $10 million in public funds to private schools
Closed 15 of the state's 16 abortion clinics
Suppressed voting rights
Enacted policies policies that make millionaires more important to candidates and voters less
And the word is out thanks to the New York Times (here and here) and even the Colbert Report, here (starting at 4:10).
On September 5, PPP reported a re-assessment of the states' favorability and wrote,
North Carolina's national image has seen a strong shift in a negative direction since that time. Its favorability has dropped from 40% to 30%, while the share of voters with an unfavorable opinion of it has more than doubled from 11% to 23%. Its +7 favorability rating would have ranked it 40th in our national study of state popularity in 2011, rather than its top 10 popularity at that time.
 I fail to see how this points to improved economy, more good jobs, safer and healthier citizens, more tourists or new businesses.
Scaling down the travel part of my work has provided me with weeks at home instead of days or hours. This leaves me with time to play/learn more about some tools I've only been tinkering with in the past. In addition to that, it's given me time to pay more attention to some topics that I've ignored for way to long – politics. I've especially become interested in the politics of my state, North Carolina, as has much of the rest of the country and parts of the world. I've already written a bit about it here (Will Public Education in North Carolina Rest In Peace?) and here (In Defense of Liberal Arts – Sort'a).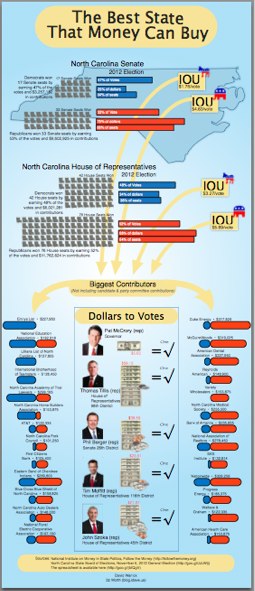 Click here to download the large PDF version.  The spreadsheet can be seen here.
As many of you know, my daughter has been contributing semi-regular blog posts here, featuring selected infographics and some data visualizations.  It's of particular interest to me and one of the few topics I continue to present on in conferences – and with the benefit of time, I'm learning more about working with vector graphics.  
Making an infographic is fairly easy.  Making one that effectively conveys a message is hard.  As an IT guy at a local CityCamp said, "Don't try this on your own."  Well that's the kind of challenge that inspires me, not to mention the message that our state has been hijacked by corporate concerns, masquerading as social knee-jerk issues.
For this project I dug into the North Carolina election results for 2012, the year that it happened.  I created a spreadsheet that tied the election results (North Carolina Board State of Elections) in with the costs of the campaigns (Follow the Money) for our governor and General Assembly elections.  It revealed some pretty interesting facts about who elected who, how much it cost and who paid for it.  See full size infographic here.
Of note:
All fifty seats of the North Carolina Senate were up for election. Democratic candidates received 1,854,358 or 47.22% of the votes cast. Republicans received 2,072,984 or 52.78% of the votes cast. Yet, Democrats won only 17 seats compared to 33 seats to Republicans. I'd like to know what math we teach in schools that reconciles that.
Even though Republicans won 76 seats to only 42 seats going to the Democrats, 48% (1,842,541) of the state's votes were cast blue while only 52% (1,998,155) cast red.  Again, an interesting Algebra project.
Democratic Senate campaigns spent $3,257,182 (25% of total spending) while Republican campaigns spent $9,602,925 (75% of total spending).  In the House, Democratic campaigns spent $6,021,281 (34% of total spending) compared to $11,762,624 (66% of total spending).  There seems to be a closer correlation between dollars and who governs than votes.  How did this happen?
What surprised me was the money spent on campaigns compared to the number of votes.  In the state Senate races, each vote cast for a Democratic candidate cost $1.76 in campaign spending.  Republicans spent $4.63 for each vote cast for their candidates.
For the House races, Democrats owe somebody $3.27 a vote while Republicans own somebody $5.89 per vote.
I've listed the top contributors to both parties, not including candidate and party committees.  These are organizations that contributed more than $100,000 dollars.  The red bar shows the portion going to Republican candidates and the blue indicates investments in Democrats.  As you can see, most contributed to both parties, though most gave most of their money to Republicans.
Looking at specific campaigns, it was a shock to me how much money some of our democratically elected representatives paid for their campaigns.  Pat McCrory paid $5.00 ($12,202,756) for each of his 2,440,707 votes.  Walter Dalton, the Democratic candidate paid $2.09 ($4,044,750) for each of his 1,931,580 votes.
The obscenity is in some of the General Assembly campaigns.  Thomas Tillis (Rep), the Speaker of the House, paid $59,15 for each of his 27,971 votes. Phil Berger (Rep), the Senate's president pro tem, paid $38.59 for each of his 58,276 votes. Tim Moffitt (Rep) spent $23.61 for each of his 21,291 votes and John Szoka (Rep) paid $21.87 for each of his 16,208 votes. To be sure, the Republicans were not the only ones spending obscene amounts of money for their votes. William H. Battermann (Dem) spent $61.30 per vote, getting only 38% of the vote. Rick Glazier (Dem) won, spending $14.47 for each of his 17,266 votes. Jane Whilden (Dem) spent $13.84 per vote, trying to defeat Tim Moffitt (Rep).
My question is, "How are they earning that money?"
Downloads: Infographic (http://goo.gl/He1ICB) • Spreadsheet: (http://goo.gl/60MqZw)
You may see more politically-focused writing from me in the near future. Though I'll continue to write about education, certain developments here in North Carolina and in the United States have me concerned about the future of public schools and the future of democracy.
Communication:
Suffered from the decline of tobacco and cotton, and local manufacturing, the town of Wilson (pop 50,000) decided to reposition itself for the emerging digital economy. With a long history of investment in local infrastructure and utilities, the town built Greenlight, a municipally owned and operated fiber-to-the-home optic communication network. The decision and its subsequent implementation earned the town recognition and praise and, according to a recent ILSR paper, "
People and businesses have moved to Wilson to take advantage of the new network and even some who initially opposed it are now strongly supportive.
One of its most avid and vocal supports has been Branch Bank & Trust (BB&T), a major employer in the town.
Wilson had long been frustrated by the poor service provided by CenturyLink and Time Warner and tried for years to work with the incumbent providers to improve the town's and county's broadband service. CenturyLink (then EMBARQ) worked with the city for a time, but then backed out. Time Warner had literally laughed at the idea. (O'Boyle, 2001)
By 2011, customers of Greenlight were the first in the state to enjoy 100 Mbps home service. Businesses could purchase up to 1 Gbps with existing equipment and even higher speeds could be accommodated. The price for home service was less than what families in neighboring communities were paying for a tenth of the speed. (O'Boyle & Mitchell 2012)
That same year, North Carolina's legislature, which had just won Republican control for the first time since reconstruction, passed House Bill 129, called "Level Playing Field/Local Gov't Competition." The law effectively stops local governments from competing with telcos by preventing them from establishing their own common-good broadband services. Backed by Time Warner, AT&T, CenturyLink and the North Carolina Cable Television Association (NCCTA), and more than a million dollars ($1,159,930) that they donated to state legislative campaigns – and supported by the American Legislative Exchange Council (ALEC) (O'Boyle & Mitchell 2013), the law follows a disturbing trend in this state – the legislative takeover of local governments' authorities to implement taxes, enact environmental regulation and manage their own landfills, water infrastructures and airports, to mention only a few.
Education:
On another front, our General Assembly, further empowered by the obscenely funded 2012 elections (infographic to come) that resulted in a Republican Governor and more conservative ALEC influenced legislators, has set about what I can best describe as the systematic discrediting and disassembly of public education in North Carolina.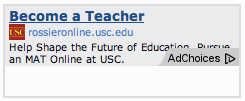 Ironically, the Fayetteville newspaper web page cited here also displayed this Google ad urging readers to consider becoming school teachers.
They have dramatically cut funding and vital programs, eliminated class-size caps, phased out teacher tenure, eliminated higher pay for teachers who earn graduate degrees and eliminated more than 5,000 teaching positions and nearly 4,000 teacher assistants. (Hasty, 2013)
During the same legislative session, state law makers, seeking to save deserving children from our "failing public schools," appropriated $10,000,000 of taxpayer money to award $4,200 vouchers to families so that their children can attend private schools. The program grows to $40,000,000 the second year. Portrayed as a "way out" for low performing public school children, a fiscal note that accompanied the original bill (House Bill 944) showed that 30% of the children receiving the vouchers were going to be attending private schools, even without the vouchers.
Conclusion?
If we might follow the purpose and practice of this regressive regime down a few more legislative sessions, it may not be too extreme to envision a law that prohibits local towns and counties from providing public schooling for their children.
The tax which will be paid for [the] purpose [of education] is not more than the thousandth part of what will be paid to kings, priests and nobles who will rise up among us if we leave the people in ignorance.
–Thomas Jefferson to George Wythe, 1786. (Coates)
Coates, E. R. (n.d.). Favorite jefferson quotes: From the writings of thomas jefferson. Retrieved from http://www.famguardian.org/Subjects/Politics/ThomasJefferson/jeff5.htm
Hasty, K. (2013, July 26). Partnership for children luncheon: Governor's education advisor says there's hope for n.c. schools. The Fayetteville Observer. Retrieved from http://fayobserver.com/articles/2013/07/26/1272034
O'Boyle, T., & Mitchell, C. (2013). How national cable and dsl companies banned the competition in north carolina. Retrieved from Institute for Local Self-Reliance website: http://www.ilsr.org/wp-content/uploads/2013/01/nc-killing-competition.pdf
O'Boyle, T. (2001, April 19). Interview by Grant Goings
O'Boyle, T., & Mitchell, C. (2012). Wilson gives greenlight to fast internet. Retrieved from Institute for Local Self-Reliance website: http://www.ilsr.org/wp-content/uploads/2012/12/wilson-greenlight.pdf