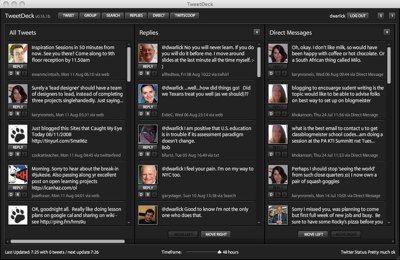 Click image to enlarge...
I've only got about four minutes before I head over to the school (after six hours of delays yesterday) 🙁
But I had to stick this one out there.  I'm probably way behind on this, but it could, upon further exploration, change my Twitter habits.  I confess that I don't have it on all the time.  I don't Tweet a lot.  For me, Summize (now search.twitter.com), has turned this global, runaway conversation into a research tool.
Enter Tweetdeck.  This interface seems to do an excellent job of dividing out my conversations.  One column for general tweets, one for replies from my tweets, and one for direct mail tweets — and there's room for more columns.
Can't wait to work with this one more, but got to go catch my ride.
Added Later:  BTW, the URL for Twitterdeck is: