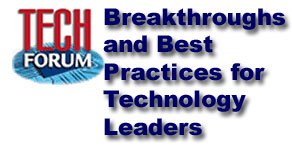 Perhaps one of the best small conferences around is Technology & Learning's TechForums. They evolved out of the old T&L Expos that use to be held in New York and Chicago each year. The TechForum, which offers a balance of administrative/tech issues with curriculum, will grow to Austin, Texas this year (Nov 10), and additional cities next year, as well as NY (Last Week) and Chicago (Apr 28, '06).
I attended the NY conference and presented on Blogging and other Web 2.0 topics. One of the most important benefits of these conferences is their size. I feel like I got to meet a majority of the people who were there. The Texas event will feature a keynote address by Hall Davidson (Thinking as Big as the World is Small), now of the Discovery Educator Network. Morning panels will include:
The afternoon will feature more presentations:
There'll also be lots of opportunities to network through receptions and roundtables.
Unfortunately, the sessions on video games will not be following TechForum to Texas. New York's keynote address, by Bernie Trilling of Oracle, touched on gaming, and there was also a panel with Eric Klopfer of MIT, Ben Sawyer of Digitalmill, and Bill MacKenty, a teacher from Martha's Vineyard, who uses off the shelf video games with his elementary students.
We tried to use a community Wiki for a collaborative notebook in New York, but my hosting company periodically does something that prevents meta tag redirects from working, and it failed. I've since started using a Java based redirect routine, and it seems to work very well. People will be able to go to a web page, type their name and the name of the event, and it will create a wiki page for them that they can use to take notes. All of the notes pages will be linked together so that all attendees will have access to each others notes.
In addition, and at the suggestion of Texans Miguel Guhlin and Wesley Fryer, this forum will be blogged and much of it may be podcasted. Both Miguel and Wesley have suggested strategies where all blogs posted about the event, will be aggregated to the Technology & Learning web site. Podcast recordings will also be available there, as well as iTunes Music store. This is a bit of an experiment, but like all things loosely joined, the winds of uncertainty must do battle with the winds of innovation.
Attendees, blogging the event, should place the following code within the text of their articles.
<a href="http://technorati.com/tag/techforumtx" rel="tag">techforumtx</a>
It is also helpful to register your blog on Technorati.
You can see all blogs that have already been posted about the even here.