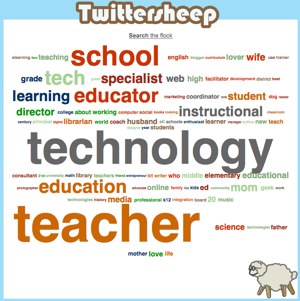 The Tweetsheep tag cloud of my Twitter followers
One of the most interesting people I met in Scotland, when I was there four years ago (Scottish Learning Festival), was David Muir. I've followed him since, and got caught up in today's EdCompBlog post about Twittersheep. It's probably not the first app that does this, but Twittersheep, with your Twitter login, captures the profiles of all of the Tweople who follow you and then generates a tag-cloud representing the most often used words in those profiles sized by frequency.
To the right, you see the tag-cloud representing the dozen or so people who follow me on Twitter. No real surprises here, lots of educator and technology types. I have to say that the "lover" reference bothers me a bit.
Stephen Downes pointed us to a fairly good rundown on text-based visualizations the other day, referring to a 17 March presentation delivered by Philippe Gambette and Jean Veronis, Visualising a text with a tree cloud. You can watch and listen to the presentation at Slideshare.
I can't help but think that these tools, and what's to come, might expand reading, that one way of reading the chapter of a text book might be to view and explore its tag cloud. Not that it would replace reading. Your visual representation of the text would simply be another way of looking at its contents, in the same way that a table of contents does.
Or, I could be wrong!
Tags: warlick, tagclouds, visualization