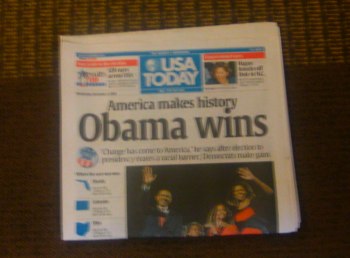 It is truly difficult to describe my feelings today
I'm having breakfast alone, in the Swan Room, at the Westin Hotel, near the Atlanta Airport. Today is the first general day of the Georgia Educational Technology Conference (GaETC). I'll ride a shuttle over to the convention center in a bit and watch Ron Clark's keynote address. After that, I will join the other featured speakers (Patrick Crispen, Steve Dembo, Chris Moersch, Bernajean Porter, Tony Vincent, Brent Williams, and Tammy Worcester) and other distinguished educators, as we set about presenting more than 250 sessions.
With all of this going on, it will be difficult to remember the significance of this day. Not only did we elect a new president of the United States yesterday, but we elected a man, who, when and where I grew up, would not have been allowed to drink from the same water fountain as I.
We have a long way to go, a lot of catching up to do. But yesterday, we turned around to face our future. We have chosen to walk and climb forward — and for the first time, in a long time…
I am proud of my country!
Powered by ScribeFire.