I was flattered a few weeks ago, when Lena Shaw, a marketing specialist with Leapfish, contacted me about the recently launched (nov 2008)  search site.  She started talking about this new searching engine, hyping it like I was some sort of TechCrunch or something, and although it gave me a momentarily gratifying sense of importance, I politely indicated less than enthusiastic interest when she asked if I would like to talk with the CEO.  "I'm sorry, but I am leaving on a business trip and won't be back for a few months."
I looked at the site and was somewhat impressed with its layout and features, but frankly never went back — so I had very little recollection of it when Ms. Shaw called again a few days ago, asking if I would like to participate in a teleconference with the CEO on January 15.  Again, I couldn't bring myself to honestly express my cooling interest, so I asked her to send me the details in an e-mail, and to copy it to Brenda.
So, it was because Brenda got a copy of the e-mail that I was reminded, took another look, and, again, was somewhat impressed.  I wrote back to Lena, telling her that I was interested in being a part of the teleconference, but reminded her that my topic of writing usually revolved around technology, as it applies to education and literacy.  If she had other tech bloggers and media folks more relevant to their goals, to please feel free to bump me from their list.  I'm holding her response to the end of this post.
I dialed in and listened to the companies Director of Marketing and then the CEO, Behnam Behrouzi, who seems to carry a great deal of experience in the world of technology startups.
About Leapfish?  The most interesting task that this search tool seeks to accomplish is that of easing our access to what has become an increasingly fragmented information landscape.  You have at your disposal, Google, Yahoo, MSN, Flickr, YouTube, CNN,  Stock Market, AP, and on and on.  Great information, but too many channels.
Leapfish gives you access to much of it from one basic interface.  I typed Daniel Pink (See Part II) and got a relevancy based listing of 740,000 web references, as delivered by Google.  Clicking the Yahoo link at the top of Leapfish delivered 23,655 hits, and MSN offered a mere 115,000,000 (correct number of zeros).
On the same page, in the right panel, I get the latest news with something from News-Leader.com and New York Magazine.  Beneath that were three videos (Daniel Pink: A Whole New Mind; Daniel Pink: Abundance, Asia, and Automation; and Daniel Pink: Exercise Creativity at Your Job).  That's followed by images and then shopping, where I can buy the book or a Sanrio Hello Kitty Dear Daniel Pink Dress S Set Plush from ebay (:-/)
Another interesting feature is the ability to hoover your mouse over an image or video and have a higher resolution version of the image pop up and the video start to play.  In playing around with it this morning, the Pink videos do not play, but the video and image thumbnails do enlarge to about double the size.  However, the popups do not seem to be large enough to add any real value to the information.
The point of the teleconference was to debut a brand new feature that "..pushes Search to 2.0."  It's click free search, which is interesting to watch.  Basically, as I type each letter, Leapfish starts searching.  The table below indicates the ongoing results of typing in Daniel Pink.
| | | |
| --- | --- | --- |
| Type | Hits | Starting with.. |
| D | 6,000,000,000 | Democratic Party |
| Da | 2,000,000,000 | deviantART |
| Dan | 95,000,000 | DAN Divers Alert Network |
| Dani | 43,000,000 | Natural Products for bath, body, and home | DANI |
| Danie | 761,000 | Danie – meaning of Danie name |
| Daniel | 327,000,000 | Daniel NYC |
| Daniel P | 452,000 | Daniel P. Siewiorek |
| Daniel Pi | 6,840 | Amazon.com: Lists by Daniel Pi |
| Daniel Pin | 323 | Daniel Pin – Australia | Facebook |
| Daniel Pink | 28,600 | Daniel Pink |
Is this 2.0? Well, you can call it what ever you like, and there are certainly a lot of qualities than can be attached to 2.0.  To me, the characteristics to pop to mind most readily are conversation and self-personalization.  Leapfish could be said to provide a conversation between me and an enormous base of content. and having results come back as I continue to type is pretty cool — though I'm not sure how much that adds to the experience or to the task at hand.
The CEO also shared plans to include personalized widgets and the ability to create and share dashboards — but there really isn't anything new in that, is there?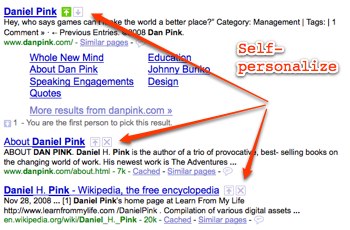 Google's SearchWiki features for personalizing your searchs [click to enlarge]
More to the point of personalizing my search experience, is Google's recent feature addition, SearchWiki.  It gives Google members the ability to delete hits from a search and to rearrange them, so that the next time you search for that term, you will get a more desired arrangment of results.  This is a bit more 2.0, though I must confess that I've never actually used this feature.
An even more personalization of my research comes from a Firefox addon called WebMynd.  When I search with Google, this addon places a panel to the right of the screen offering links to relevant YouTube videos and Amazon products.  I can also add to the panel,
Wikipedia
Flickr
Twitter Tweets
Backtype comments
Factiva Coverage
TechCrunch
Hacker News
CNN
Google Books
Delicious links
..and more.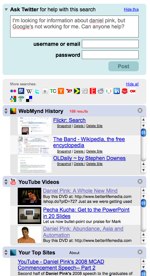 WebMynd results panel [Click to Enlarge]
Of particular interest to me is that WebMynd also remembers the web sites that I have visited, and returns a seperate Google search from only those sites.  So, as I entered a quote that I wanted to site yesterday, the original page showed up on my list of visited sites immediately, saving me from scanning through pages of straight Google hits.  This is search personalization.  I love this feature.
Back to Lena Shaw.  The most memorable part of this entire exchange was when I wrote to Ms. Shaw to remind her that my audience was mostly educators.  She wrote back and said, "Perfect!  Without education, where would innovation be?"
It was a great line and it explicitly expressed a value of education.  The fact of the matter is, innovation is happening inspite of education, and I am becoming afraid that we are going to continue to damage our children and our future with industrial models of assembly-line, quality-control leadership.  Read this from FairTest.
Powered by ScribeFire.