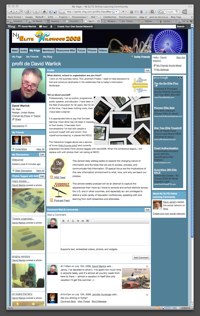 My NJELITE Ning profile. You see, I'd like to have one profile that I could share into all of my social networks.
I've already been home for a full day, after a late but sure return from Madison and the
Games+Learning+Society Conference
last week. I'll have much to write about that later, but my main (and only) regret is not getting to see Stephen Downes opening presentation, which he apparently gave from the stairwell of his hotel in the Canary Islands.
However, I am focused, at present, on upcoming work in Wildwood, New Jersey. I have a fairly long relationship with NJELITE, having been invited to present and help facilitate workshops for their annual administrators conferences at the Wildwoods Convention Center. It is a treat for me, because I get to work with some fantastic professionals, see fabulous presenters and leaders, and I get to stay in the very lovely Candlelight Bed & Breakfast.
Last year, the conference opened with Daniel Pink (I'm currently reading The Adventures of Johnny Bunko, thanks to Vicki Davis). This year, I'll finally get to see and meet David Pogue. It was on a train between New York and New Haven Connecticut, a couple of years ago, that I almost got to meet him, but I lacked the nerve.
Perhaps the best part of this years event will be the opportunity to work with Kevin Jarrett, AKA KJ Hax. Kevin and I will be facilitating a strand together called "The Future of Technology and Learning." This is candy to me, and we've been working on a plan via Skype and together at NECC and GLS. I think it's going to be a lot of fun and there is going to be a lot of chance for conversation.
It's also given me a chance to play around a bit more with Ning, fleshing out my profile. I'm still rolling this social networking thing around, and increasingly coming to believe that the profile is the real power for making this work. Not sure how, but…