Jeff Whipple, Me, and Gary Gallant.
All I can think to say is WOW! WOW! WOW! I met and got to know a number of folks from the New Brunswick Department of Education this morning over breakfast. I was struck immediately with a down home relaxed nature among the provincial leaders, especially considering that they are putting on a conference tomorrow. In a few minutes I felt at home with friends.
Afterward, we went to Nashwaaksis Middle School, one of the 1:1 exploratory initiatives of the province, and home base for technology mentor and edublogger, Jeff Wipple and vice principal and Antarctic explorer, Gary Gallant. I won't go into details now. To much to say, and I'm tired. Sufice it to say that my jaw was on the ground for most of the morning visiting classrooms in the middle school and Leo Hayes High School.
After school visits (which I'll talk about later), Jeff and I drove out to his uncle's farm to learn about maple shacking. I think that's the term (please correct me Jeff). It was just like my 4th grade social studies class. You drive a special stake in the maple tree, hand a pale from it, with a tin tent over the pale. Then you take the sap, boil it down, and you have syrup. Ernie and his two certified maple syrup experts (don't remember their names) shared the details.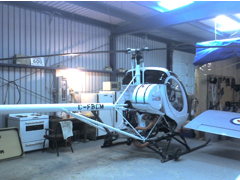 What really impressed me was Ernie's airport. There are two terminals, though terminal 2 is actually the out house. There are lights (solar), a radio, weather station, and pay phone equiped with an authentic bullet hole from an eager hunter. He also has a hanger with one working air plane, a helecopter, one disassembled airplane, an ultralight, and scale model of a DC-9 passenger jet.
It was a great visit and a wonderful break from the job. Thanks Jeff and Ernie, and thanks Ernie's wife, Lauren, for the coffee and Poppy cakes.