There is something comforting about having aunts and uncles who are in their 90s. It can also be very enlightening.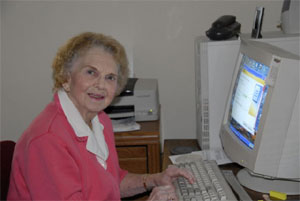 Two weeks ago, while I was working at Guilford Technical Community College, I spent one evening, driving down to Salisbury to visit with an aunt who was just home from the hospital the week before with congestive heart failure. I won't go into details of what I was expecting to find, but this spry tiny little woman, greeted me at the door, hugged me (she always said that I reminded her of her oldest son), took my coat, insisted that I sit, while she fixed me a glass of water to drink. One of her daughters, Carol, was there and we sat and talked for more than an hour. At 90+, she looks and acts decades younger.
For years, Aunt Janet has been working on two novels, based on her extensive work on the geneology of her family. One book dramatically traces her family's experiences from their first arrival in North America in the 1600s and the second is about her own experiences growing up in Salisbury, an especially picturesque North Carolina town
that has stuburnly held on to its century-old charm.
During my visit, Janet shared with me some of the stories from her childhood that she is including in the second book. She told me about clearly remembering the experience of holding on to her mother's skirt (my grandmother), as she led them through the pitch black house with a single candle. You see, their part of town did not yet have electricity, so the night could be pitch-black.
What impresses me, is this woman, clearly remembering a time without electricity — and sharing that experience through computer skills she has developed for more than a decade. When I asked Janet to send me a digital picture of her at her computer, she appologized, saying that she did not have a digital camera. Thankfully, cousin Susan had one and sent me the picture above.
My point, in this story, is to say that there is nothing wrong with us oldsters (40 – 60) saying to our students that we do not know how to do this or that.
However, there is no excuse for being afraid!
The classroom of the 21st century is a place for learners.
It is not a place for cowards! 😉
technorati tags:warlick, auntjanet, education, lifelonglearning, fear, technology, literacy
Blogged with Flock