My daughter texted me yesterday morning, wanting to meet at the coffee shop to talk about an article she'd just discovered. She texted me the URL, http://goo.gl/pFc39Z. It's not a recent article and is actually one of Valerie Strauss' (The Answer Sheet) reprints of a blog article [link/pdf], written by Marion Brady (veteran teacher, administrator, curriculum designer and author).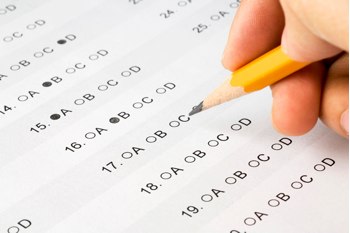 The article concerned a forth-term Florida district school board member, a friend of Marion's, who had taken a version of the Florida Comprehensive Assessment Test (FCAT) for 10th graders.  After taking the test, the board member called Brady, and this repeatedly re-elected board member, who helps to oversee 22,000 employees and a $3 billion budget and claims to be "able to make sense of complex data related to those responsibilities," said that he "hadn't done well."
He confessed that he wasn't confident about any of the 60 math questions, "but managed to guess ten out of the 60 correctly."  On the reading test, he got 62% of the questions right.  In an email to Brady, his friend wrote,
It might be argued that I've been out of school too long, that if I'd actually been in the 10th grade prior to taking the test, the material would have been fresh. But doesn't that miss the point? A test that can determine a student's future life chances should surely relate in some practical way to the requirements of (that) life. I can't see how that could possibly be true of the test I took.
Strauss later identified and interviewed the school board member, and reported on that interview in "Revealed: School Board member who took standardized test."
My daughter, who is certified to teach elementary grades and high school history, but has given up finding a teaching job (2008 recession followed by recent school staff cuts imposed by our state General Assembly [see]), expressed outrage.  She is currently struggling to score well enough on the GRE to get into the graduate school of her choice.
That Florida school board member's experience suggests a question that we are still not asking in any substantive way.  We eagerly, actively, and obsessively ask,
"What kind of teaching best practices lead to higher standardized test scores?"
We are not asking,
"How do higher scores on high-stakes standardized tests lead to satisfying, successful and productive lives and a better world?"
Brady says that decisions about how we assess teaching are,
..shaped not by knowledge or understanding of educating, but by ideology, politics, hubris, greed, ignorance, the conventional wisdom, and various combinations thereof. And then they're sold to the public by the rich and powerful.
How many of us, productive and successful adults, would willingly and confidently take our state's high-stakes standardized test, especially if our freedom to move forward was based on passing those tests?  
What would our legislative bodies look like, if a requirement for serving elected office was to pass the same tests that they impose on their 15 year old children?
This article has also been written about here:
Actor, Joseph Gordon-Levitt also posted a link to the article 
here
.