7:37 AM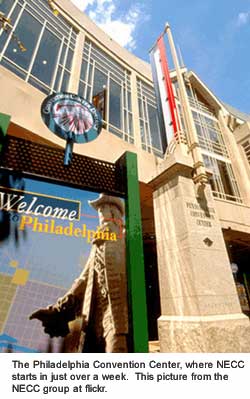 Browsing through my aggregator and especially on a quick scan of the NECC Blog Dog, it appears that the National Educational Technology Conference has already begun. Tom Hoffman and Will Richardson are already conversing on their panel discussion, by disagreeing on the future of blogging. I just got invited to a new flickr group, NECC, where six pictures have already been posted.
You can go ahead and start reading and/or listening to the Blogging NECC bloggers. Among these esteemed citizen journalists are Steve Dembo of Teach42, Kelly Dumont of The Educational Mac, and Tony Vincent of Handheld Computing.
As for me, I'm up to day two, Monday, June 27. Yesterday (sunday jun26), a number of educators entered my workshop room at Penn Alex School, with some knowledge of HTML. Six hours later, they left as full-fledged coders, ready to make their contributions to the open source community — or at least they know now why they studied algebra 😉
On Monday, I speak at the Technology Coordinator Forum (SIGTC). The topic will be, "Telling the New Story". Education, in this country, is mired in old stories about the 3Rs, the archaic roles of teachers and students, the positions of desks, and potential employees who can't read an application form.
Things have changed since the age of manufacturing. The mill town that I grew up in has shrunk from 16 full capacity plants in the 1950s, to none left in 2005. What are the new stories that we need to tell in order to retool our classrooms for a time when intellectual capital generates wealth and success, not muscle? We will explore the old stories, dissecting them into basic components, and discover and invent some new stories, to take back home and begin to weave around our local campfires.