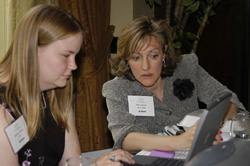 In 1989, I presented at my first educational technology conference, the Southeast Regional Technology & Teaching Conference (SRTTC), in Greenville, North Carolina, home of East Carolina University. I talked about FrEdMail and using e-mail and newsgroups in the classroom. I believe there were seven people in the audience. Very one else was watching Barry Adams with Apple, a master presenter and keynote speaker.
I've only missed two SRTTC conferences since then, and tomorrow I will be speaking there, to school and district administrators about Web 2.0. I'm calling it the New Web. My plan is to focus on some brief demos of wikis, blogging, RSS aggregators, and social bookmarks. Most of this will be covered in taking a tour of the online handouts wiki.
My main focus will be suggesting some strategies for using Web 2.0 as a school management tool for administration, coordination, community-building, resource archiving, and public relations tools. Thoughts are still assembling themselves in my head about that one. But I am pretty sure about these new applications being used as life-long-learning tools for professional educators, and I'll be pointing the audience to the work of George Siemens and his work on connectivism.
I'll also be mentioning the work of some blogging education administrators, include the following:
Do you know of other blogging school or district administrators, who are writing within the context of their administrative duties. I know of many who are blogging as visionary educators, and I may need to include them as well. What do you think?
Also, If you have any insights about education administrators using blogging as a job tool, please write about it in your blogs and tag (or include in your entry) admin20 and warlick. I will plant and aggregator on the online handouts so that your entries will become available to the audience tomorrow.
Thank you for your support!
Technorati Tags: admin20, warlick