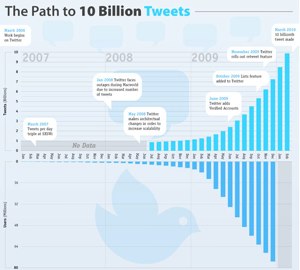 Are you on Twitter? After viewing this infographic, you might ask, "Why not?" From the Mashable blog post I got this from,
There is no doubt that Twitter has been a runaway success. Add to their rapid growth the recently announced @anywhere platform, and plans for further international expansion, and it comes as no surprise that the company is not looking to sell — at least within the next 2 years.

While the site's growth has certainly been impressive and it has reached the point of non-displacement, there are some interesting hidden truths about Twitter and its users. The following graphic takes a look at Twitter's path to 10 billion tweets, what we have learned about its users and what they've been talking about along the way.
Blog Link: The Current State of Twitter
Graphic Link: The Path to 10 Billion
Data Sources: HubSpot, Mashable, Pingdom, RJMetrics, Twitter, Quantcast