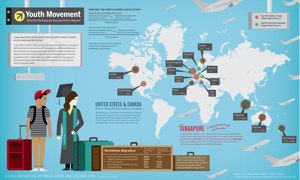 The world may never have been so mobile, and the shifting demographics will certainly affect the future of various parts of the world. So where are the young moving and how much skill and knowledge (education) are they carrying with them? This collaboration between GOOD and Column Five Media seeks to answer these questions.
From the blog entry:
From 2007 to 2010, Gallup posed this evocative question to people in 148 countries all over the world. To include an additional dimension, the responses of young people aged 15 to 29, as well as educated adults, were also tracked. Together, the conceivable gain in overall population tell a tale of how the wishful relocation of young and educated people could shape what the world would resemble as desire becomes reality.
Instructional Ideas:
Learners might be asked to investigate countries, to which educated youth are moving, suggest, and support what they think might be the conditions and opportunities that draw them.
Data Source:
Gallup