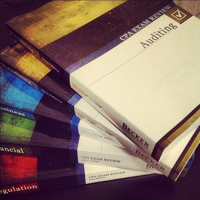 My niece posted an Instagram photo last night of a stack of textbooks. In her description she wrote, "I never thought I would be so happy to receive textbooks."
I commented, "But isn't it all on the Internet?" — mostly in jest. She knows me.
The information is out there on the network, of course. But her need for those textbooks is absolutely critical, regardless of what she can Google and in spite of how she will continue her essential professional learning after her textbooks are digested. You see, my niece is preparing for her CPA — and the right answers for that exam are not on the Internet. You can count on that.
A textbook, as a product of packaged content, is essential when we are tasked to learn the right answers — when we are being certified in some way as having x knowledge or y skills. But in my opinion, based on my own rather peculiar career, this is not education. It's training.
Training is not bad. There are certainly elements of formal education that require training — to learn facts and skills that are both useful and stable. 2 x 2 will always be 4 and 9 x 9 will always be 81. Yet, what it means to be educated changes, when answers shift with a rapidly changing world and when a dynamic global library is accessible to us from our own pockets.
Both of my grandparents had college degrees. But after their degrees were conferred, they prospered in a relatively stable world of information scarcity. Being educated was based on remembered knowledge.
Today, we function within a networked, digital and info-abundant environment, whose conditions are constantly changing. Being educated today is being able to skillfully, resourcefully and responsibly mine and utilize this infoscape within meaningful and reliable contexts to accomplish goals — which often involves learning something new. Using a traditional textbook does little to help students become skillfully, resourceful and responsible learners.
If preparing our children for their future means certifying them based on a measure of their remembered knowledge or certifying schools/teachers based on the measured knowledge of their students, then bring on the books, the bigger the better.
But if it is not a trainable/teachable worker who brings prosperity today, but the imaginative information artisan with a lifestyle of learning, unlearning and relearning, then we need to completely rethink the tools of education.
I will confess here that this is not exactly the article that I sat down to write. But it may lead into a next, and slightly more specific (if not more practical) article about these learning tools.
So check back by!