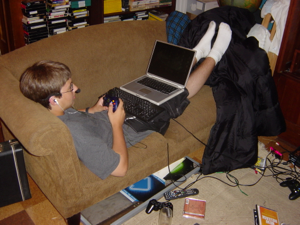 Plugged in with iPod, head set to communicate with game guild members, game controller, game keyboard to text players without broadband, and a laptop for IMing.
Several years ago, I wrote a blog article describing a picture that I'd taken of my son, in the TV room, wrapped up in his "technology." I'm including the picture here, since he is no longer a minor and I can no longer so easily peak in on his techventures.
In the article I suggested that it wasn't technology that defined his experience nearly as much as it was the information that he was playing with. It continues to be a central theme of my work, that it's a new information experience we should be facilitating for our learners, not simply applying technology to old teaching pedagogues.
A few days ago, an old friend from my state agency days, John Spagnolo, gave me reason to revisit that article, when he commented with some questions that got me to thinking.
Among them was:
How have "smartphones" and cellular connectedness changed the nature of information over the past 8 or so years since this was written?
I think that one significant change that has occurred over the past seven or eight years, is that I, and many other seasoned adults have, for various reasons, begun to utilized this networked, digital and abundant information environment. I often say to friends, as I slip my phone back into my pocket, that we live in a time of no unanswered questions. The answer is almost certainly waiting in our pockets or on our laps. My cellular iPad has become a welcome and valued companion as my wife and I drive across North Carolina to visit with family and old friends. It helps us to continue conversations about the news, movies, the best route around Charlotte and settle minor arguments.
For my son and daughter, I suspect that their use of these connective tools has not changed significantly over the past several years. They cultivate networks of friends and acquaintances, which have probably grown with my daughter, whose interested have expanded, and grown smaller with my son, whose interests have narrowed and become more focused. They use Twitter more and Facebook less, and are probably more likely to be interacting with friends via a specific application, such as a game or Pinterest category.
I also wonder if, in many instances, we might be finding more creative ways of using this new info-landscape than our children.
Spagnolo also asked,
How does your son connect to and interact with his information today?
I suspect that both of my children interact with information more through games and through specific applications. I was so terribly disturbed a few years ago when smart people started suggesting that the Web was dead, that apps were changing the way that we used the Internet. But apps have certainly changed the way that my children use information and I find myself preferring to use Amazon and Craigslist apps instead of their respective web sites.
Apps have become an intriguing new avenue of economy, that I've suggested to me son, where people are making a living by designing highly specialized and compelling tools for using and playing with information.
Finally, he asked,
Has the nature of information influenced the emerging "appropriate technologies" like the digital learning object called an iBook?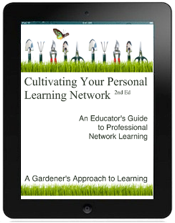 My knee-jerk response is, "Not nearly enough." This current push toward digital textbooks, urged on by our Secretary of Education, concerns me. I worry that we're engaged in a race to modernize schooling, rather than a sober and thoughtful imagining and designing of learning materials and practices that are more relevant to today's learners (ourselves include), today's information landscape and a future that has lost the comforts of certainty, but become rich with wondrous opportunities.
What I enjoyed, though, about my experience in publishing an iBook was learning to hack some features into the book that were not part of Apples general instructions for using their publishing tool. This is the ultimate opportunity of digital learning objects and environments, that they can be hacked into new and better learning experiences by information artisans who see what's there and what it can become.