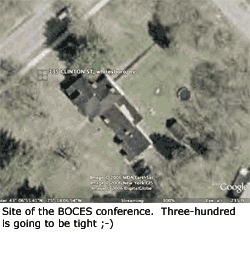 It's going to be one of those days when I truly begin to wonder why I'm doing this. It starts at 3:40 AM EST. I'm up blogging, because I woke up thinking about stuff. After that, I will finish my online handouts for today's presentations and go over (and probably rearrange) today's slides.
Then its off to the "Superintendent's Leadership Conference", put on by the Oneida, Herkimer, Madison BOCES in Utica, New York. I'll be delivering my standard redefining literacy keynote. I've done it for several years now, and many of you have heard it. But it is an issue that seems to have attracted increased attention lately. I will be delivering this topic as a keynote for the TLN Executive Briefing day at the National School Boards Association conference next month. The other keynote speaker will be Ken Kay, of the Partnership for 21st Century Skills.
After the keynote and three presentations here in Utica, I'll drive back to Syracuse, from where I'll fly to Chicago and then on to Los Angeles, rent a car, and then drive on to Palm Springs for the last day of the California CUE conference. I'll arrive around 2:00 AM. Considering that that will be 2:00 AM PST, it makes more than 24 hours. Am I getting too old for this. I'll let you know tomorrow. So Please stay tuned.
One final note, and my reason for getting up so early. Right now, there are two major state conferences going on. CUE (cue2006) in Palm Springs, and MACUL, in Grand Rapids, Michigan. Both are leading edtech conferences, so there is going to be great learning and sharing going on during these last two days of the week. Look for a lot of buzz in the blogosphere on these three events. In fact, I've set up on my online handouts, an aggregator for bloggings related to CUE2006, MACUL (apparently macul means something in French), and myself (for good measure), because I'll likely be writing about all of them.
And my last final note, "I am encouraged." I had a short phone conversation with one of the planners for today's BOCES "Superintendent's Conference Day", and they are thrilled to have a pre-registration of nearly 300, twice what they were hoping for. Many of the attendees are from outside the BOCES service region and some from over a hundred miles away. I'm encouraged, because technology, and what it means to what and how we teach, seems to be returning as an issue that is critical enough for us to invest our time in. We critically need nothing less.