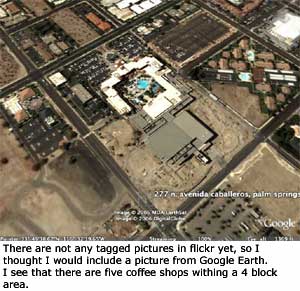 I love educational technology conferences. What's left in education that truly fills me with optimism and excitement for the profession and our endeavors is going on at ed tech conferences. Admittedly, mine is a narrow perspective, but this is where you see all of the possibilities.
One of the great ed tech conferences starts tomorrow, California's CUE conference (CUE2006) returns to Palm Springs, and I feel incredibly left out, because I won't get there until around 3:00 AM on Saturday morning. A few hours after that, I will be delivering a spotlight address on Harnessing the New Shape of Knowledge. It's an old presentation for me, but the first time that I've delivered it as a more formal address. So I've been working hard to freshen it up.
Also presenting spotlight sessions are Cheryl Lemke and Alan November. Alan's just announced a new upgrade of his learning communities blogging site, and I hope to hear about it at the conference. I'll also be doing a session on podcasting and a webcast sometime during the day. I haven't decided yet whether I'll be staying in Palm Springs Saturday night or driving on back to LA for an early Sunday morning flight back east. I do hope that I will be seeing all of my friends in CA.
Scanning through the program for Saturday, I see:
Barbara Bray, Hall Davidson, Steve Dembo, David & Norma Thornburg, Carol Anne McGuire, Sara Armstrong, Tammy Worcester, and Gary Stager. What a line up, and that's just one day.
I will be flying up to Syracuse tomorrow to speak at a BOCES conference on Friday, and I am looking forward to that event. It will take place in a very old Inn in Whitesboro, NY. I suspect that the nearly 300 attendees who have registered are going to be tight. Just the same, we'll get to know each other that much better. I'm sure that they will also know how to properly pronounce the word, "grits" when I leave 😉
If you will be at either even, please come say, "Hi!"
2¢ Worth!