I've been struggling over the past few weeks with a complete redesign of my PLN presentation. I am keeping the title (A Gardener's Approach to Learning), since that's what I called it for my ISTE proposal, some distant months ago — and for other more obvious reasons. I've delivered versions of the upgrade at other conferences recently, and, well, it's not ready yet.
One element I would like to add is pruning your PLN or learning garden. The best I have done so far is to suggest some philosophical guide lines, but little of practical value. So I spent much of yesterday searching for tools that enable us to more scientifically analyze our learning networks, specifically our Twitter communities (or megalopolises). I was starting to get rather depressed at failing to find what I was looking for — and inspired. You see, when I'm looking for a technical solution to a problem, and I can't find it, then I start wanting to build one. This is not good, because I am desperately trying to simplify my life here/now at the tail end of my career.
But building a new tool? Wow! What fun that would be.
Anyway, I found the right search expressions this morning (4:00AM). It's amazing how much a good four and a half hours of sleep can do for the old noggin. Of course, this serge of cognitive magnificence will last for only about an hour and a half.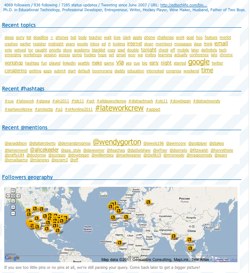 So here are a few of the interesting tools I found. To start with, let's say that you've run across a blog entry that's caught your interest and you are considering a click of his Follow Me link. You have to wonder if this educator actually limits his work thoughts to his blog, and reads and tweets for his favorite Twitterlebrities. To see, just paste his screen name into foller. You are rewarded with the blogger's basic specs (number of friends, followers, status updates, etc.), a word cloud of most tweeted words, recent hashtags and mentions. You can also view a map indicating his geographic reach (see right).
Another tool for measuring the potential of a new deep thinker is Klout. Probably more of a vanity oriented tool, Klout does do a nice job of breaking down a person's influence by topic.
Another tool with a potential to help us cultuvate our learning gardens is Twolo, which allows you to enter keywords of interest and receive a list of Tweople you might want to follow. There is a fee after four days, which is not surprising considering how important social media has become to the marketing industry. No worries. Twitter has recently incorporated the same service with Who To Follow.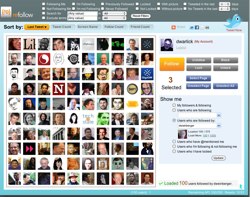 Of course adding new members to your network is not pruning, is it? One of the most interesting tools that I happened upon was refollow. When you link in with your Twitter account, you get a wallpaper of the deep thinkers whom you follow. To cut back your network, you can sort the layout of avatars by their last tweet, tweet count, follow count, and friend count. It's reasonable to assume (though not always appropriate) that the people who are most paid attention to, or are paying attention to other deep thinkers , are the most useful for your own learning. This is certainly not always true, but it is a measurable aspect of one's networking. I found that I was following eight people who hadn't chirped a single tweet and several who'd not tweeted for 8, 10, and 15 months. There's more that you can do, but to actually act on your community (follow or unfollow) there is a fee — reasonable if I were engaged in marketing an important brand.
If gaining and keeping a following is important, then TweetEffect might be useful. Essentially, you enter your Twitter screen name and it scans your most recent tweets and aligns them with your follower activity. In other words, which tweets seem to have attracted people, and which made them turn tail and run. I learned that in my last 195 status updates, I lost followers seven times and found new one eleven times. It seems that my announcement that I was finally adding Oklahoma (48) to the state's I've worked in, compelled eleven people to leave my friend list. Still trying to figure that one out.
– Posted using BlogsyApp from my iPad