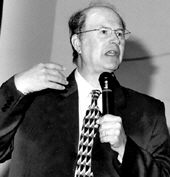 Many many thanks to Wes Fryer for podcasting David Thornburg's presentation at the TCEA conference last week in Austin. I can remember watching folks like Thornburg and Alan November back ten years ago, and saying to myself, "I could do that! And I think I could do it that well!" Both of these guys have simply gotten better and better. Thornburg does an amazing job of bringing Open Source down to earth, for us non-techie folks. This in itself point's to David's talent, given his astounding creds as high-order geek (principle scientist as Xerox PARC in the early '70s).
Anyway, give the podcast a listen by going to the entry (March of the Penguins), at Moving at the Speed of Creativity.
Chief among tid-bits I gleaned from the podcast:
Finally heard direct reference to a Nature Magazine study comparing Wikipedia to Encyclopedia Britannica.
Indiana is purchasing 300,000 linux computer for all of its high school students
Also, check out Wesley's text notes on the presentation. I love this stuff!