Some of you may be aware that I have spent a good part of the last week in the air, about 27,000 miles as near as I can calculate, from Raleigh to Calgary, to New York, to Brisbane, to Christchurch, to Melbourn, to Los Angles, to…
Much of it is a dramamine induced blur, but for many enjoyable hours, I illustrated a point made by Kevin Kelly in a recent podcast that I watched. The Author of What Technology Wants, Kelly, like myself, has followed much of the emergence and evolution of personal information and communication technologies — and has had a hand in guiding its use for many people. Among his many contributions was Out of Control: The New Biology of Machines, Social Systems, and the Economic World, which was required reading for the principal actors of the film, The Matrix.
I haven't read What Technology Wants (yet), but it appears to be a cautionary tale. Kelly doesn't tweet or participate in many of the techs de jour. However, one thing that he said that really stuck with me was that ICT's power is in it's providing new avenues for expressing ourselves creatively. As near as I can paraphrase, "We would never have had a Jimi Hendrix without the invention of the electric guitar."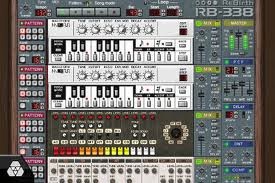 Rebirth by Propellerhead
Back to my time in the sky — just before leaving I purchased a new music app for my iPad. I have pages of music apps, most of them mocks of musical instruments, and none of them have captured much of my attention. I'm not a very good musician. The exception was
Propellerhead's Rebirth
(see right)
, which resembes no instrument I've ever actually played. ..and so, even that was not all that much fun. I did complete one project (
Shangri La
) and upload it to my
Sound Cloud
.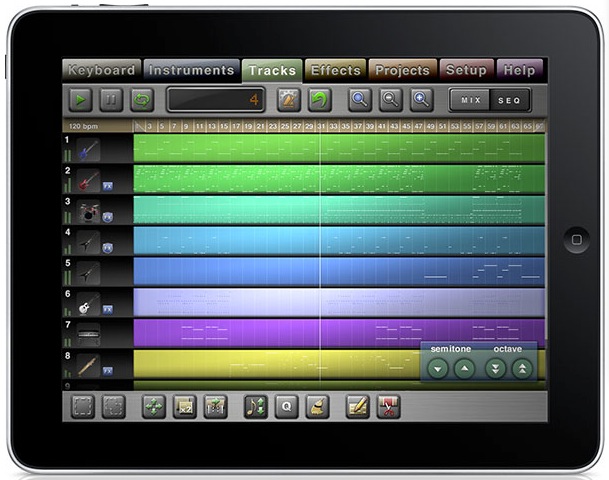 My new toy is MusicStudio, "..the only complete music production environment for the iPhone, iPod touch, and iPad" to quote the developers, and they're not off the mark. It gives me access to a number of instruments (with more purchasable sounds), a virtual piano keyboard to perform and record from, audio effects devices, and a piano-roll style track system (see left) for fine tuning. This is where I spent my time, copying and pasting, dragging, and editing those little dots and dashes that represent individual musical notes.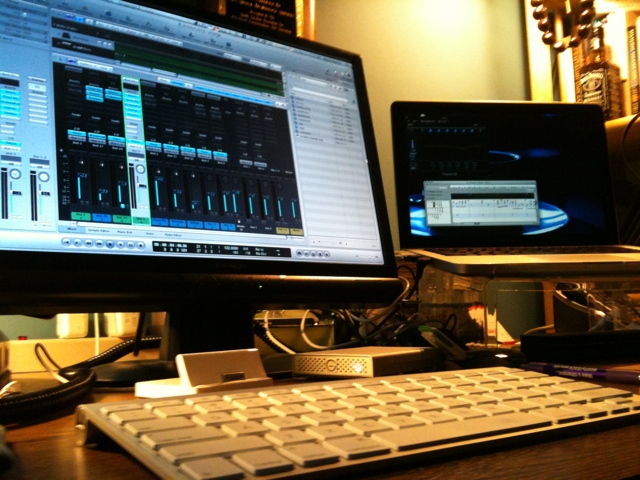 Continuing the music work with Logic Express 8 on my office computer
I often demonstrate this process in some of my talks as an example of working numbers to accomplish goals — working the numbers embedded in digital sound. But doing music like this has always required me to break out some fairly sophisticated software, sit at a desk, with mouse, and sometimes an attached musical keyboard. Now, I can do it from a flat surface (iPad) that I can carry in a shoulder bag, sitting at the park or in an airline seat. (demo here)
Here are the results of my 50+ hours in the air! Because Brenda likes it, I am now refining the work using Logic, a more professional music editing tool. But this is the version done exclusively on the iPad.
Brenda's Song by dwarlick
Sorry for the self-indulgence, but, you know, I'm getting old enough to not have to apologize for it.